What's Happening in the Dressage World?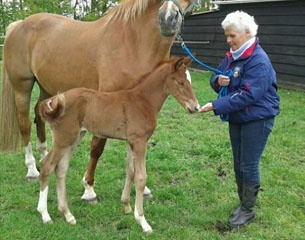 WBFSH Breeders of the Year, Joop and Maartje Hanse, have bred a full brother to Valegro. The colt Lelegro (by Negro x Gerschwin) was born on 21 April 2016 and is a chestnut, just like dam Maifleur.
Valegro now has two full siblings, the 2014 born Jalegro Fleur and the 2003 born Weidyfleur II, which is owned by Claire Hester and part at Emma Blundell's Mount St. John's breeding programme. Valegro was originally named "Vainquer Fleur" at birth by the Hanse couple, who live in Burgh-Haamstede, The Netherlands.
Charlotte Dujardin proudly announced that her 2015 British Young Horse Champion, the now 6-year old Dutch warmblood mare Florentina (by Vivaldi x Rubels x Larduc), produced her first foal via embrytransfer. A black colt by Negro was delivered by recipient mare Dora at Blundell's Mount St. John brood farm.
Marlies van Baalen's 19-year old retired international Grand Prix horse Phoebe (by Regazzoni x Ulft) has given birth to her first foal on Saturday 23 April 2016. The bay mare produced a filly by Negro.
Dutch Grand Prix rider Jonna Schelstraete has sold two of her horses. Her Grand Prix mount Bosley (by Diamond Hit x Metall), which she acquired at Coby van Baalen's barn from owner Rinus Blom, has been sold to Ukrainian rider Victoria Golubeva, who is trained by Tommie Visser. Her small tour horse, the 9-year old Sambuca (by Sir Oldenburg x Caprilli) has moved to Ashley Holzer's barn in New York, U.S.A.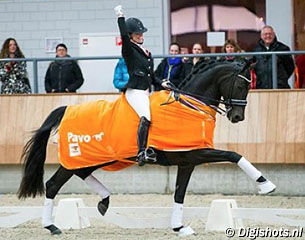 Norwegian young rider Jeanett Rognoey has sold her horse Ravell's Hexia to Norwegian junior rider Stine Olsen Lund. Rognoey and Hexia, a 15-year old Danish warmblood mare by Hertug x Aspirant x Goldfinger, competed internationally from 2012 till 2014. They represented their country at the 2012 European Junior Riders Championships and 2013 European Young Riders Championships.
The 2016 Dutch Indoor Champion at third level, the KWPN bred Echt Mooi (by Voice x Sandreo x Polansky), has been sold to Spain. The 7-year old Dutch warmblood stallion was trained and competed by Fransje van der Meer. Echt Mooi is Dutch for "really beautiful."
Jan Ebeling's 2012 U.S. Olympic individual ride Rafalca (by Argentinus x Rubinstein) became a first mare mum on 30 April 2016. The bay Oldenburg mare gave birth to a filly by the Canadian owned Hanoverian licensed stallion Connaisseur (by Con Amore x Donnerhall).
The 11-year old Belgian warmblood gelding Sir OJ (by Balthazar van de Roeshoeve x Feiner Stern x Wendekreis) has made the move to his owner Vivienne Park in Korea, who aims at qualifying him for the 2018 Asian Games. Since 2014 the chestnut gelding, who was originally named Fiasco B, was lightly competed at international small tour level by Belgian Jorinde Verwimp, whose father Wim has strong connections with the Korean dressage world. Park acquired Sir OJ in 2015.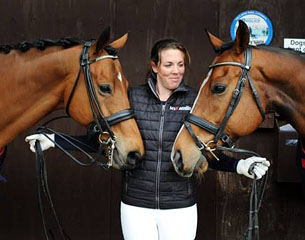 Buckinghamshire based thoroughbred dressage rider, Louise Robson, was invited to take part in the Queen's 90th Birthday Party at Windsor Castle on 12 - 15 May 2016.  Robson attended the private celebrations at the castle with two of her horses, Quadrille and Prince's Trust, both of whom are owned and bred by Her Majesty. Quadrille and Prince's Trust carried the Queen's racing silks to victory on multiple occasions, winning three races each for their respective trainers, Richard Hannon Snr and William Haggas.  Upon retirement the two horses were transferred to Robson's yard for re-training and a new career in the dressage arena. Robson and the 9-year-old Quadrille are now competing up to Advanced level at dressage competitions around the UK.  Last year proved a highly successful year for the duo, which included winning the Advanced Medium Music class at the Retraining of Racehorses (RoR) Dressage Final at Houghton Hall.
Danielle Houtvast has retired her 19-year old Under 25 horse Palermo H (by Kigali x John U to Berry xx x Amor) to the field. The pair only competed at three internationals: 2014 CDIO Wellington and the 2015 CDI's in Roosendaal and Lier. Palermo H was originally owned by Spanish Chloe Morris, who sold the horse to Dutch horse dealers Dries Roefs and Camilla Sygall. In 2015 the horse was listed as owned by Houtvast.
Ulla Salzgeber has added a new youngster to her string of horses. She acquired the 5-year old liver chestnut Crocodile Dundee (by Don Schufro x Rubin Royal) directly from the breeder.
Fiona Bigwood's top Grand Prix mare, the Danish warmblood Atterupgaards Orthilia (by Gribaldi x Donnerschlag), became the proud dam of a filly on Wednesday morning 11 May 2016. The foal is an embryotransfer and the recipient mare delivered a healthy, chestnut fiilly by Don Juan de Hus.