WBFSH Breeding News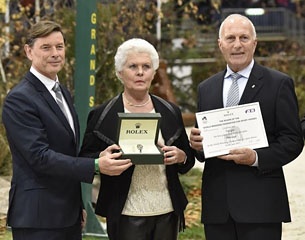 The World Breeding Federation for Sport Horses has held the annual award ceremony in Geneva to honour and celebrate the leading breeders on Saturday night 12 December 2015.
The winners of the WBFSH Breeder Rankings in dressage, show jumping and eventing received their WBFSH diplomas presented by Jan Pedersen, president of the WBFSH, and an exquisite Rolex watch presented by Laurent Delanney of Rolex.
Breeders of 2015 European Champion Valegro, the Dutch couple Maartje and Joop Hanse, won the dressage prize for the third consecutive year whilst Belgian breeder Willy Taets won the show jumping prize for the second year in a row.
Portrait Maartje and Joop Hanse

In 2001, the Dutch couple, from Burgh Haamstede, sent their mare, Maifleur, to Ferro son, Negro, and have since used these same bloodlines for several generations. In fact, Negro's owner, Gertjan van Olst, has had a close relationship with the Hanses, having subsequently purchased Valegro and prepared him for the KWPN stallion show. "In those days the studbook was of the opinion that Negro was old fashioned, so none of my eight Negro sons, including Valegro, were accepted", Van Olst remembers well. However, British dressage star Carl Hester saw Valegro at the KWPN stallion inspection, decided to buy him, had him gelded, and took him home. 
One year later, Valegro was returned to Van Olst with an instruction from Hester to sell him. But destiny intervened when Gertjan's wife, Anne, rode the gelding herself ahead of him being sold and recognized his remarkable talent. Anne suggested to Hester that he should consider keeping Valegro. Hester agreed, gave the gelding to his rider, Charlotte Dujardin, and one of the world's greatest ever dressage partnerships was born.
From the very beginning Valegro was a star, winning national championships as a four-, five- and six-year-old on his way to a triumphant London 2012 Olympic Games. Following the Games it was rumoured that Valegro would be sold, but the two owners, Carl Hester and Roly Luard, subsequently assured the world that Valegro would finish his competition career with Charlotte Dujardin, and also that he had a home for life.
More honours followed: 2014 World Cup dressage final and World Equestrian Games, and a second World Cup win in 2015, following Valegro's first ever trans-Atlantic flight to Las Vegas. "This flight was a good test for the flight to Rio in 2016", Charlotte Dujardin revealed, smiling.
Although Valegro did not display his usual brilliance during the 2015 European championship in Aachen, his performances were sufficient for Dujardin to once again celebrate gold medal glory.
The dynamic duo has also established a clean sweep of world record scores, for Grand Prix (87.129% – 2014 Lyon World Cup Final), Grand Prix Special and Grand Prix Kür (94.300% – 2014 London Olympia).
Valegro is a fine example of the modern Dutch recipe for dressage success: dressage stallion over jumping-bred mare. His sire, Negro (by Ferro/Variant) competed to Intermediaire level with Anne van Olst, his grand sire, Ferro (Ulft/Farn) represented the Netherlands at the Sydney 2000 Olympic Games with Coby van Baalen (NED), winning team silver and sixth place individually, while his dam's sire, Variant, was a small tour campaigner with Anky van Grunsven (NED).
A compact horse in every way, Valegro is unusually small for a top-level dressage performer, rather than being rectangular shaped with long legs. In fact, he has rather short legs, but great movement. His posture is a vertically arching neck, strong loins and pasterns, a sloping croup, and his attitude and personality have created the ultimate winner.
In recent seasons, Valegro has more than consolidated his position as the undisputed number one dressage horse in the world.
Related Links
Joop and Maartje Hanse Honoured as 2014 WBFSH Best Dressage Breeders
Maartje and Joop Hanse Honoured at 2013 Most Successful WBFSH Dressage Horse Breeders
Valegro and KWPN Top Final 2015 WBFSH Dressage Horse and Studbook Ranking