WBFSH Breeding News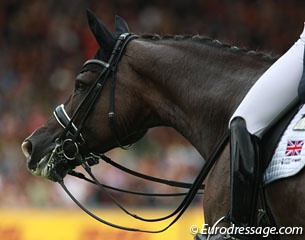 2015 European Dressage Champion Valegro and the KWPN breed society topped WBFSH's final 2015 rankings for studbooks and breeders.
Valegro and the KWPN have been in the number one position on the WBFSH ranking since the rise of Valegro in 2012. They have been topping the WBFSH ranking for four, consecutive years since 2012.
Maartje & Joop Hanse from The Netherlands are the breeders of Valegro, a 13-year old KWPN gelding by Negro out of Maifleur by Gerschwin, who scored 3183 ranking points. The Hanoverian stallion Desperados (by De Niro x Wolkenstein II), bred by Herbert Schütt, is the runner-up on the dressage ranking with 2729 points.
The KWPN Dutch warmblood association claimed first place in the studbook ranking for dressage with 15,012 points. Other horses contributing to this score are Undercover (Edward Gal), Unee BB (Jessica von Bredow-Werndl), Johnson (Hans Peter Minderhoud), Siro (Danielle Heijkoop) and Nip Tuck (Carl Hester). 
The studbook ranking for dressage is:
1. 15012 – Koninklijk Warmbloed Paardenstamboek Nederland (KWPN)
2. 13759 – Hannoveraner Verband e. V. (HANN)
3. 11729 – Westfälisches Pferdestammbuch e.V. (WESTF)
At the 2015 WBFSH annual meeting in Vienna on 20-22 October the winning studbooks of the three disciplines dressage, jumping and eventing were honoured.
View 2015 WBFSH Dressage Horse Ranking - Studbook Ranking
Photo © Astrid Appels
Related Links
Undercover and KWPN Lead 2015 WBFSH Dressage Horse and Studbook Ranking
Valegro and KWPN Top the 2014 WBFSH Dressage Breeding Ranking
Joop and Maartje Hanse Honoured as 2014 WBFSH Best Dressage Breeders
Gribaldi Leads 2014 WBFSH Dressage Sire Ranking