Denmark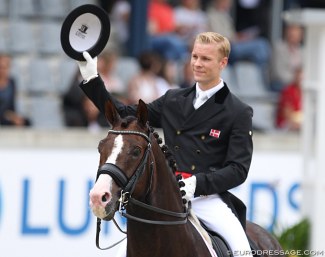 Danish Grand Prix team rider Daniel Bachmann Andersen has decided on the location he's moving to after resigning from his job as head rider at Blue Hors Stud. He will move to Cathrine Rasmussen's Kleppenhus in Ebeltoft, Denmark.
Bachmann Andersen worked as head rider at Blue Hors stud in Denmark for six years. Two weeks ago he surprised the dressage world by announcing his resignation from this top job, which provided him a very good salary, a guaranteed stream of top quality dressage horses, and professional coaching and management. 
The call for independence was greater and Bachmann handed in his resignation on 12 May 2020. He will work his last day at Blue Hors on 30 June. 
From Kolding to Ebeltoft
Initially Bachmann expressed his desire to find a new base in the Kolding area, where his 7.5 year old daughter Fillippa goes to private school. 
Rumours spread that Daniel had chosen Stutteri EVO, on the outskirts of Kolding as his new base, but with the news of his departure from Blue Hors gone viral, numerous offers landed in Bachmann's mailbox.
The 30-year old Dane, who was short listed for the Danish team for the Tokyo 2021, and his family will be moving 150 kilometers north to Ebeltoft, Denmark.
New Life at Kleppenhus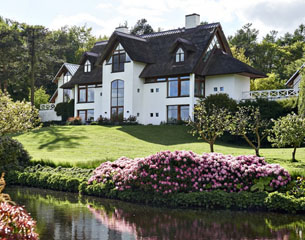 Kleppenhus is a beautiful equestrian facility owned by Norwegian Grand Prix rider Cathrine Rasmussen. With Orlando and Fernandez, Rasmussen competed for Norway at the 2010 World Equestrian Games and 2011 and 2013 European Dressage Championships. In 2018 she last competed internationally on Dream Time. 
In 2016 Rasmussen decided to move back to Norway, where she renovated an equestrian facility but met with lots of opposition from town hall for planning permission. She put Kleppenhus on the market. The top notch property, however, never sold and Rasmussen decided to breathe new life in the place by renting it out. 
Rasmussen still spends much of her time in Denmark, though. 
"I decided a couple of years ago to take Kleppenhus off the market, and keep it as a second home," Rasmussen told Eurodressage. "My children both live in Denmark, and I love to come there to meet old friends and be part of the much larger and more professional dressage community. It is quite easy to put my riding horses in the lorry and go for shorter or longer stays, - not very different from packing and going to a show."
Bachmann and Assouline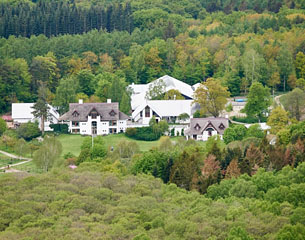 Daniel Bachmann, his wife Tiril and two children Frederik and Fillippa will begin a new life at Kleppenhus, where they are renting 11 boxes, a groom's apartment and a house. 
They are not the sole riders at the estate. Alongside the owner Cathrine Rasmussen, there are also Danish dressage rider Mette Lubker Assouline and her French husband Michel Assouline, who decided to expand their business with a second base in Denmark.
The Assouline couple has decided to move from Great Britain to Denmark and will share Kleppenhus with Bachmann and Rasmussen.  Michel Assouline is the U.S. para dressage team trainer and he was French Grand Prix champion in 2000. The couple will continue to stay in touch with their UK operation though.
"Mette and her family had planned to come to Kleppenhus mid april, but couldn't because of corona," Rasmussen explained. "So now they are coming mid June instead approximately same time as Daniel and his family. It is really exciting times, and I look so much forward to this cooperation with these top professional and also very nice people."
Related Links
Daniel Bachmann Andersen Leaves Blue Hors
Dream Time, New Grand Prix Hopeful for Cathrine Rasmussen
Cathrine Rasmussen: "As Soon as I Started Giving Equine 74 Gastric, He Has Been Fine Ever Since"
Russian Aristova Sisters Shine in Spain at 2016 CDI Valencia and Girona
Russian Polina Afanasieva Stands her Ground Amongst Seniors at 2013 CDI-W Zhashkov
Michel Assouline, 2000 French Dressage Champion
Michel Assouline's Grand Prix Mare Annastasia Put Down
Michel Assouline Brings US in Line to Break Para Dressage Traditions in Europe