French Dressage News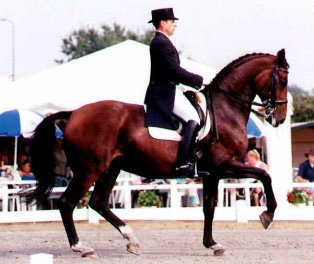 Annastasia, the international grand prix ride of Michel Assouline was put down recently after a short and sudden illness.
Last year the combination won the premier league at Ardingly and went on to be the unanimous winners of the French National championships.
Owner Jane McGarel-Groves bought the 14-year-old mare in Germany 10 years ago from Christian Heinrich. Jane who trained with Michel, produced and rode her through medium level. Prepossessing talent led to Michel taking over the ride.
Jane said,"I was just a grass roots rider and needed a horse that would be easy. Annastasia had such a wonderful temperament, loved people and was very gentle.
" In 1997 the mare made her grand prix debut with Michel, showing a particular gift for piaffe and passage. Last year in international competition they gained fifth place in the kur in Hamburg, won the kur in Saumur and then swept the board at the French national championships.
Her final competitive appearance was in June this year when they competed in Le Touquet where Annastasia was the only mare in the class.
"Annastasia loved an audience and loved the atmosphere abroad where she was appreciated. Hamburg was a particularly exciting show for me as the crowd were so enthusiastic after her kur. She was my horse of a lifetime and is irreplaceable," said Jane.
Donario currently competed in small tour by Isobel Wessels is a half brother to Annastasia and Suzanne Davies owns her full sister who has recently given birth to her second foal by Dimaggio
Source: Horse and Hound (Reprinted with permission) 
Related Link: Michel Assouline and Annastasia