Eurodressage Market - Products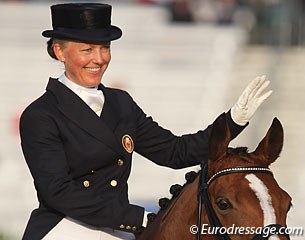 For Norwegian Grand Prix team rider Cathrine Rasmussen, Equine 74 Gastric finally became the long sought after solution for recurring symptoms of stomach problems with one of her home bred horses. "As soon as I started using Equine 74 Gastric , he was fine. And he has been fine ever since," said Cathrine.
Rasmussen, who recently moved from her base Kleppenhus in Ebeltoft, Denmark, to an equestrian property in Kristiansand, Norway, is an international Grand Prix rider who represented Norway at the 2010 World Equestrian Games and 2011 and 2013 European Dressage Championships. She owns and operates a small scale training and breeding yard for high performance dressage horses.  Rasmussen is eagerly looking forward to the 2017 show season as she hopes her newest ride, Dream Time, to be Grand Prix ready then. She is also training and competing her youngstock, including the 5-year olds Zoulmate and the home bred Kleppenhus Dow Jones.
Cathrine heard about Equine 74 Gastric at the 2015 Danish warmblood stallion licensing in Herning, Denmark. 
"There I talked with my neighbour in the stable and I told her that one of my horses had some strange symptoms. I suspected trouble or discomfort in the stomach or digestion," Rasmussen explained. "She said that one of her horses had a very sensitive stomach and she has been a user of Equine 74 Gastric for a long time. She had a very positive experience with the product and I decided to give it a go."
Rasmussen' knew something was wrong with her horse and had already tried numerous products before finding real relief with Equine 74 Gastric.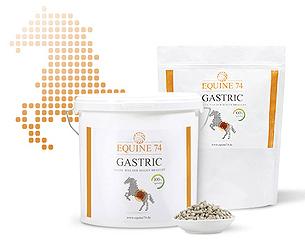 "I use Equine 74 Gastric for one horse. He very often had a bad diarrhea and his stomach was super sensitive to even small amounts of stress," she explained. "Very often we found him in his box with his tail and hindlegs dirty and wet. This horse I have bred myself and I have experienced some of the same tendencies in his siblings. So obviously there must be some kind of sensitive stomach running in his family. I had already tried other products: a special mixture of herbs that should be helpful for digestion and good for the lining of the stomach. Flax seeds in case he ate sand or soil when he was on grass, and Gastrogard. But none of these things helped him."
Rasmussen was relieved that her horse became more healthy and relaxed on Equine 74 Gastric as soon as she started feeding it to him.
"As soon as I started using Equine 74 Gastric, he was fine. And he has been fine ever since. I still give him Equine 74 Gastric daily, but now I have reduced the doses to half of the recommendation and he is totally symptom free," she said proudly.  "He has been on it for approximately 9 months now."
For further information please visit  www.equine74gastric.com.
Related Links
Alix Szepesi: "It's a No Brainer to Use Equine 74 Gastric As All My Horses Are Happier" 
Julie De Deken: "I would Recommend Equine 74 Gastric to Anyone"
Pether Markne: "With Horses I Don't Like it Complicated, so I Choose Equine 74 Gastric"
"The Alarm Bell Rang When My Mare Started Showing Anxiety and Naughtiness Before and During Her Performances"
Tinne Vilhelmson-Silfven Relies on Equine 74 Gastric for Her High Performance Dressage Horses