Hit & Run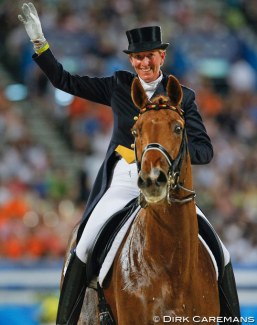 In corona times we are all ordered to stay at home, self quarantine, and do social distancing. With more time on your hands to spend online, Eurodressage launches a "Hit & Run" interview series so that you get to know the world's most famous dressage riders and personalities more closely. 
German Grand Prix rider Heike Kemmer is a German Olympian who team gold at the 2004 and 2008 Olympic Games and individual bronze at the 2008 Olympics with Bonaparte, her career making horse. Her first major championship as a senior was riding the 1989 World Cup Finals on Fellini. With Albano she won team gold at the 2001 European Championships and finished second in the 2003 World Cup Finals. Bonaparte helped her further amass team gold at the 2003 and 2005 European Championships and 2006 World Equestrian Games. She also rode Bonaparte in the 2004 World Cup Finals and Royal Rubin in the 2008 World Cup Finals. Based at her father's homestead, brood farm Amselhof Walle, Heike last competed internationally in 2014 and focuses on training. 
Hit & Run - Heike Kemmer
What is your earliest memory? 
Riding as a 4y old in front of my fathers saddle on a 2-hour-hack with him. I will never forget this "bow-leg-feeling" shortly after 
Which person alive do you admire the most and why?
Madeleine Winter-Schulze. Her cheerful charisma and incredible helpfulness is stunning.
When were you the happiest?
Winning the Double European Young Riders Champion's title in 1983. Nobody expected that. 
What is your biggest fear?
I don´t want to think about fear.
What was your first thought today?
Busy day
What is your most annoying character trait?
Perfectionism.
Which trait do you dislike the most in other people?
Dishonesty and unkindness
What is your dearest possession?
My home - the Amselhof Walle.
If you look into the future, what do you see?
Hopefully me in good health and spirits.
What makes you unhappy?
If my family or a friend or a horse is tortured with pain or illness.
What is the love of your life?
My hobby: living and working with horses.
What was the best choice you ever took in life?
Moving from Berlin to Amselhof Walle.
What's your guilty pleasure?
Speeding.
What do you owe your parents?
Everything who I am today.
Who can sit next to you at your dream dinner table?
Friends and family.
What was the worst job you ever did?
Not a single one I did.
What was your biggest disappointment in life?
Nothing worth remembering
What would you change if you can go back into the past?
Learning more languages and playing the piano
Name one thing that would improve your quality of life?
The invention of "beaming". Beam me up, Scotty!
What is your biggest achievement?
Two Team-Gold medals and individual bronze at two Olympics. .
What is the most important life lesson you have learnt?
Being patient and persistent.
Where would you like to be right now? 
Where I am
What's your favourite scent?
Nature after a rain shower.
Which character would you dress up in for Halloween?
I don't like to dress up.
To whom would you like to say sorry?
Right now I don´t feel the need to to say sorry to anybody - I already did.
What does love feel like for you?
Sparkling and fulfilling.
When are you most relaxed?
While riding my horses.
What super power would you like to have?
The power to heal.
When did you last cry, and why?
Watching a movie - don't remember when.
When were you closest to death?
Never - thank god.
How do you want to be remembered?
As Heike.
Related Links
Heike Kemmer's Bonaparte Retired at 2011 CDN Hanover
Heike Kemmer and Bonaparte Return to the Winner's Circle
Heike Kemmer Wins the 2008 Olympic Bronze
2016 Die Alten Meister Forum in Gossau - Wanted: Judges with Competence and Backbone
Ulla Salzgeber and Heike Kemmer, a Fruitful Partnership
2002 Otto Lorke Prize for Heike Kemmer and Ellen Schulten Baumer
Heike Kemmer and Albano Make Their Mark
Joachim Kemmer Passed Away