German Dressage News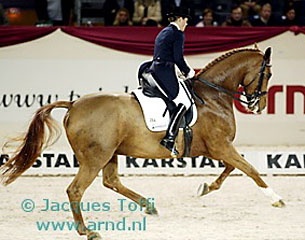 The annual Otto Lorke Prize, awarded to the most talented upcoming Grand Prix combination of the year in Germany, has been awarded to both Heike Kemmer and Ellen Schulten Baumer.
Klaus Rheinberger, chairman of the Liselotte Schindling Foundation for the Promotion of Dressage, handed the trophy to Heike Kemmer, Ellen Schulten Baumer and her trainer Dr Uwe Schulten Baumer at the 2002 CDI German Masters in Stuttgart, Germany.
It has been the 19th time that the Otto Lorke prize has been awarded to the rider, trainer and owner of the best Grand Prix horse of the year under the age of 10 and which has placed in the top five at a notable Grand Prix competition.
Heike Kemmer, based in Isernhagen, is the rider, owner and trainer of Bonaparte. Ellen Schulten Baumer is the rider of the Hanoverian gelding Lesotho (by Lauries Crusador xx) and her stepfather Dr Uwe Schulten Baumer is the owner and trainer of the horse. Uwe has been awarded the Otto Lorke Trainer's Prize for the 9th time in his career.
Bonaparte was three times a top placer in the Grand Prix this year, Lesotho two times. Both horses receive one tun of oats as prize.
Related Links
2001 Otto Lorke Prize for Ann Kathrin Kroth
Aleppo S OLD, 1999 Otto Lorke Prize Winner