2008 Olympic Games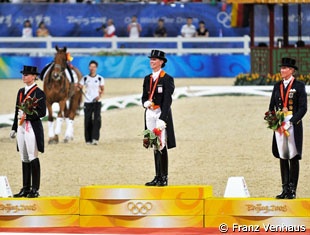 While Isabell Werth lost the gold and ended up with silver, Heike Kemmer won the bronze medal, her first individual medal in her career. "My first individual medal and directly Olympic bronze, it's a dream come true," Kemmer commented.
Riding her well known "Good Vibrations" Beach Boy kur, Kemmer and her 15-year old Hanoverian gelding Bonaparte (by Bon Bonaparte) had a very clean, elegant test. Kemmer's choreography is fun to watch. She begins with a super trot extension, then a piaffe pirouette at C, followed by a passage half pass into a collected trot half passes. In the half pass left, Bonaparte broke into canter, but that was the only mistake he made in his test. The pirouette left could have had more bending in the body, the pirouette right was too big. The one tempi's were absolutely brilliant in their straightness. The final piaffe was not entirely on the spot, but the end trot extension on the centerline ridden with one hand was a powerful conclusion to the ride. She scored 75.950% which was good for bronze.
"I'm totally happy," Kemmer said. "I came in in total relaxation as I knew I was well prepared. The only mistake, the break into canter in the passage half pass, made me loose points for my choreography. Of course, I shivered during Peters' ride because I didn't know my score would be good enough for a medal."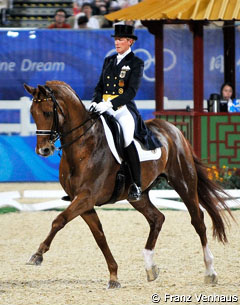 German team trainer Holger Schmezer was incredibly pleased with the performances of the Germans. "We got the whole assortment: gold, silver, bronze," Schmezer commented. "We aimed for gold in the individual competition, but we have to accept the situation now. We congratulate The Netherlands. Anky won deservedly. Even without a mistake, it would have been a tight race in the kur."
Schmezer also conveyed great respect for Heike Kemmer. "She has improved so much since Aachen and got everything out of her horse," he replied.
Bonaparte is one of the three Hanoverian bred horses which covered the individual podium. Gold medal winning Salinero and silver medal winning Satchmo are both Hanoverian bred and branded.
Text by Astrid Appels/Eurodressage - Photos copyrighted: Franz Venhaus