The Netherlands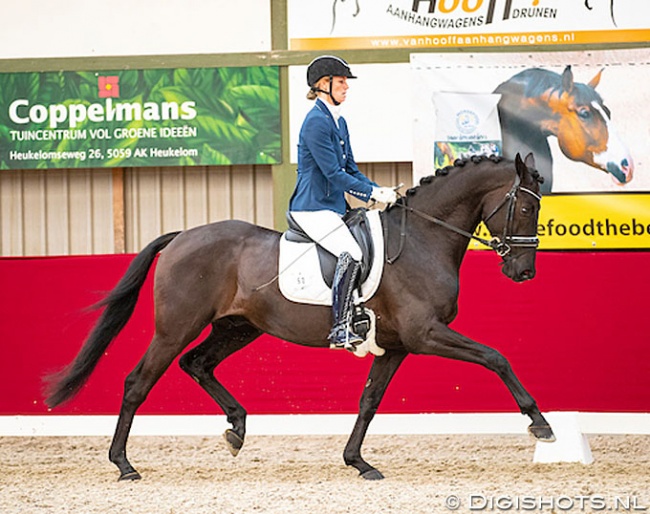 After a second assessment moment of videos by the KNHS/KWPN selection committee, fifty-nine horses have been long-listed for team selection for the 2020 World Championships for Young Dressage Horses in Verden, Germany. 
The World Championships are scheduled for 5 - 9 August 2020 but the German federal government has forbidden the organisation for mass events until 31 August 2020 due to the corona pandemic. So far no new date has been announced.
The KWPN / KNHS has started its selection trials nonetheless, beginning with a video assessment. Riders were invited to submit videos on two moments, the most recent one on 20 -21 April for combinations that already did well at the 2019 Pavo Cup and 2019 WCYH. 
Selection committee members Monique Peutz, Johan Rockx and Floor Dröge, have made their pick
"We saw the video's from home, but all at the same time, so we can discuss them instantaneously with each other," said Dröge. "All videos were viewed the past two days and we provided feedback. Then we made a selection."
"The selection process is now on hold, until it is clear if and when the World Championships will take place," Dröge added. "The horses who are selected now will hopefully continue the selection process at a later stage. As soon as it is announced when the WCYH will take place, we'll continue to shape the process, with probably a possibility for assessment for horses who have not yet been selected."
Videos of some horses were not sent, but they had a legitimate reason. They will be allowed to participate in a next selection day. They are Kensington (by Chagall) , King Karim (by Toto Jr), Jheronimus (by Dream Boy), Imagine (by Dream Boy) and Ivanhoe (by Desperado).
One already selected horse has also been pulled. The Italian owned King de Niro will try to compete for the Italian flag.
The long-listed horses are:
5-year olds
Annika Roodhart - Kintyre (by Grand galaxy win)
Bart Veeze - Kyon (by Ferguson)
Beatrice Buchwald - King's Pleasure (by Dark Pleasure) 
Charlotte Fry - Kjento (by Negro)
Dinja Van Liere - Key Largo (by Toto JR.
Dinja Van Liere - Kaiman (by Dark Pleasure
Femke de Laat - Kind Pleasure (by Governor) 
Hans Peter Minderhoud - Kardam's Whisper (by Toto Jr) 
Hans Peter Minderhout - King Karim (by Toto Jr-
Helgstrand - Kardieno  (by Dante Weltino)
Lynne Maas -  Kaygo (by Capri Sonne Jr)
Marieke van der Putten - Keano (by Governor)
Marieke van der Putten - Kuvasz (by Glamourdale)
Marijke Van Giesen - Kurona (by George Clooney )
Martine van Vliet - Kensington (by Chagall)
Maxime Osse - Duval´s Kapri Son (by Capri Sonne Jr.)
Mette Jensen - Kremlin MD (by Governor) 
Michelle Westerdijk - Kashmire (by Governor)
Nora van Houtem - Kenndale (by Everdale) 
Yessin Rahmouni-  Kadym (by Ferdinand)
6-year olds
Andreas Helgstrand - Jovian (by Apache )
Anne-Mette Strandby Hansen - Janeiro Platinum (by Sezuan )
Charlotte Fry -  Jayson (by Johnson) 
Charlotte Fry - Jeroen Leatherdale G (by Lord Leatherdale )
Dinja Van Liere-  Joop ! (by Tc Ravel )
Emma Van den Hooven - Jarlien (by Electron )
Emmelie Scholtens - Joe (by Blue Hors Zatchmo )
Jamy Ummels - Jillz (by Jazz)
Kirsten Beckers - Jeniro (by Negro)
Kirsten Brouwer - Jheronimus (by Dream Boy)
Marieke van der Putten - Jameson (by Zack)
Marijn van Dijk - Journalist (by Charmeur)
Nicky Snijder - Jongleur STH (by Expression)
Patrick van der Meer - Jazzuan (by Sezuan)
Renate van Uytert - Just Wimphof (by De Niro)
Renate van Uytert - Johnny Depp (by Bordeaux)
Saskia van Es - Jaccardo (by Desperado)
Søren Wind - Joshua (by Sezuan)
Vai Bruntink Jatilinda (by all at Once) 
7-year olds
Bart Veeze - Imagine (by Dream Boy)
Bart Veeze - Imposantos (by Wynton)
Charlotte Fry - Inclusive (by Everdale)
Diederik Van Silfhout - Impression (by Don Schufro)
Dinja van Liere - Independent Little Me (by Uno don Diego)
Emmelie Scholtens-  Infinity (by Apache)
Emmelie Scholtens - Indian (by Rock Apache)
Emmelie Scholtens - Ibiza (by Desperado)
Jonna Schelstraete -  Iristo (by Apache)
Lynne Maas -  Incredible (by Charmeur)
Mara De Vries - Icerole (by  Desperados)
Margreet Prosman - Ivanhoe (by Desperado)
Marie louise Moerings - Indo (by Hofrat)
Nicky Snijder - Identity (by  Charmeur)
Quinty Vossers - Inferno (by Everdale)
Renate van Uytert - In Style (by Eye Catcher)
Saskia van Es - Italo (by Furstenball)
Thamar Zweistra-  Hexagon's Ich Weiss (by Rubiquil
Yessin Rahmouni-  Impress Taonga (by Vitalis)
Yessin Rahmouni -  Irabel (by Charmeur)
Photo © Digishots
Related LInks
KWPN Makes Long List Based on Videos for Team Selection 2020 WCYH Verden
Dutch Selection Dates for 2020 World Young Horse Championships Announced
No Mass Sport Events in Germany until September 2020 - Verden, Warendorf, Aachen?
FEI Dressage Calendar Task Force Meets: Recommendations for Verden, Hartpury/Strzegom, Traverse City, Budapest