2020 World Young Horse Championships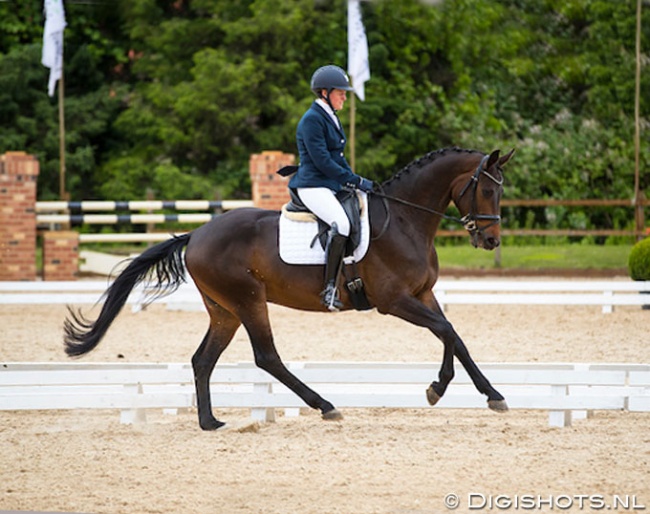 The KWPN society and Dutch Equestrian Federation have held its first selection trial for young horses that want to be considered for team selection for the 2020 World Championships for Young Dressage Horses in Verden, Germany, on 5 - 9 August 2020.
Due to the corona pandemic the  first selection trial was one done by video. Team hopefuls had to send a video of their horse to the KWPN/KNHS in Ermelo for consideration. Sixty-two videos in total were sent in and 48 horses got selected. 
The Dutch WCYH selection committee, consisting of Floor Droge, Monique Peutz and Johan Rockx, reviewed all videos and drafted the following long list of combinations that will be invited to the selection trial, that will take place in the flesh. At the moment this trial is scheduled for 15 - 16 June in Ermelo.
Initially it was said that 20 horses per age category would be selected, but the committee picked sixteen 5 and 6-year olds and fourteen 7-year olds.
Biggest absentee on the list is the KWPN licensed stallion Jovian, who won the 5-year old division at the 2019 World Championships in Ermelo. 
They are:
5-year olds
Andreas Helgstrand – Kensington (by Glamourdale)
Annika Roodhart – Kintyre (by Grand Galaxy Win)
Chantal Van Lanen - King Ve (vby Governor)
Demy Kurstjens - Kyoto van de Nethe DK (by Fürstenball)
Dinja Van Liere - Key Largo (by Toto Jr)
Dinja Van Liere – Kaiman (by Dark Pleasure)
Hans Peter Minderhoud - Kardam's Whisper (by Toto Jr)
Jonna Schelstraete - Van den Ham – Kavallo (by Desperado)
Lotje Schoots – Kingdance (vby Expression)
Mara De Vries - King De Niro Magni (by . De Niro)
Marijke Van Giesen - Kurona (by George Clooney)
Maxime Osse -  Kapri Son (by Capri Sonne Jr.)
Mette Jensen - Kremlin MD (by Governor)
Michelle Westerdijk – Kashmire (by Governor)
Rosalinde Heck - Karanto-Pomona (by Negro)
Theo Hanzon – Kronos (by Kimberley)                       
6-year olds              
Annabel Rootveld - Juliette Creco. (by Negro)
Anne-Mette Strandby Hansen - Janeiro Platinum (by Sezuan)
Charlotte Fry - Jeroen Leatherdale G (by Lord Leatherdale)
Danielle Heijkoop – Jupiter (vby Apache)
Dinja Van Liere - Joop ! Tc (by . Ravel)
Emma Van den Hooven – Jarlien (by Electron)
Emmelie Scholtens – Joe (vby Blue Hors Zatchmo)
Fernando Estaban - Juglans  (by
Franka Loos – Jones (by Negro)      
Jamy Ummels - Jillz (by Jazz)
Joyce Van Opbergen - Jenna-Verina (by Franklin)
Kirsten Brouwer - Jack Daniels (by Electron)
Kirsten Brouwer – Jheronimus (by Dream Boy)
Nicky Snijder - Joyful-Sth (by Bosten)
Patrick van der Meer – Jazzuan (by Sezuan)
Søren Wind – Joshua (by Sezuan)
7-year olds                 
Charlotte Fry – Inclusive (by Everdale)
Diederik Van Silfhout – Impression (by Don Schufro)
Emmelie Scholtens - Indian Rock (by Apache)
Emmelie Scholtens - Ibiza (by Desperado)
Geert-Jan Raateland - I'm Legend (by Johnson)
Jonna Schelstraete - Iristo (by Apache)
Laurens Van Lieren - Illumina Vrouwe (by Furst Romancier)
Lisanne Nederlanden - Iron Man (by Everdale)
Lynne Maas – Incredible (by Charmeur)
Mara De Vries - Icerole DVB (by Desperados)
Marie louise Moerings – Indo (by Hofrat)
Nicole De Leeuw – I-Catcher (by Johnson)
Thamar Zweistra - Hexagon's Ich Weiss (by Rubiquil)
Theo Hanzon - Invershin (by Charmeur)
Yessin Rahmouni – Irabel (v. Charmeur)
Related Links
First Dutch Selection for 2020 World Young Horse Championships via Video
Dutch Selection Dates for 2020 World Young Horse Championships Announced
Eurodressage Coverage of the 2020 World Championships Young Dressage Horses