F.O.C.U.S.
The Austrian Equestrian Federation sent out a press release with an interview with Austrian reserve Grand Prix champion Belinda Weinbauer on how she is coping with the corona shutdown, which has upended the 2020 show calendar. 
By the skin of their teeth, the Austrians snatched an Olympic team spot because Brazil and South Africa had failed to achieve the Minimum Eligibility Scores on 31 December 2020. France came out as big winner and Austria stretched its neck enough to reach the finish line and get that last team selection for Tokyo.
The Austrians securing that Olympic ticket were Victoria Max-Theurer, Ulrike Prunthaller and Stefan Lehfellner
2020 Show Calendar Upended by Corona 
Seven weeks ago, Weinbauer made her 2020 show debut at the first Austrian selection trial in Magna Racino on 28 February - 1 March. Aboard the mare Fraulein Auguste MJ she won the Intermediaire II (68.465%) and the Grand Prix (71.260%). 
"And then came the measures of our government to stop the spread of Corona. Also we had to stop the riding lessons and since then we've been living in isolation on our mountain," said Weinbauer, who runs a yard with her partner Peter Gmoser in Seiggraben, Austria.
All spring CDI's and the majority of those scheduled in June have been cancelled;  the 2020 Olympic Games are postponed till the summer of 2021. 
"Health comes first," said the A-squad listed Weinbauer. "I also learnt this through sport, that one has to accept the things one cannot change. Otherwise you waste unnecessary energy. We look at what works, not what doesn't work, and we just take things the way they are."
Daily Routine
The daily routine at her stable with over 20 horses continues.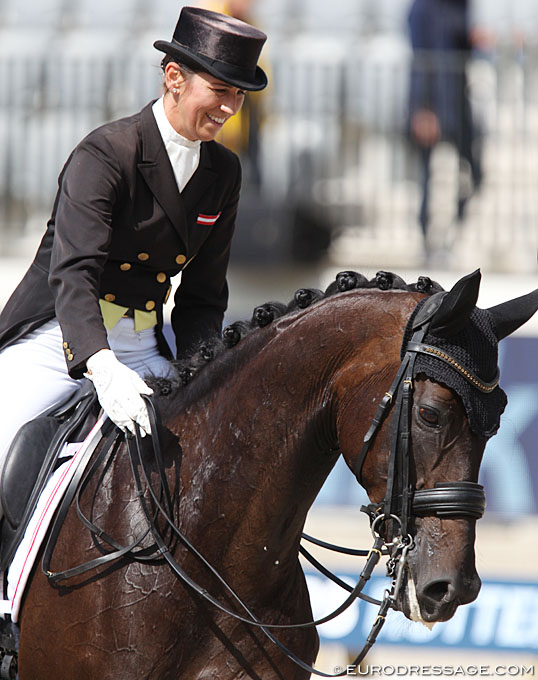 "We have plenty to do with the care taking of the horses. We make sure they all get sufficient exercise, stay in touch by phone with our clients, our students. One day we can all welcome them back to our yard."
Belinda believes that some relaxed basic work during isolation can be positive for top sport.
"We have no pressure in the training, we don't have to do think of the next show in the next few weeks," she said. "We can work on the basis in a very relaxed way, all very loose and easy and train with much variation. When something doesn't work, we practice the movements the next day again. Or we give them a break for a day."
Back to Shows in July
Weinbauer looks forward to a new competition start and hopes that it might happen in July. 
"I have a lot of contact by phone with the other dressage riders on our Olympic squad, the most with Vici (Max-Theurer) and Christian (Schumach). We all hope to see each other soon at a show," said Belinda. 
Photo © Astrid Appels
Related Links
The Olympic Curtain Falls for Brazil and South Africa, Austria and France Get Team Spot
Team Francois Wins Appeal, Springhetti and Jaristo Barred from Competing at 2019 World Championships in Ermelo
Photo Report: Weinbauer and Schulz Take the Big Tour at 2019 CDI-W Mariakalnok
Austrian Squads for 2018 Announced, No Team for WEG
Stallmeister, Ochsenhofer, Wurzinger, Pengg, Valenta, Weinbauer Win 2018 Austrian Dressage Championships
Weinbauer Makes it Work with Small Tour Babies at 2017 CDI Stadl Paura
Ahorner, Lorenz, Weinbauer Win 2016 Austrian Dressage Championships