Austria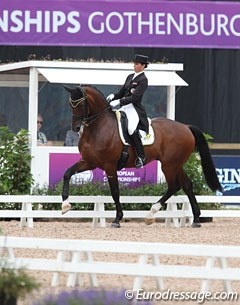 The Austrian Equestrian Federation (OEPS) has announced the dressage squads for 2018 on 31 January. The federation also announced it will not be sending a team to the 2018 World Equestrian Games in Tryon!
The Austrian dressage committee, headed by Diana Wunschek, and the sport director decide on the nominations for the squad and the selection for championships and CDI's. The sport director has final say.  
To be submitted to one of the squads the two best results of two different international shows are considered. The results have to be achieved in a class with at least 6 participants. The Grand Prix A-squad has set as minimum criterium twice a 70% at a CDI. For the B-squad it is 67% an for the C-squad 65%.
No Austrian Team to WEG
Remarkably OEPS has also announced selection criteria for the 2018 World Equestrian Games in Tryon and has clearly stated: "No team will be sent, only individual riders."
Grand Prix riders who wish to be considered have to fulfill the FEI's MES ( 2x 66%) as well as compete at two mandatory CDI's and one CDI of choice. They have to have achieved at least two times 72% in the Grand Prix at two different shows (5* or 4*).
The mandatory show options are the CDI Achleiten or the CDI Cappeln, both run by OEPS president Sissy Max-Theurer. The option shows are CDI 3* Ebreichsdorf, CDI 3* Wiener Neustadt and the CDI Fritzens.
Squads for 2018
Grand Prix A-Squad
Victoria Max-Theurer - Blind Date
Astrid Neumayer - Rodriguez
Belinda Weinbauer - Söhnlein Brilliant MJ
Grand Prix B-Squad
Evelyn Haim-Swarovski - Dorina and Delilah Royal
Amanda Hartung - Dresscode Black
Victoria Max-Theurer - Della Cavalleria
Ulrike Prunthaller - Duccio and Quebec
Christian Schumach - Picardo
Jaqueline Toniutti - Sandrose
Renate Voglsang - Fratello
Grand Prix C-Squad
Pia Gabriel - Sterling G and Junimond
Timna Zach - Simply Red
Under 25 D-squad
Franziska Fries - Atomic
Katharina Haas - Saint Tropez
 Diana Porsche - Di Sandro
Karoline Valenta - Diego
Small Tour E-squad
Stepanie Dearing - Del Magico
Amanda Hartung - Fürst Flipper
Wolfgang Himsl - Dubrownik NRW
Kerstin Kronaus - Sir Stanislaus
Bettina Kendlbacher - Rubens Recaro
Ulrike Prunthaller - Quarz and Quantum
Stefanie Schermann - Don Life
Christian Schumach - Sinclair Jason
Katharina Stumpf - For my Love
Renate Voglsang - Sir Raphael
Juliane Weyland (Vogt) - Fullsister
Belinda Weinbauer - Ferrero Küsschen MJ
Anja Luise Wessely Trupp - Sparkling Fizz
Young Riders
Francz Sophie - Show Man M
Marlene Fuhs Marie Christine - Perfect Illusion
Lorenz Florentina-Gisi - Coco Procol Harum
Wurzinger Victoria - Dorian
Junior Riders
Ahorner Nicola - Robbespiere and Lezard
Grabenwöger Helene - Der Fuchs
Hohenwarter Daria  - Lehmann
Ochsenhofer Lilli - Sanibel
Pengg Chiara - Feliciano
Süss Lara - Donnerbube Junior
Wurzinger Victoria  - Bvlgari
Pony Riders
Gebhard Corinna - Antares
Messner Lilly - Heidewinde's Wesley, Prometheus and Helios B
Stallmeister Pia - Der kleine Prinz
Children
Photo © Astrid Appels
Related Links
Hohenwarter, Thonhauser, Wurzinger, Porsche, Gmoser, Valenta, Weinbauer Win 2017 Austrian Championships
Belinda Weinbauer Dances to Kur Victory at 2017 CDI Caselle di Sommacampagna
Weinbauer Makes it Work with Small Tour Babies at 2017 CDI Stadl Paura
Isabell Werth Wins in Front of 2,000 Dressage Fans at 2017 CDI Fritzens
Mark Your Calendars for the 23rd Manfred & Hilde Swarovski Memorial Show at 2017 CDI Fritzens