2017 CDI Fritzens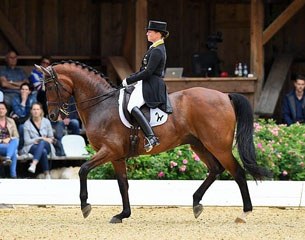 The world number one, Isabell Werth, came, saw and conquered. On Saturday 1 July 2017, Werth and Don Johnson FRH won the Grand Prix for Kur at the 2017 CDI Fritzens, hosted at Evelyn and Klaus Haim-Swarovski's Schindlhof in the Tyrolean Alps. Werth scored 78.54% to win the class and stayed ahead of country mate Fabienne Lutkemeier on D'Agostino.
Lutkemeier scored 73.8% for a second place, while the charming American P.J. Rizvi landed third place on Breaking Dawn with 70.10%. 
Never before did the Schindlhof welcome so many visitors as on Saturday. More than 2000 dressage fans came to Fritzens to see the world number one. Amongst the guests were Tyrolean provincial president Güntehr Platter, actor Peter Waeck and author and actress Simone Rethel, widow to Johaness Heesters. They all assisted in the prize giving ceremonies. 
In the last ceremony of the day, show host Evelyn Haim-Swarovski was able to hand a shining Swarovski trophy to Isabell Werth while Don Johnson sniffed at the winner's bouquet. 
"It was a ride that was fun, a ride after which one could say, "they did it"," said Clipmyhorse.tv commentator Kim Kreling. The German streaming company provides the live feed to the show the entire weekend. 
Isabell Werth is a shining star in the dressage sport, with 10 Olympic medals, of which 6 golden, and 4 silver. A mom to a 7-year old son, Werth belongs to the World top 10 with no less than three horses: Weihegold OLD (1), Emilio (6) and Don Johnson FRH (8). This is the second time in her career that Werth has been in the top 10 with three horses. 
The best Austrian in the Grand Prix was Schindlhof Challenge Trophy record winner Victoria Max-Theurer and her Olympic mount Della Cavalleria OLD . They finished 10th with 67.420%. Austrian Renate Voglsang and Royal Happiness OLD also qualified for the freestyle by finishing 13th. The top 15 moves on to the kur. 
Holzer Wins Second Small Tour Class in Fritzens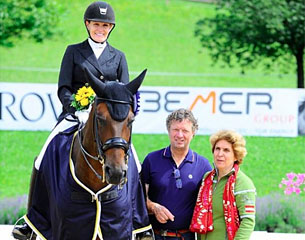 After winning the Prix St. Georges, the US duo Ashley Holzer and Radondo also succeeded in triumphing in Saturday's Intermediaire I with 72.842%. Two weeks ago at the CDI4* in Achleiten, the Olympic bronze medal winner of 1988 (back then for Canada; Holzer has been living in the USA for 25 years) and the 11-year-old Oldenburg gelding already took second place in the Inter.
Like on Friday, Christian Schumach and his 9-year-old Oldenburg stallion Sinclair Jason followed in second place; this time with 68.368% but with a bigger margin compared to the Prix St. Georges, when they were only 0.447% behind the winning pair.
"It was not Sinclair's fault, he was fully motivated. Unfortunately, we had some small insecurities causing the loss of valuable points. But we're on a good way, we'll do our homework and soon try the Big Tour," said the Carinthian, who will be quite busy in the coming weeks as the coach of Austria's juniors Caro Valenta, Franziska Fries and others in preparation of the 2017 European Under 25 Championships in Lamprechtshausen, Austria. Florian Bacher from Styria and Dauphin took 3rd place with a score of 67.921 percent.
Austrian Para Team for 2017 European Championships Selected
The 2017 CDI Fritzens is also host the 2017 Austrian Para Dressage Championships, which serve as final team qualifier for the 2017 European Para Championships in Gothenburg in August. After the second round of the para championships, team captain Theres Rantner was able to announce the Austrian Para team.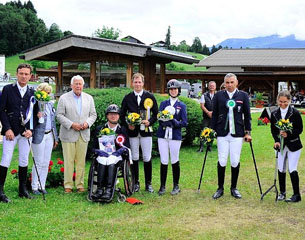 Pepo Puch, who aboard Fontainenoir already won the team test on Friday and today's individual test (79.706%), was also secure of a team spot as the title defender. The team colleagues of this Grade II rider and double Paralympic champion also convinced with strong performances. 
Grade I rider Michael Martin Knauder and his 21-year old Contessa, owned by Franziska Fries, rode a personal high score of 77.5%. "The break after the show in Somma Lombardo did Contessa well. She is back to her old self. As soon as she hears the bell and sees the people around the arena, she's in top form. Contessa is a real show horse. I'm very happy that we were able to qualify for Gothenburg here at the Schindlhof," said Knauder.
Bernd Brugger and Bellagio were second yesterday and third today with 75.976%. The grade IV rider as well as the Grade I rider Julia Sciancalepore and her 21-year old Pommery (who was 4th with 75.714%) qualified for Gothenburg.
The Vienna based Thomas Haller, who is a 5-time Paralympian, was fifth on the 9-year old Faustus with 69.412%.He missed out on team selection but will be a contender for the next championships.
Starters- and results lists for the 2017 CDI Fritzens can be found here.
Photos © Dr. Alessandra Sarti
Time Schedule
Friday 30 June 2017
08.00h: #1 Prix St. Georges
12.00h:  Austrian Para Championships, Round 1 
13.30h: #2 Grand Prix for Special
Saturday 1 July 2017
08.00h: #3 Intermediaire I
12.00h: Austrian Para Championships, Round 2
13.30h: #4 Grand Prix for Freestyle
Sunday 2 July 2017
07.30h: #5 Grand Prix Consolation for non-qualified pairs
09.00h: #6 Grand Prix Special (the top 15 from #2)
12.00h: Austrian Para Championships, Round 3 Kur
followed by show programme and hat contest
14.30h: #7 Grand Prix kur to mysic (the top 15 from #4)
Info, images, videos, starting and results lists can be found at www.schindlhof.at and on Facebook, Instagram and Youtube
Winners List Manfred & Hildre Swarovski Memorial Trophy
1995 Bianca Kasselmann, GER
1996 Austrian Championships Dressage – no CDI
1997 Bianca Kasselmann, GER
1998 Christilot Boylen, CAN
1999 Markus Gribbe, GER
2000 Thorsten Dietz, GER
2001 Günther Seidel, USA
2002 Austrian Championships Dressage – no CDI
2003 Anja Plönzke, GER
2004 Rafael Soto Andrade, ESP
2005 Silvia Iklé, SUI
2006 Victoria Max-Theurer, AUT
2007 Victoria Max-Theurer, AUT
2008 no overall winner, Music Freestyle had to be cancelled due to bad weather
2009 Austrian Championships Dressage – no CDI
2010 Ulla Salzgeber, GER
2011 Carl Hester, GBR
2012 Carl Hester, GBR
2013 Valentina Truppa, ITA
2014 Victoria Max-Theurer, AUT
2015 Victoria Max-Theurer, AUT
2016 Isabell Werth, GER
The Manfred Swarovski Trophy is given to the most successful pair of the CDI4* Schindlhof (the percentages of the GP and GP Special respectively of the GP and GP Freestyle are added together). The winner is allowed to take home this valuable Swarovski crystal piece for a year. After winning three times the winner is allowed to keep the trophy for good. in 2014, Austria's 13-time state champion Victoria Max-Theurer achieved this.
For more information, visit www.schindlhof.at
Related Link
Eurodressage Coverage of the 2017 CDI Fritzens