2017 CDI Fritzens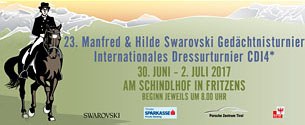 Mark your calendar for the 23rd Manfred & Hilde Swarovski Memorial Show which is scheduled to take place at the Schindlhof in Fritzens, Austria, on 30 June - 2 July 2017. This year the 4* CDI Fritzens is all about the European Championships in Gothenburg as the event will be an important qualification and observation event for European dressage and para dressage riders.
Since the passing of Manfred Swarovski sr. in 1995, his widow Hilde became the patron of the dressage competition at the Schindlhof. On 3 March 2017 Hilde passed away at age 102 so as of its 2017 edition, the CDI will now be carry the name Manfred & Hilde Swarovski Memorial Show. For the past two decades, the show has been known for its pleasant, familiar atmosphere and the extraordinary sportive conditions. Furthermore, year after year the CDI Fritzens boasts an impressive field of competitors. 
Riders from all top three ranked teams at the 2016 Olympic Games in Rio - Germany, Great Britain, USA - as well as 8 of the top 10 ranked riders of the 2017 World Cup Finals in Omaha have competed at the Schindlhof.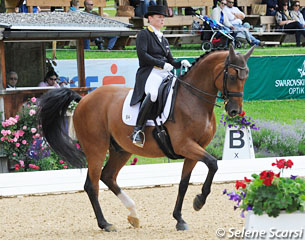 The competition highlight of the year 2017 will be the European Championships in Gothenburg (SWE) on 22 - 27 August 2017 for the disciplines in dressage, show jumping, driving, and para dressage. This year the show at Schindlhof will be a qualification event for Gothenburg for dressage and para dressage. Many top riders gathered in Fritzens as a key event in their preparation and qualification for Gothenburg.
This year Germany will be fielding a particularly strong team to the event, headed by the World Number One Isabell Werth. She will be joined by her Olympic gold medal winning team mate Dorothee Schneider as well as by the 2014 German WEG Team member Fabienne Lutkemeier. Furthermore Jenny Lang-Nobbe, Bianca Kasselmann, Kathleen Keller and Stefanie Schatz-Weihermüller are entered to compete. They will be joined by world class riders from Great Britain, Spain, Ireland, Italy, France, USA, Canada, Russia and Finland.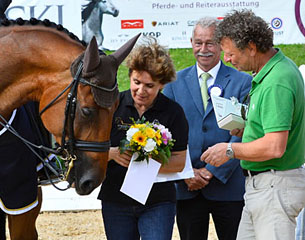 Austria will be sending its internationally best scoring riders to Fritzens, including Victoria Max-Theurer who already won the Manfred & Hilde Challenge Trophy four times. After hosting the first edition of the Austrian Para Dressage Championships in 2016, the CDI 4* Schindlhof will again be organizing those Nationals. Pepo Puch, the 2012 and 2016 Olympic champion and 2016 Austrian Athlete of the Year, will be present.
On Sunday 2 July visitors can enjoy a special show programme after which the traditional hat competition will take place. The beloved tv moderator and actrice Mirjam Weichselbraun will be judging ladies and their hats. 
The Haim-Swarovski family and the entire Schindlhof team are happy to invite all horse and sport lovers to the 23rd Manfred & Hilde Swarovski Memorial Show 
Time Schedule
Friday 30 June 2017
08.00h: #1 Prix St. Georges
12.00h:  Austrian Para Championships, Round 1 
13.30h: #2 Grand Prix for Special
Saturday 1 July 2017
08.00h: #3 Intermediaire I
12.00h: Austrian Para Championships, Round 2
13.30h: #4 Grand Prix for Freestyle
Sunday 2 July 2017
07.30h: #5 Grand Prix Consolation for non-qualified pairs
09.00h: #6 Grand Prix Special (the top 15 from #2)
12.00h: Austrian Para Championships, Round 3 Kur
followed by show programme and hat contest
14.30h: #7 Grand Prix kur to mysic (the top 15 from #4)
Info, images, videos, starting and results lists can be found at www.schindlhof.at and on Facebook, Instagram and Youtube
Winners List Manfred & Hildre Swarovski Memorial Trophy
1995 Bianca Kasselmann, GER
1996 Austrian Championships Dressage – no CDI
1997 Bianca Kasselmann, GER
1998 Christilot Boylen, CAN
1999 Markus Gribbe, GER
2000 Thorsten Dietz, GER
2001 Günther Seidel, USA
2002 Austrian Championships Dressage – no CDI
2003 Anja Plönzke, GER
2004 Rafael Soto Andrade, ESP
2005 Silvia Iklé, SUI
2006 Victoria Max-Theurer, AUT
2007 Victoria Max-Theurer, AUT
2008 no overall winner, Music Freestyle had to be cancelled due to bad weather
2009 Austrian Championships Dressage – no CDI
2010 Ulla Salzgeber, GER
2011 Carl Hester, GBR
2012 Carl Hester, GBR
2013 Valentina Truppa, ITA
2014 Victoria Max-Theurer, AUT
2015 Victoria Max-Theurer, AUT
2016 Isabell Werth, GER
The Manfred Swarovski Trophy is given to the most successful pair of the CDI4* Schindlhof (the percentages of the GP and GP Special respectively of the GP and GP Freestyle are added together). The winner is allowed to take home this valuable Swarovski crystal piece for a year. After winning three times the winner is allowed to keep the trophy for good. in 2014, Austria's 13-time state champion Victoria Max-Theurer achieved this.
For more information, visit www.schindlhof.at
Related Links
Eurodressage Coverage of the 2017 CDI Fritzens 
Eurodressage Coverage of the 2016 CDI Fritzens 
Eurodressage Coverage of the 2015 CDI Fritzens
Eurodressage Coverage of the 2014 CDI Fritens