2017 CDI Stadl Paura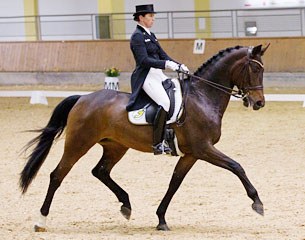 Austrian Grand Prix Belinda Weinbauer is on a roll. After winning the 2016 Austrian Grand Prix Championships, she has kicked off the 2017 show season in style with banging victories at the CDI Caselle di Sommacampagna. Weinbauer continues her success' tour also aboard her small tour babies Ferrero Kusschen and Damon's Classic at the 2017 CDI Stadl Paura on 7 - 9 April 2017.
The CDI Stadl Paura has traditionally been one of the last indoor events of the new year, taking place each Easter weekend. For 2017, the show management team of the CDI Stadl Paura decided to relocate to a new venue at Lake Arena in Wiener-Neustadt. However, to keep funding from the Austrian government going into equestrian programmes hosted at the national equestrian centre of Stadl Paura, Sissy Max-Theurer decided to stage a CDI at the original location nonetheless. The 2017 CDI Stadl Paura took place in a slimmed down version with a much smaller group of competitors, but it took place. 
The 41-year old Belinda Weinbauer won the two small tour classes aboard Marianne Jerich's 9-year old Hanoverian mare Ferrero Küsschen (by For Compliment x Sandro Hit). They scored 69.447% in the Prix St Georges and 71.184% in the Intermediaire I. Belinda has been riding the mare for nine months and arrived at her barn quite inexperienced. Jerich discovered the filly as a foal in Germany and reared her at home in Austria. 
"Her big advantages are her great mind and her unbelievable active hindleg," Weinbauer told Eurodressage. "She did her first Intermediaire I one month ago. There is a lot to improve and we are working in it. This season I just want to get her safe in the small tour."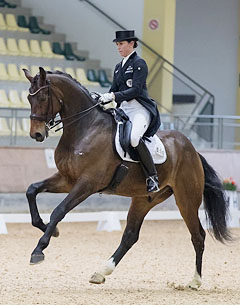 Weinbauer also made her debut on the 7-year old Westfalian bred Damon's Classic (by Damon Hill x Lauries Crusador xx), who was previously competed by Heiner Schiergen. The German rode the gelding at the 2016 World Young Horse Championships in Ermelo, where they were 10th in the 6-year old Finals.
Owned by Dr. Richard Seifert, Damon's Classic moved to Austria two months ago. At the CDI Stadl Paura the new duo placed fourth in the 7-year old preliminary test with 69.615% and won the Finals test with 79.575%.
"I think he is a really impressive horse with no weak points, because he is so long legged," said Weinbauer about the Westfalian gelding which she nicknamed Spiderman, adding that he is "not really ready. We are especially working on his balance. In the first test we had some disagreements but the second test was much better."
The rider aims to qualify him for the 7-year old division for the 2017 World Young Horse Championships, which will be back in Ermelo. 
Photos © Stefan Seiberl - Michael Rzepa
Related Links
Scores: 2017 CDI Stadl Paura
Belinda Weinbauer Dances to Kur Victory at 2017 CDI Caselle di Sommacampagne
Ahorner, Lorenz, Weinbauer Win 2016 Austrian Dressage Championships