Australia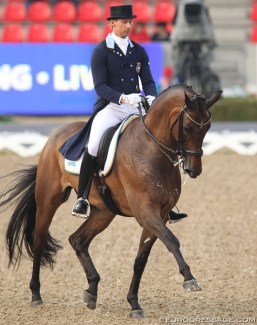 The Oatley family's retired Grand Prix horse Toy Story has passed away. The 18-year old Swedish warmblood gelding was euthanized on 1 December 2018. 
Toy Story was bred by Marie and Olle Bjernick in Sweden and was by Come Back II out of Cessna (by Concorde).
The gelding made his international Grand Prix show debut under Dutch Kebie van der Heijden in the summer of 2009. She showed him in Vidauban, Hartpury and Saumur, before he was bought by the Oatley family as Lyndal Oatley's successor for her first Grand Prix horse Potifar.
Lyndal only briefly competed Toy Story, with one CDI start in Lingen in June 2010. The chunky bay was quite the powerful ride. Husband Patrik  Kittel soon took over and he made his debut on the gelding at the CDI Braunschweig in March 2011. 
Kittel and Toy Story won the Swedish Grand Prix Championships twice and they represented Sweden at the 2013 European Championships in Herning, Denmark, where they finished 17th in the Grand Prix Special. They contested the 2012 World Cup Final in 's Hertogenbosch, where they were 8th. They last competition together was the CDI Frankfurt in December 2015, where they were fifth in the Grand Prix and third in the Kur.
In the autumn of 2016 Toy Story was retired from competition due to recurrent stomach issues and enjoyed two more years in the field.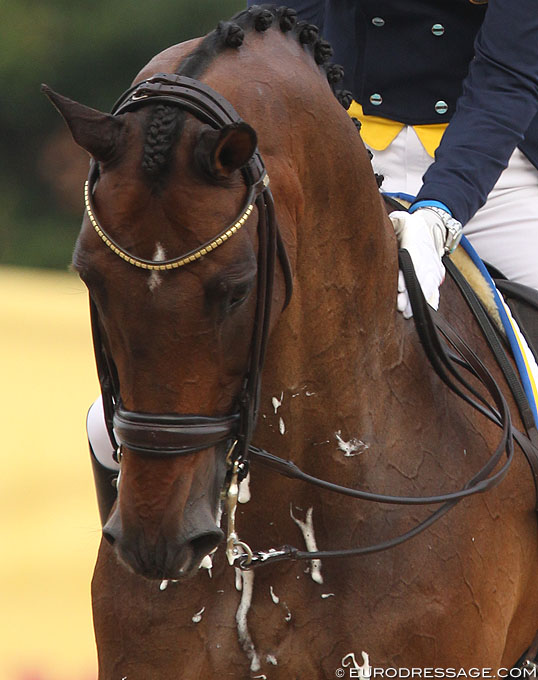 "Exactly 6 months to the day since we said farewell to Sandro Boy we sadly said goodbye to the larger than life character that is... was ... Toy," Lyndal stated. "This quirky, full of life and full of power big boy was really a standout character in our lives (...). He knew where his entourage was at all times in the arena and with one small eye roll in your direction he could make you laugh or cry.. and did both through this career. His huge character and strength was his advantage and disadvantage as if he didn't like you you knew about it and scared riders to no end in a matter of minutes if he didn't like them or push stable cleaners out of his box if he didn't mesh with them. But oh if he liked you he was the biggest sweetie you could ever meet and would call out to you and give you everything he had."
Toy Story was euthanized as his health began to decline rapidly. 
"After struggling with a deformity in the throat some years ago he was retired from sport," Kittel stated. "Sadly now the problems got worse and we had to put him to sleep. Toy was the quirk in the family, always up for a joke, but always on point, never giving up."
Photos © Astrid Appels
Related Links
Eurodressage Photo Database: Toy Story
Toy Story Retired from Competition
Patrik Kittel Wins the 2014 Swedish Dressage Championships
Patrik Kittel Wins the 2013 Swedish Dressage Championships
Kittel and Toy Story Ride to Glory at 2012 CDI-W Gothenburg
Patrik Kittel and Toy Story Skip to Grand Prix Victory at 2012 CDI-W Gothenburg
Kittel Wins Out in Super Tight Battle at 2011 CDI-W Stockholm