2013 Swedish Dressage Championships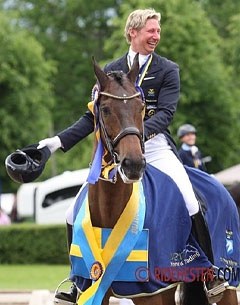 German based Patrik Kittel claimed his nation's most illustrious dressage title, Swedish Grand Prix Champion at the 2013 Swedish Dressage Championships held in Stromsholm on 7 - 9 June 2013. A dual Olympian Kittel finished with an overall score of 73.489% to put him ahead of national talents Cecilia Dorseluis on 71.626% and Charlotte Haid-Bondergaard on 70.868%.
"I was really happy with the results at the National Championships and felt that Toy Story is in really good form," Patrik told Eurodressage. "I also think we dealt with the pressure really well, as we were a bit of the favourite to win!"
Winning round one, the Grand Prix, and round two, the Grand Prix kur with 71.553 and 75.425% on the Oatley family's Swedish gelding Toy Story (by Come Back II), Patrik was not only pleased with his performance but also the running of this all-important competition. "I think Sweden is amazing and the weather was most of the time, really good. The Championship is a feel show and the organizers all tried really hard to do their best for the riders. Also, to see so many good Swedish riders is a lot of fun, and it was, for sure, not a walk in the park victory!"
Enjoying his work at the moment, Patrik loves that Toy Story is a horse that really wants to try for you, is secure in his work and looks forward to more fun times with him in the future.
"For Toy the next stop is Aachen but for now I just want to enjoy time with my family and friends," he added.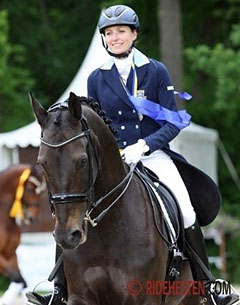 Also "super happy" about the championship weekend, Cecilia Dorselius felt that the 7-hour drive home from Strömsholm was a much easier drive with a silver medal around her neck!
"I am just so pleased with my silver medal," started Cecilia. "I have been off from competitions for almost a year due to the treatment of a sarcoid, so I am so happy to be back. During our time off, I had the opportunity to train the basics and test new techniques, which I feel is now paying off."
Third in round one with 69.277%, Cecelia and her Westfalian gelding Lennox (by Laurentianer x Florestan) rose to take second in the kur on 73.975% and she felt that her horse was both energetic and happy throughout the competition. "Lennox feels much stronger now, after a year off competitions and it feels as if he really enjoys being back in the ring. He has much more power and energy," she said. 
In Stromsholm Cecelia enjoyed the moment when the sunshine came back after a bad thunderstorm, right in time for the weekend highlight. "The rained poured down and the arena was almost totally under water but the sun came back just in time for the finals and all the riders were able to ride their ultimate test in sunshine," she said about the challenging weather conditions during the Championship.
Dorselius is an amateur Grand Prix rider with a full-time job at PwC as an Authorised Public Accountant. Adding Swedish Grand Prix silver to her list of achievements fills Dorselius with much pride. Her dark bay gelding Lennox is her only horse, which she acquired in Germany as a 3-year old. Cecilia know he has a lot of qualities but above all is the nicest horse she has ever known. "He is always nice to ride and he wants to make the rider happy," she explained. 
Trained by her father since she was 10 years old, Cecilia knows he is always present when she is riding and he is her mirror on the ground. "Since 2011, I have also trained with Kyra Kyrklund. She is brilliant and she has been my idol since I started riding dressage. I was, in 2011-2012, in total 2 months in UK training for Kyra and her husband Richard. Prior to that, I also trained with Minna Telde."
With her next competition in Rotterdam in two weeks time, Cecilia hopes to follow it up with the CDI Falsterbo, aiming of course, to make the European Championships in Denmark in August. "Overall, I hope that we can continue improving at each and every competition," she stated.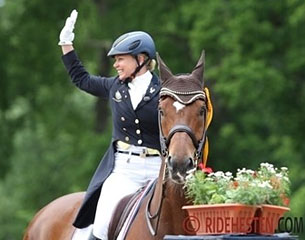 Bronze medal winning Charlotte Haid-Bondergaard and her 13-year old Dutch warmblood gelding Triviant (by Olivi x Saluut) took second in the Grand Prix with 69.660% and third in the kur on 72.075%.
"I have a very good feeling at the moment with Triviant and he is calmer and relaxed since we began working more on the race track and walking in the woods," says Charlotte. "It's incredible the way a different environment can help some horses to change so quickly and you can really see them relax and enjoy all their other work!"
Letting her horse enjoy his natural surroundings, Haid-Bondergaard knows this freedom in training has resulted in a major attitude change.  Charlotte has watched Triviant move from being a strong and very hot horse to a much lighter and happier one. "It's amazing to feel the difference and I'm so happy," she said.
Charlotte says Triviant a bit like a clown. "He always wants attention and loves to work. Sometimes he wants too much!"
Trained by her husband, Rasmus Bondergaard, who is her eyes on the ground during daily training, Charlotte also travels as much as she can to Kyra's clinics in Knytkalaset. Her current aim is to confirm her position on the Swedish A-team and qualify for the European Championships.
Text by Sarah Warne - Photos © Ridehesten
Related Links
Scores 2013 Swedish Dressage Championships
Eva Ulf Wins 2012 Swedish Grand Prix Championships
Tinne Vilhelmson Wins 2011 Swedish Grand Prix Championships
Tinne Vilhelmson Wins 2009 Swedish Grand Prix Title with Favourit
Tinne Vilhelmson Captures Second Grand Prix Title at 2004 Swedish Championships