2012 CDI-W Gothenburg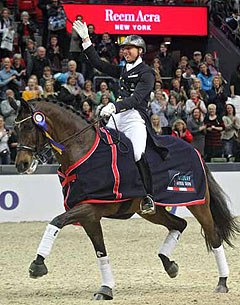 Patrick Kittel was the crowd-pleaser on home ground in the Scandinavium Arena at Gothenburg, Sweden tonight when steering Toy Story to victory in the last qualifying leg of the World Cup Dressage 2011/2012 Western European League series.  It was a nervous wait for the 35 year old Swede however, as the result was delayed due to an electrical fault that disrupted the scoring system.
In the absence of his marks, it was Great Britain's Richard Davison and Hiscox Artemis who were heading the scoreboard in the closing stages, with Denmark's Lone Joergensen and FBW de Vito close behind.  But these two were relegated when Kittel's score of 78.525 was eventually confirmed, leaving him well clear of all challengers.
Today's success brought Kittel's tally for the season to three, following previous wins at Stockholm, Sweden in November and at Mechelen, Belgium in December.  He has pipped Germany's Helen Langehanenberg for the 2011/2012 league title - a first for Sweden according to the FEI's Director of Dressage, Trond Asmyr.  "I'm really pleased about that, this has been a good day!" Kittel said tonight.
It was an excellent one for Joergensen too, as the 39 year old Dane was lying just outside a qualifying spot for the Final which will take place at 's-Hertogenbosch, The Netherlands from 18-22 April.  Her third-place finish today however moved her into ninth position on the league table from which the top-nine are automatically qualified.  Once again tonight, her 10-year-old gelding showed maturity beyond his years as he coped admirably with the charged atmosphere of the packed Scandinavium Arena which put paid to the ambitions of many who had gone before.
HALF-WAY STAGE
It was another Danish duo, Sidsel Johansen and the 13 year old Schianto, who were leading the field at the half-way stage after posting a score of 70.825.  They produced a lovely performance, filled with courage and flair - Schianto's extravagant trot extensions and lightness off the ground, and his rider's fearlessness when pushing for extended canter despite a glitch in the flying changes a moment beforehand, distinguished this partnership.
However they were demoted by the first pair in action after the break, as the evergreen 20-year-old Krawall belied his age when putting The Netherlands in front with a mark of 74.150 following a happy and harmonious programme.  Joergensen then re-jigged the leaderboard again two horses later, when FBW de Vito showed wonderful balance in extended trot, nice pirouette and piaffe - as the rider said afterwards, this is a horse who has three great gaits, and it seems only a matter of time before the relative novice becomes an even bigger threat to the biggest names in the sport.  With 74.875 now the target-score, they held the lead as the penultimate partnership of Kittel and Toy Story came into the ring, but it was clear the Swedish rider would surpass them as the home runners, performing to a new "Romeo and Juliet" themed musical score, produced the piaffe that Kittel has become famous for, along with the firmest of passage in a truly rhythmical test.
NO EASY JOB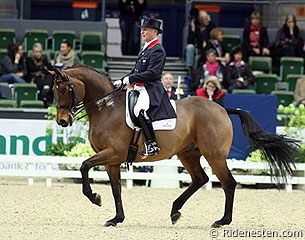 It was no easy job for the last-man-in, Davison, as the crammed stadium of spectators were still roaring their approval for their own hero as he entered the ring.   Gothenburg presents a particularly tough test, as the dressage arena just squeezes inside the confines of the oval-shaped ice-rink, with the four corners touching the surrounding walls.  Davison had to call on all his reserves of experience to steer Hiscox Artemis through their floor-plan, but the 56-year-old rider knows all there is to know about ring-craft and when 75.850 went up on the board he was well in the frame.  Kittel's score, meanwhile, had been swallowed up by the electronic blackout, but it was eventually retrieved and the home crowd rose to their feet with delight during the prize-giving ceremony.
Kittel admitted that the excitement of the spectators had affected his own performance.  "Sometimes I didn't have one-hundred percent control, and we made a little mistake in the two-tempis" he pointed out, but he added "tonight will stay in my memory for a very long time - the reception I got from the crowd was incredible!"
Davison said "I had a good time and a great ride" and that it would have been "nice to win in Patrik Kittel fan-land", but, he joked, "did you notice I did a deliberate mistake for all of Sweden because I didn't think I'd get out of their alive if I won, and anyway they didn't want an old guy like me to come out on top!" he added.
DELIGHTED
Joergensen was delighted with her third placing and with having qualified for the Final.  "This was only his (FBW de Vito's) third Freestyle so I had no great expectations, I would have been happy if we had been fifth or sixth" said the Danish rider who finished individually seventh at the Olympic Games in Sydney 12 years ago.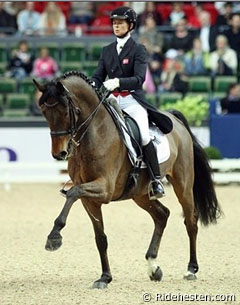 Talking about the unusually serene character of her horse who has exceptional stage-presence, she said "he was just born like that! I've had him since he was a foal, he was broken as a five-year-old and I often wondered if he would ever make it to the top so now, of course, I'm very happy with him!  I've had so many hot horses in my time so it's a great pleasure to have one like this, especially at my age!  He is very gentle and affectionate" she pointed out, adding, in a hushed voice, as if she can hardly believe it herself, "I think he might just be the best I've ever had..."
For now, like many of those competing in the Western European League Reem Acra FEI World Cup™ Dressage series, it is time for her "Hulle Pulle" as FBW de Vito is known at home, to have a rest before the final gets underway at 's-Hertogenbosch in eight weeks time.  There Joergensen will join today's winner Kittel and fellow-Swede Tinne Vilhelmson-Silfven along with Davison for Great Britain, Germany's Helen Langehanenberg, Isabell Werth and Nadine Capellmann, Italy's Valentina Truppa and The Netherlands' Hans Peter Minderhoud.
Wild-cards may permit some of those further down the leaderboard to also make the cut, but the final line-up will not be decided until the US and Eastern European League series are completed over the next few weeks, and all the qualification spots and wild-cards have been distributed.
Facts and Figures:
15 horse-and-rider partnerships competed.
7 nations represented - Sweden, Portugal, Norway, Denmark, The Netherlands, Finland and Great Britain.
Oldest horse in the competition was the evergreen 20-year-old Krawall, ridden by The Netherlands' Jenny Schreven.
The youngest horses were both 10-year-olds - FBW de Vito, ridden by Denmark's Lone Joergensen and Dorina, ridden by Norway's Siril Helljesen.
Ground Jury Panel - At E, Mrs Annette Fransen-Jacobaeus (SWE); At H, Mr Leif Tornblad (DEN); At C, Mr Gary Rockwell (USA); At M, Mr Gustav Svalling (SWE); At B, Mr Wim Ernes NED.
A total of 9 riders from the Western European League will qualify for the Reem Acra FEI World Cup™ Dressage 2011/2012 Final in 's-Hertogenbosch, The Netherlands which takes place from 18-22 April 2012.
Today's venue, the Scandinavium Arena in Gothenburg, Sweden, will host the Reem Acra FEI World Cup™ Dressage Final for the 2012/2013 season.
Today's winners, Sweden's Patrik Kittel and Toy Story, also won yesterday's Grand Prix in which Denmark's Lone Joergensen and FBW de Vito lined up second ahead of Britain's Richard Davison and Hiscox Artemis in third.
Quotes:
Richard Davison - "Trond (Asmyr, FEI Director of Dressage) tole me I was pretty safe for the Final, so I decided to ask something of my horse in this competition"
Ground Jury President, Gary Rockwell (USA) - "It was exciting judging tonight, and very close.  It was hard to separate them at the top, but the best horses really raised their performances to the music".
Reem Acra FEI World Cup Dressage 2011/2012 - Standings after Round 9 at Gothenburg, Sweden:
1.     Patrik Kittel SWE            -    73
2.    Helen Langehanenberg GER-    70
3.    Isabell Werth GER        -    66
3.    Valentina Truppa ITA        -    66
5.    Tinne Vilhelmson Silfven SWE-    62
6.    Hans Peter Minderhoud NED-    59
7.    Richard Davison GBR        -    55
8.    Nadine Capellmann GER    -    51
9.    Lone Joergensen DEN        -    48
10.    Jeroen Devroe BEL        -    43
11.    Mikaela Lindh FIN        -    41
12.    Jenny Schreven NED        -    39
13.    Siril Helljesen NOR        -    36
14.    Cathrine Rasmussen NOR    -    32
14.    Monica Theodorescu GER    -    32
16.    Dorothee Schneider GER    -    28
16.    Sidsel Johansen DEN        -    28
18.    Aat Van Essen NED        -    27
19.    Catherine Haddad USA    -    26
19.    Edward Gal NED            -    26
Photos © Ronald Thunholm / Ridehesten.com
Related Links
Scores 2012 CDI-W Gothenburg
Patrik Kittel and Toy Story Skip to Grand Prix Victory at 2012 CDI-W Gothenburg
Eurodressage Coverage of the 2012 World Cup Finals