2014 Swedish Dressage Championships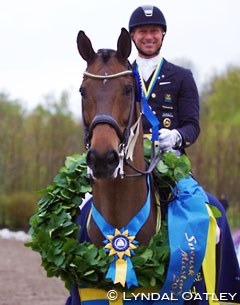 Patrik Kittel extended his national Grand Prix champion's title by winning the rainy 2014 Swedish Dressage Championships held in Ericsberg, Sweden on 9 - 11 May 2014. While Kittel cliniched the gold, his student Jeanna Högberg earned the silver, and Cecilia Andrén Dorselius made  bronze.
Patrik Kittel became the overall champion with an average score of 75.127% after finishing second in the Grand Prix and winning the Kur.  Patrik confirmed the Swedish Championships went really well for him and Toy Story. While he had some mistakes on the first day he was happy that his pupil Jeanne won the Grand Prix.
"The second day I was super happy," Kittel told Eurodressage. "It was raining and the grounds were a bit deep, but Toy really did a super job and did not put a foot wrong. My mental coach Andy says "refuse to lose" and I did that." Kittel added that "overall it was a great Championship with a lot of very good riders and horses!"
Kittel saddled the Oatley family's Swedish warmblood gelding Toy Story (by Come Back II) for the Nationals and relied on the horse's consistency and security in the Grand Prix. and so Patrik can trust him.
Set to compete in Munich with Deja and Scandic, Kittel has planned Toy Story's next outing at the CDIO Aachen on the Swedish team. The tall bay gelding has a strong personality and is competitive in the show ring.
"He knows what he wants and does not want," said the rider.  With his strong point being his willingness and his ability to always do the job, Toy has a weakness that can be turned into a strength. "He can sometimes over-do the work a bit and do everything at once. In training I work a lot on transitions so that he is in front of the leg and that he focuses on me also in the easy work like halts walk trot and canter, the basic things."
As a proud Swede Patrik loves to compete at the home championship, and is grateful for all his support!
"Sweden is my country and the people and the food are amazing," he said. "A huge thank you must go to Carol and Sandy Oatley, who help me so much with keeping Toy and supporting our dressage team."
Hogberg on a High
Runner-up and winner of the Grand Prix Jeanna Högberg and her bay mare Darcia (by Danone I x Don Schufro) finished on an overall of 74.380% and earned the silver. She feels the championship weekend went better than expected.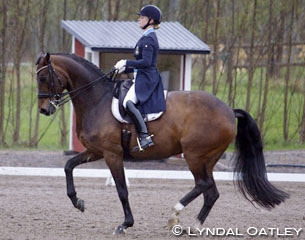 "This is not to say that I don't expect a lot from my wonderful horse," Jeanna added. "However, she is quite young and not that experienced, but we were able to win our third Grand Prix in a row and that was fantastic to do on a Swedish Championship! Then we were second after Patrik Kittel in the Grand Prix Freestyle, and I thing that is pretty okay too."
After training with Patrik two days before the championship, Jeanna said her 10-year old mare was feeling really good and in top form.
"Darcia is a very nice and energetic mare with a super temperament, always willing to do her best! She has great talent for piaffe, passage and a really good walk, easy for the collected movements but also for extensions," said Jeanna. "For me, I can say she has no weaknesses, if I could think of one it should be me, but I think I can keep up with her!"
Ready to start the mare internationally, Jeanne is planning to just take it step by step. "In training we are working on making her stronger and more confident in everything we do together," she said.
While perhaps the championship wasn't blessed with the best forecast, Jeanna qaid the sun actually did rise for the Grand Prix on Friday. When weather is good it is lovely to compete in Sweden.. "It is also fantastic with the environment on Ericsberg with the wonderful castle and roads so that you can walk for hours without meeting anyone. I actually went out walking before the starts on both days to keep my head cool."
Dorselius Gets the Bronze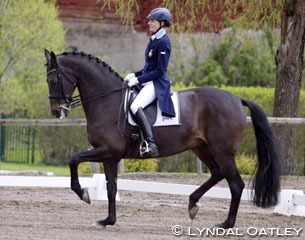 Grabbing bronze with 72.697%, Cecilia Andrén Dorselius and her 15-year old Westfalian Lennox (by Laurentianer) finished beyond their expectations.
"I have changed a lot in my training since Vidauban in February. There we had a lot of miscommunications when we tried to change the basics but now after two months of training at home, the communication is back on track and the changes have resulted in improved qualities in both the piaffe/passage work but also the canter work," Dorselius told Eurodressage.
At the Championships the pair had their personal best in both the Grand Prix test and the Grand Prix Freestyle. "It was a great feeling to ride my new Annie Lennox freestyle with Lennox in perfect harmony with the music," she added.
Feeling that Lennox had a lot of energy during both the tests, Cecilia is certain that the changed training has also improved his strength a lot.

"He had a two-month break from competitions, except for the Grand Prix in Denmark the weekend before the Championships, and he was really pleased to be back in the arena. We competed in a national GP class there to check if the new technique worked as well in a competition as it did at home, which it did and I decided to go to the Championships."
Trained by Kyra Kyrklund as well as her father, Cecilia works at PwC as an Authorized Public Accountant. Being greeted after work with a whinny and a happy horse is enough to keep her working towards her goals.
"I will discuss with chef d'equipe Bo Jenå which competitions I shall attend this summer. He has a plan for the majority of the members of the A-squad," Cecilia explained.
Moved at a late stage to a different venue, the 2014 Swedish Championships were organized by the Södertälje Riding Club. Cecilia felt that the club did a great job, and with the Championships held at beautiful Ericsberg even the weather couldn't stop the fun.
"Even if the rain kept pouring down, the audience and the riders kept the spirit up."
Text by Sarah Warne - Photos courtesy Lyndal Oatley
Related Links
Scores: 2014 Swedish Dressage Championships
Hogberg and Hendeliowitz Added to Swedish A-Team
Patrik Kittel Wins the 2013 Swedish Dressage Championships
Eva Ulf Wins 2012 Swedish Grand Prix Championships
Tinne Vilhelmson Wins 2011 Swedish Grand Prix Championships
Tinne Vilhelmson Wins 2009 Swedish Grand Prix Title with Favourit
Tinne Vilhelmson Captures Second Grand Prix Title at 2004 Swedish Championships