Trakehner Breeding News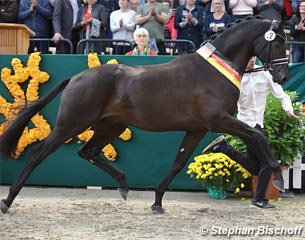 The Dutch bred and owned Trakehner stallion Kaiser Milton became the champion of the 2017 Trakehner Stallion Licensing in Neumunster, Germany, on Sunday 22 October 2017.
Thirty-two colts were presented for licensing and the committee approved 13 of them. Seven received the premium title and were in the running for the champion's title.  Gestut Sprehe's newly proclaimed Elite Stallion Millennium became the best producing sire with three sons in the premium lot. 
The champion of the 2017 licensing became Kaiser Milton. Bred by A. aan de Stegge and owned by Jan Pieter Dalsem from The Netherlands, Kaiser Milton is by Millennium out of Kaiser's Els (by Van Deyk). He was praised for his exceptional quality, looseness and power from behind. The colt was also well bred out of Kaiserkult and Kaiserdom's's full sister.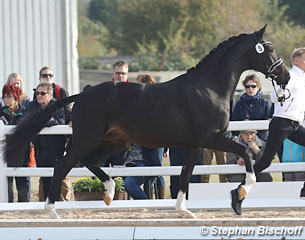 "Kaiser Milton was the most noble amongst the noblest of stallions. He has a brilliant type like no other," said breeding director Lars Gehrmann. 
Owner Dalsem made the last minute decision to add Kaiser Milton to the auction and the colt became the price highlight selling for 320,000 euro to Burkhard Wahler of Klosterhof Medingen.
Sir Pïcasso (by Distelzar x Pretty Dancer) was named the reserve champion. Bred by the Swiss Charlotte Vogels and owned by the breeder in partnership with the Swiss Berhard Langels, Sir Picasso was praised for his conformation and self carriage. He was not offered for sale. 
United Affair (by Herbstkonig x Sixtus) was the third ranked stallion in the premium ring. Bred by ZG Thönsen and owned by the Cava Consortium, this colt stood out with his versatility in dressage and show jumping. He sold for 100,000 euro to a stable in Hamburg.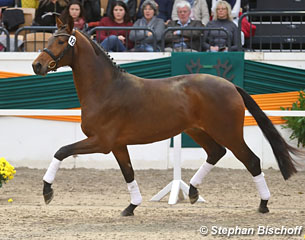 The other premium stallions were Dezember (by Herakles x Imperio), Grappa Nero (by Imhotep x Alter Fritz - sold for 35,000 euro), Resedon (by Millennium x Cadeau - sold for 37,000 euro) and Schneetänzer (by Millennium x King Arthur - sold for 47,000 euro to Austria). 
Further licensed stallions were Bourani (by Fairmont Hill x Legretto  - sold for 37,000 euro to France ), Dornfink (by Horalas x Abdullah - sold for 15,000 euro), Goldwert (by Le Rouge x Alter Fritz - sold for 37,000 euro to Austria), Kara Ben Nemsi (by Luxor x Rheinklang - sold for 29,000 euro to Austria), Under and Over (by Saint Cyr x Easy Game - sold for 22,000 euro) and In Versuchung (by Schwarzgold x Likoto xx - sold for 26,000 euro to Hessia).
The average price for a licensed stallion at the auction was 64,181 euro.
Photos © Stephan Bischoff
Related Links
His Moment Proclaimed Champion of the 2016 Trakehner Stallion Licensing
Perpignan Noir, Champion of the 2015 Trakehner Stallion Licensing
Generous Approval at Reformatted 2014 Trakehner Stallion Licensing
Kissinger, Star Champion in an Average Field at 2013 Trakehner Stallion Licensing
Strong Selection at 2012 Trakehner Stallion Licensing
Hawelmann Named Champion of the 2011 Trakehner Stallion Licensing
Imhotep Champion of the 2010 Trakehner Stallion Licensing
Kentucky, Champion of the 2009 Trakehner Stallion Licensing
Iskander, Champion of the 2008 Trakehner Stallion Licensing 
Grand Passion 2007 Trakehner Licensing Champion
Songline, 2006 Trakehner Licensing Champion 
Herzensdieb, 2005 Trakehner Licensing Champion, Sold to the U.S.A.
Le Rouge, 2004 Trakehner Licensing Champion 
In Flagranti, 2003 Trakehner Licensing Champion