2014 Trakehner Stallion Licensing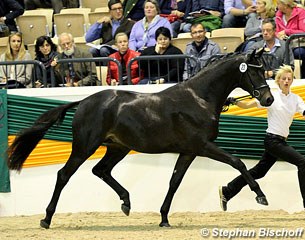 The apprehension and excitement was palpable at the 2014 Trakehner Stallion Licensing in Neumünster as a rather disappointing 2013 crop and auction had brought about significant changes to the program and selection process. The time to find if this new concept worked was here!
Selectors had only invited 38 stallion candidates to the big show this year. Of these, three were absent, and four were candidates for the first "under saddle" approval the Trakehner Verband staged; a concept that will hopefully find more traction and possibly eliminate the in hand phase all together. 2014 was a test run, and a good one at that. That left 31 two-year old stallions and one three year old (half TB) for the traditional in-hand phase. Those of us that hoped for only a small crop of maybe 8-10 approved stallions were rubbing our eyes at the end of the weekend, when 16 out of 35 total horses were approved, but the hope was clearly to offer a wide variety of stallions for the buyers and in most cases that attempt worked out.
One can only question what a population with less than 1000 foals per year wants to accomplish with 16 new sires, but history has taught us that many of the youngsters never really have significant influence on breeding – in fact some never breed, but become riding horses instead – so we'll give the commission the benefit of the doubt and will look back at this situation in a few years in retrospect.
Thankfully, the Trakehner Verband is one of the last in Germany to honor the positive influence of TB and Arabian lines in modern warmblood breeding – of the 38 candidates, three were half-bred TBs, and more had TB up close in their dams and sires, respectively. Two were approved. That is truly unique this year when comparing the lineup of stallion candidates say in Hanover, Westfalen or Oldenburg. Little to no blood to be found there!
Sir Sansibar, Champion of the 2014 Trakehner Licensing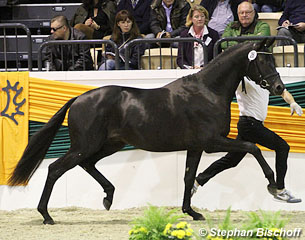 The new Champion stallion Sir Sansibar was the first of 5 sons of Millennium, one of the busiest stallions not only for the Trakehner breed with large mare books every year. Sir Sansibar out of Susuya by Cadeau (bred & owned by Gestüt Hohenschmark) was a crowd favorite from day one and impressed with his type, body harmony and excellent shoulder freedom, while the canter could have been more uphill. Sir Sansibar sold at auction for 300,000 euro to Gestüt Unter den Birken, Eva-Maria Aufrecht, in Austria, where he will certainly receive every chance in competition and the breeding shed after a much deserved break. He will begin his breeding career at Hengststation Galmbacher in Umpfenbach/Bavaria. Two other sons of Millennium were approved: Ivanhoe out of Interesse II by Hohenstein, a full sister to Carola Koppelmann's international Grand Prix stallion Insterburg TSF, was bred by Antonie G. Hofman from The Netherlands and owned by Frank Martens-Bruns and Ilonka Danowski. This stallion was exceptionally beautiful to look at, with fluid, balanced movements, but unfortunately a more than questionable walk during his hard surface performance. He sold at auction for 52,000 Euro to Gestüt Hörem in Lower-Saxony.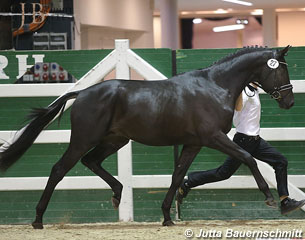 Knowing how well the Poll family turns out their youngsters, this stallion will mostly get every chance for a performance career – something distinctly lacking in the sire Millenium, who is so busy breeding that there seems little time for a solid under saddle career. Hopefully that will soon change! The other Millennium son was Octavian out of Ode II by Hohenstein – a 2/3 brother to Ivanhoe – and good for a premium title (bred & owned by Gestüt Radegast). Octavian comes from an interesting smaller East German mare family and a performance proven dam, was still lanky and in the middle of his maturation and therefore occasionally struggled with his large-framed body. However, he resembled much of what the modern refinement Trakehner stallion can bring to the table and was worth 100,000 euro to his new owners, Gestüt Hörstein in Bavaria.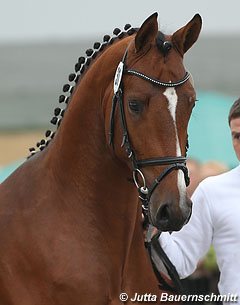 The Reserve Champion High Motion by Saint Cyr out of Hanna VII by Summertime (bred by Louise Bredemeier, owned by the High Motion Consortium) had the best walk of all stallions, which was pointed out by the approval commission. In fact I cannot remember seeing a better walk in hand for ages. The stallion was probably the most "complete" package of the approvals with simply outstanding athletic abilities in every phase. One could have wished for more elegance in his neck and front end, but that is complaining at a high level! High Motion's grand dam also produced the Trakehner elite stallion Hohenstein. His owners took him back home to begin his career at Gestüt Hämelscheburg. His future certainly is a bright one and it will be interesting to see him develop under saddle. The other Saint Cyr son, Greenwich Park, was also approved. He was bred and owned by Bernhard Langels from Gestüt Schäplitz. The horse could do no wrong – three solid basic gaits, good jumping, always paying attention to the handler and just an overall delightful package. Apparently, guests from far away thought the same - the stallion sold at auction for 31,000 euro to China, but first remains in Germany.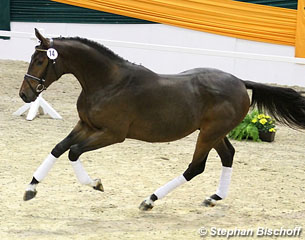 Klosterhof Medingen's 4x Bundeschampionate qualified riding horse champion Herbstkönig was the second young sire to produce a large crop in Neumünster this year. Four sons were accepted, 3 finally showed up, of which 2 were approved. Notably, the Herbstkönig offspring impressed with dual versatility and great riding horse type although his sons came out of very different dams that were also not related genetically. Albarolo out of Acelya by Polarion (bred by Bernd Eisenmenger, owned by Burhard Wahler of Klosterhof Medingen) was approved and not for sale. Klosterhof Medingen will know why ….. The second Herbstkönig son, Donauherbst out of Donauried by Kasparow (bred & owned by Johann Albert Timmermann) was of similar quality with three solid gaits, uphill movement, and balanced jumping. Surprisingly, he received little attention during the auction and went back to his owner.
Gestüt Tasdorf's S-level dressage stallion All Inclusive sent two sons to the approvals, of which Timberland out of Tamara XXI by Schwadroneur was approved. His dam already produced the proven dressage stallion Titiano (Leonie Bramall). Timberland (bred & owned by Karl-Heinz Schulenburg) was a tall chestnut with tremendous impulsion, but lacked body harmony to some extent and could have been suppler over his top line. He too was bought back his owner. Two sons of Gestüt Wiesenhof's former Champion stallion Kentucky were up for approval and both made the cut.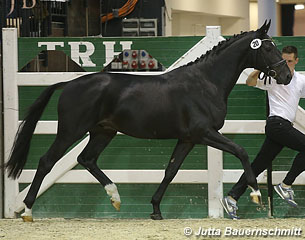 The black Niagara was bred in Poland by Marek Przczewski out of Nigeria by Wiec, and according to the breed director "cantered into the premium" during the at liberty performance – truly a balanced horse with a lot of quality for dressage. He was owned by the "Mythos Trakehnen" Consortium – three Trakehner fans had spotted the foal during a trip to the old East Prussia (now in Poland) spontaneously bought him for further rearing in Germany. Niagara brought 30,000 euro, but also went back to the owners. The second Kentucky son was the liver chestnut Vapiano out of Vienna by Easy Game, bred by Gestüt Radegast and owned by Norbert Timm from Gestüt Hohenschmark. This imposing stallion was a formidable dressage model from a mare family that is proven in sport, but was almost too heavy for a Trakehner. He sold at auction for 42,000 euro to Schleswig-Holstein.
The newly approved Sir Oliver (by Oliver Twist) is the latest addition to the string of exceptional horses out of the Trakehner elite mare Shakira by Biotop – Königspark xx (bred & owned by Gestüt Heinen). Sir Oliver is a full brother to Singolo, the sire of the 2014 Bundeschampion 4yr old riding horse Zikade. Furthermore, Shakira also produced the 2014 Bronze medalist driving horse Society Crown. She is also dam of two other approved sons and several upper level performance horses – what a mare! The still immature and rather coarse Sir Oliver was sold at auction for 40,000 euro to Baden-Württemberg and will first start his stallion career with a performance career. Given the high overall quality of his gaits, this seems like a potential road to success.
Gestüt Marbach presented the black Donauabend, son of the show jumper Abendtanz out of Donaublüte by Lauries Crusador xx (bred by Burkhard Wahler). The stallion was nice proof of the fact that some jumper blood in a dressage pedigree can work wonders in terms of adding more scope, push and strength to the hind end. The stallion was not for sale and will stand at Marbach.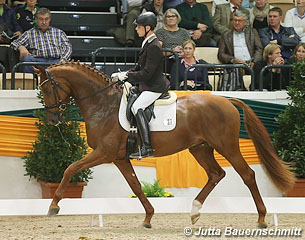 Only one candidate from the under saddle approvals made the cut this year. Tudor by Iskander out of Tugga by Sixtus (bred by the Gellhaar family and owned by Consortium Tudor) was a most impressive riding horse model, already highly decorated from his first competition season as a 3yr old. The stallion showed wonderful self-carriage and uphill movement under saddle and was sold at auction for 35,000 euro to Gut Staffelde in Berlin. Without a doubt, his performance career will be continued.
Successful Sport Horse Auction
Only five riding horses were up for sale this year – a great development considering that really only top quality made it to Neumunster this year. Consequently, the new average price of 54,500 euro went up from 27,900 Euro last year! Top seller was the approved 3-year old Hopkins by Hofrat – Artistic Rock (bred by Ilsemarie Peters, owned by August Camp), who won the National Trakehner Riding Horse Championships in Germany in 2014 and also competed at the Bundeschampionate. This full brother to the former Champion Häwelmann is a delightful dressage horse with outstanding movement and the apparent willingness to work and perform. He sold for 100,000 euro to Northrhine-Westphalia. Runner up was the already M** dressage winning Meddoc by Kasimir TSF – Lucito (bred by Roger Grün, owned by August Camp), who found a new home in Hamburg for 85,000 euro. The third highest price was achieved by the Bundeschampionat competitor Rock my life by Donaudichter – Hofrat (bred by Julia and Hartmut Traupe and owned by Alexander Rühmkorf) with 40,000 euro, who was sold to a member of the German Junior Rider Team from Hamburg.
The top selling foal was Philippa, a bay filly by Syriano out of the most impressive Le Rouge daughter Pelena, bred by Beate Heise vom Seeon in Bavaria. The filly sold for 14,000 euro to Lower Saxony. Second best seller was the half TB colt Outback by Duke of Hearts xx – Sixtus, bred by Gestüt Grigoleit, who will also have to learn Chinese now. He sold at auction for 10,000 Euro.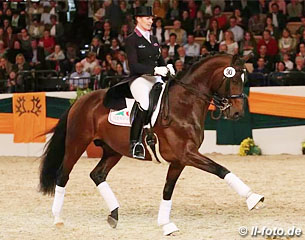 And no Neumunster without mares …. as usual, the quality of the brood mares for sale was exceptional. This is really a Trakehner strong point. The first 2-year old to enter the ring, Heavenly Brown by Millennium – Le Rouge, bred by Christian Röhl, sold for 40,000 euro to Gut Staffelde. And the second 2-year old also brought in top Dollar: Arosa by Kentucky – Gribaldi was an incredibly moving liver chestnut bred by Gestüt Heinen-Issum, and ended up costing 32,000 euro for Austria. The top selling mare was also a chestnut: Pigalle by Gribaldi – Cadeau (bred by Dr. Helmut Eisner), who was presented under saddle by her trainer Helen Langehanenberg and looked amazing: Balanced movement, suppleness, with a lightness and rhythm that was exceptional. The mare found new owners at Gestüt Albführen in Baden-Württemberg for 80,000 euro. Dam Pepsi IV, under the same rider, had already been proven at M level and the Bundeschampionat and this mare here is heading in the same direction, already qualified for the Bundeschampionat in 2014.
All in all the event was a big relief after the doomsday experience of 2013 and probably leaves several officials sleeping better at night. The new format with less stallions, the under saddle approvals, a better distribution of auction horses throughout the two days and many other features really helped to make the Trakehner experience in 2014 a good one. Now it's time for the new shining stars to show what they have in them!
by Dr. Maren Engelhardt for Eurodressage
Photos © Stephan Bischoff and Jutta Bauernschmitt
- LL-foto
Related Links
Kissinger, Star Champion in an Average Field at 2013 Trakehner Stallion Licensing
Beautiful Horses and Some Great Riding at 2013 International Trakehner Championships
Strong Selection at 2012 Trakehner Stallion Licensing
Maren Engelhardt: Numbers Don't Lie, or Do They?