Trakehner Breeding News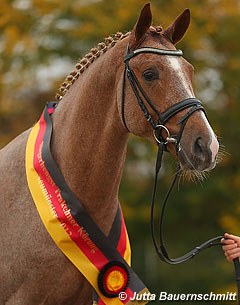 In 2012 the Trakehner Verband celebrated its 50th anniversary during the Neumünster Stallion Approvals and Auctions. A total of forty-three 2-year old colts were presented to the approval commission, which consistied of breed director Lars Gehrmann, the international event rider Elmar Lesch, the breed director of the ZfdP, Hans-Leonard Britze, the Graditz State Stud manager, Steffen Bothendorf and Dr. Hans-Peter Karp (breeder and judge).
Some 130 2-year old colts were screened during the summer selection tour in August and consistent with the lower breeding numbers and a tough general economic reality and thus, diminished markets, the commission selected fewer colts for Neumünster – a wise decision as it would turn out later.
The Trakehner is in the unique (and rather testing) situation in that it has to compete as an international performance horse with other warmblood breeds that can look back at a very different history. Trakehners are refiners for almost all other warmblood breeds today, despite the fact that many do not carry TB or Arabian blood up-close anymore – a problem for the breeders of this horse since it is the one factor that sets this breed apart from all others. Historically, the Trakehner is a very high quality horse for eventing and its biggest international success stories in the recent decades were in that discipline. However, in order to survive in today's world of big movers and questionable training methods, these horses have to fulfill somewhat of a balancing act between two worlds.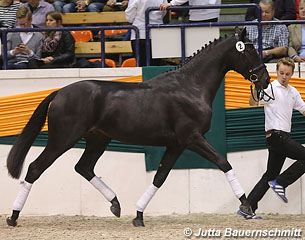 The Trakehner breed has certainly seen better overall quality in the stallion crops presented for approval. However, in 2012, several individuals did stand out as modern horses with elaborate movement, finally some much-needed TB infusion, and good overall conformation. On the hard surface, the first impression of the crop was not overly positive as several colts moved very wide behind, and lacked suppleness in their walks. Small, narrow hooves are also sometimes still a problem. Yet the free jumping phase on Friday had several highlights, none better than catalog No 2 Avatar (by Ajbek x Agar). Bred by Monika Machlowicz-Wojsiat from Gietrzwald in Poland, the colt had been acquired by a most illustrious group of horse enthusiasts that met during a cruise of the Baltic Sea earlier this year. Their consortium "Pferdefreunde Ostsee" (which includes Ruth Klimke and Bettina Schockemöhle amongst others) presented the first Polish-bred, Neumünster-approved Trakehner, and Avatar certainly lived up to his performance-proven pedigree. His free jumping was marked by scope, very good technique and serious potential, and in the end convinced one of the Trakehner breed's harshest critics, Paul Schockemöhle, to bid! Avatar was acquired at auction by Schockemöhle in partnership with Joop van Uytert from the Netherlands for 37,000 euro.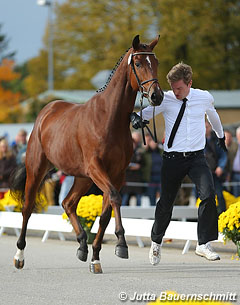 The at liberty phase, conducted in the much-admired "Dutch" fashion with horses being led through a number of figure eights before trotting and cantering down the long side, really left an excellent impression with a number of horses. The catalog No 1 colt, Amourano (by E.H. Connery x Lagunas xx) was the only true half TB in this year's selection and went home with a much deserved premium title. Always balanced and in great rhythm, this colt was bred by the late Kathrin Poll, and is a maternal half brother to the 2003 premium Armano. Amourano stands out as a first rate refinement sire one can easily picture a success in Hanover or Oldenburg as well. He sold at auction for 50,000 Euro to the dressage stables of Wieger de Boer in Hamburg.
The next approved colt from the catalog was No 17 Donauruf (by E.H. Herzruf x Exorbitant xx), who was proclaimed as Champion this year, with 50% TB blood through his second generation (both dam and sire were Anglo-bred). Although called many things regarding his unusual coat color, the stallion is not a roan – he is a chestnut with white hair, a condition best described as "stichelhaarig" in German. The 1,70m tall youngster had a most impressive frame and one of the best, most solid foundations of the crop. His breeder, Veronika von Schöning, also bred his sire and has certainly produced a masterpiece in Donauruf. However, during the at liberty phase it was pretty apparent that he did not quite use his hocks and hind end the way one would have expected after his stellar hard surface appearance. At his size, maybe he does need more time to grow into his frame. This weekend, he was not the best moving horse in Neumünster and the clapping and cheering for the later Reserve Champion was an indicator of the very close race these two ran. Donauruf sold at auction for 300,000 Euro to Gestüt Wiesenhof in Krefeld, and it is not yet clear if he will stand at stud right away. Word is that Fie Christine Skarsoe, who used to ride for Gestüt Wiesenhof, will take over the reins of Donauruf and that is probably the best thing that could have happened for the future of the stallion's under saddle career.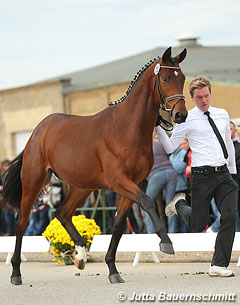 The former Bundeschampion Imperio presented four sons this year, two of which were approved. No 22 Guardian was a very hot contender for the Champion title. Bred by Hubertus Poll of Hörem out of Gute Zeit (by E.H. Consul), he moved light as a feather, had a good walk at least during his hard surface appearance, and impressed overall with elegance, harmony in his frame and exceptional self-carriage. He is a maternal half-brother to Ingrid Klimke's accomplished young eventer Glenn Grant (owned by Gestüt Wiesenhof). Guardian sold at auction for 150,000 euro to Gestüt Gut Roest, Marion Essing, where he will be stationed. And the next Imperio son, No 23 Carlsberg, also bred by Hubertus Poll and out of the Nandino xx daughter Cornandia, was maybe less impressive than his paternal half-brother, but still a model of a stallion with Imperio written all over him. The movement was produced with much suspension and very good front farm mechanics albeit a somewhat long rear cannon bone. Carlsberg carries very valuable bloodlines since he is a grandson of the dam of Consul – a stallion today sadly underrepresented in the Trakehner breed. Carlsberg was not for sale.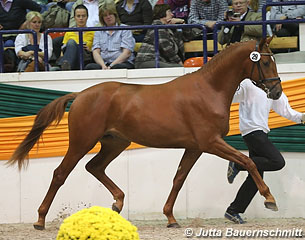 Burkhard Wahler presented the chestnut Sarkander from the first foal crop of the former licensing champion Iskander, out of Sarabande XI by Germanicus Rex (breeder: Georg Pleister, Melle). This chestnut was a very dynamic horse with very good free jumping, a high quality level in all three gaits including the walk, and apparent qualities as a versatile riding horse. The stallion will begin his career at Klosterhof Medingen. Similar bloodlines appeared in the approved grey No 32 Khancoban out of Kornblume by E.H. Caprimond (breeder: Ulich Henke, Lüchow). The stallion showed great overall elegance and nobility with a very good neck, good yet not extravagant movement and with highlights in the at liberty rounds. The stallion will receive his training from now on by de Boer stables in Hamburg, where he sold to for 22,000 Euro.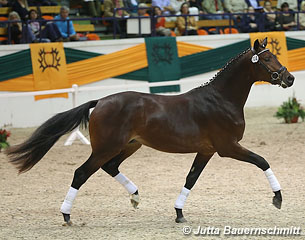 Further down in the catalog, No 38, 39 and 40 were all approved. San Silviano (by E.H. Polarion out of the former National Champion mare Shakira by E.H. Biotop) is the third approved son of his dam after Shapiro (Bundeschampionat 2012) and Singolo. San Silviano was at the center of a lively discussion – one half loved him, his aura, expression, the good hard surface performance and his well-balanced free jumping, while the other half criticized his lack of rhythm at liberty, where his legs did move with exuberant mechanics, but his back failed to support his body adequately and the stallion lost his rhythm many times. He will have a chance to show what he is all about though – the colt, bred by Gestüt Heinen in Issum, was sold at auction for 130,000 euro to a prominent British Olympic dressage family and will be stationed at Hofgut Albführen for now. No 39 Marseille was also out of a first foal crop, this time of the 2008 Reserve Champion Prince Patmos out of Mireille Mathieu by Cosmir, a Danish-bred Gribaldi son. This dark bay was bred by Anders Dahl in Denmark and was a very solid, all-around athlete with good movement, a good jumping form, and an interesting pedigree. Nothing could go wrong here, and the stallion sold at auction for 22,000 Euro to the USA. Similar comments are true for No 40 Debussy, a son of Redecker (another first timer) out of Donauwolke by E.H. Cadeau. The stallion was bred by Gisela Gunia from Uslar, and was one of the best, most powerful jumpers of the lot this year. He will need some time to grow into his large frame, but overall, he pleased as a modern sport horse with strength and the right attitude towards work. Debussy sold at auction for 27,000 Euro to Hella Kunz and will be trained as a dressage horse for now, not standing at stud.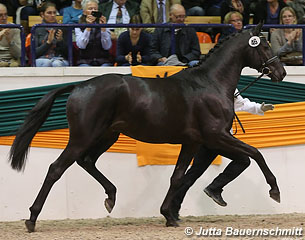 The final premium stallion of the lot was also one of the best overall horses of the days in Neumünster, and came somewhat as an underdog. No 46 Whizzkid by the East German stationed Syriano out of the very well-bred half TB mare Waluna by Uckermärker was bred by Johannes Mangold in Jerichow and was presented by Hans-Peter Kleinfeld and Joop van Uytert from the Netherlands. The stallion had a brilliant moment during his at liberty phase, where he showed excellent activity from behind paired with great self-carriage and light as a feather. The stallion sold at auction for 46,000 Euro to new Trakehner clients in Ratingen, Northrhine-Westfalia.
Overall, the crop was not as exciting as in past years, but the approved stallions made up for that. It was a good decision to approve fewer stallions than in previous years – the Trakehner breed has too many anyway. The average price for an approved stallion was over 80,000 Euro, which is quite impressive, especially given the hard times we live in today. It is much more troublesome, however, to consider the average price for the non-approved stallions – barely 12,000 euro, and that is not enough. The Verband would be well advised to start selecting colts for sport horse purposes and not so much for pedigree or, as it seems, a certain type of large-framed, dark colored "dressage" horses that in the end, nobody wants to buy. Have courage! Look at this year's riding horse auction, an auction that was not easy to establish at this event and that really needed time to do well. And in 2012, it really paid off to pay attention to performance lines and horses with a performance record! Thanks are certainly due to international eventer Alexa Bendtfeld, the Trakehner Verband's new sales representative and her Neumünster partner, Sabine Oberdieck.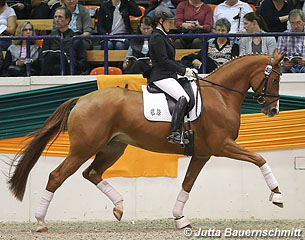 This year, the top selling mare Donauflamme by Rheinklang, herself a multiple under saddle champion, was sold for 105,000 Euro to dressage enthusiasts in Hamburg. Other horses with great talent included Get Smart by Kaiserkult, the stunning little mare Gracia by K2 (no horse in Neumünster this year moved like her!), the impressive stallion Nightflight by Elfado, who is now looking forward to a dressage career in the de Boer stables in Hamburg, It's my Turn by E.H. Insterburg TSF, who sold for 60,000 euro, and the eventing stallion and former premium Halimey Go (by Askar AA), who was acquired by an American consortium and will be ridden by US Team member and Pan American Games Gold medalist Michael Pollard in the near future. It is further noteworthy to mention that no less than 9 auction horses were sold to Austria, to a new client in NMS, "Mr. Red Bull" Dietrich Mateschitz, who sat in the stands and had obvious fun (and a very good eye) on his shopping tour.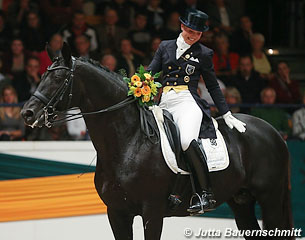 The 2012 Gala Show was the usual mix of stallion showcase, fun non-horse numbers and in reflection of the 50th anniversary, some walks down memory lane. British-owned Axis (E.H. Sixtus – E.H. Angard) was proclaimed as elite stallion this year and was shown by his long-term rider Terhi Stegars. The pair will stay together at least through the next Olympics. And E.H. Hofrat (E.H. Gribaldi – Guter Planet) made his first appearance under Dutch Theo Hanzon, who already rode the stallion to success in several FEI classes this year and plans to go all the way. Hofrat no longer resides in Germany, but is now stationed at his famous sire's Dutch station with Joop van Uytert. The highlight, however, was not a Trakehner, but famous Westfalian State Stud coldblood stallion Hurricane and his master rider, Georg Schulte Quaterkamp. Well known among German's stallion shows, the comedy here is unsurpassed and always a highlight. And kudos to Helen Langehanenberg for getting on the horse and riding the Freestyle of her life!
by Maren Engelhardt for Eurodressage
Photos © Jutta Bauernschmitt
Related Links
Herzrouge and Cote d'Azur Shine at the 2012 Trakehner Mare and Dressage Championship
Donauruf, Champion of the 2012 Trakehner Stallion Licensing