2017 Spanish Youth Riders Championships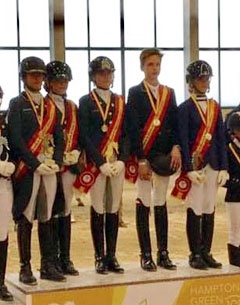 Children rider Araceli Pons Sole, junior Rider Alba Abollo Fontela and young rider Mónica Blázquez Lopez-Muñiz were the big winners of the 2017 Spanish Youth Riders Championships held at the Equestrian Centre Castilla Y Leon in Segovia, Spain, on 6 - 10 September 2017. The Nationals in Segovia brought together massive fields of youth riders with Championships in also the younger, non FEI level age categories - alevin and juvenil -  riding on ponies and horses.
In the FEI Children's division Araceli Pons Solé and the 13-year old PRE bred Mejorano V (by Unjudo IV) captured the gold medal with 207.911 points. The pair won the preliminary and team championship test ith 70.134% and 68.933% and was third in the individual test with 68.844%. The silver went to Bruno Cid Romero on the 9-year old Hanoverian mare Brentana (by Brentano II). The pair represented Spain at the 2017 European Children Championships and now finished second at the Nationals with 206.197 points. Cid scored 69.367%, 66.767% and 70.063%. Andrea Montoya Martinez and the 11-year old Hanoverian bred Original's B. Real Meyer finished with bronze on 205.894 points. The pair earned 68.400%, 68.900% and 68.594%.
The FEI junior riders' division amassed a group of 52 riders! Spanish sensation, European Kur bronze medal winning Alba Abollo Fontela was a league of her own on the 7-year old Spanish Sport Horse bred Elvillar CS (by Espriwall). She won the team test with 73.865%, won the individual with 71.947 despite some tough competition and reigned in the freestyle with 77.975% to total 223.787 points for gold. Carla de la Fuente de Pablos and the 10-year old Hanoverian Fay (by Fidertanz) got silver with 71.324%, 71.526% and 73.685% (216.535 pts), while Adrian Roldan Narvaez and the 9-year old Hanoverian Forzento (by ) finished on bronze with 70.00%, 69.00% and 73.610% (212.610 points).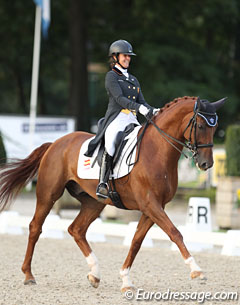 In the FEI Young Riders division 27 riders competed.  Mónica Blázquez Lopez-Muñiz and her 13-year old Hanoverian Flash (by Falsterbo) topped the leader board in the overall standing for the gold medal with a total of 210.867 points. She won all three rounds with 69.842% in the Prix St Georges, 69.000% in the individual and 72.025% in the Kur to Music. Ona Sola Gonzalez Hidalgo and the 8-year old Oldenburg bred Sirocco (by Sergio Rossi) finished in silver medal postition with 69.263%, 66.553% and 70.655% (206.471 pts). Alejandro Oliva Lazar and Juan Antonia Jimenez' Grand Prix horse Elevado, a 13-year old Hanoverian by Falkenstern II) finished on the bronze medal step of the podium with 67.895%, 66.895% and 70.290% (205.080 pts).
Great 2017 for Spanish Dressage in the Youth Divisions
Spanish youth team trainer Nicky Barrett is thrilled with the results her riders have achieved at the European Championships and Nationals this year.
"For the first time there is depth behind the four team riders in Juniors," Barrett told Eurodressage. "The majority of which will move up to Young Riders next year. There is a much clearer understanding of both trainers and riders of how to develop the horses. The quality of riding and influence has changed greatly, which is why they have achieved the medals the last few years. I am very pleased to have been involved with Spain to help them in a small way achieve this and grateful to all that have followed the suggestions which I appreciate isn't always easy."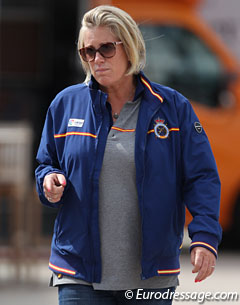 Barrett's contract as youth team trainer is up for negotiation in 2018 so the British coach is not yet sure of her future in Spain. She is, however, excited about the progress that has been made. 
"As for 2018, I don't yet know if my contract will be renewed," she explained. "There are many changes being made. Either way I would say that Spanish Youth Riders will continue to go from strength to strength."
Photos © Private - Astrid Appels
Results - 2017 Spanish Youth Riders Championships
Children
1. Araceli Pons Solé - Mejorano V - 70.134 - 68.933 - 68.844 --- 207.911
2. Bruno Cid Romero - Brentana - 69.367 - 66.767 - 70.063 --- 206.197
3. Andrea Montoya Martínez - B Real Meyer - 68.400 - 68.900 - 68.594 --- 205.894
4. Ane Martín Ladron - Kronprinz - 67.333 - 67.700 - 70.250 --- 205.2835
5. Fátima Garcia-Gullon Domínguez - Dolittle - 66.733 - 69.233 - 65.719 --- 201.685
6. María Araceli Martín Rivera - Showman - 66.867 - 66.467 - 67.500 --- 200.834
7. Alvaro Perdomo Duque - Sir Medano - 67.200 - 66.567 - 65.156 --- 198.923
8. Susana de la Iglesia Rico - Fuego Santo - 67.0006 - 5.867 - 65.750 --- 198.617
9. Lucía Bardaji Magaña - Boo - 65.533 - 65.600 - 67.469 --- 198.602
10. Jessica Castro Cachinero - Indiferent - 67.533 - 64.634 - 66.094 --- 198.261
11. Pablo Sánchez Martín - Konig - 65.500 - 66.767 - 65.125 --- 197.392
12. Aina Suau Fullana  Hugo - 66.867 - 65.033 - 64.063 --- 195.963
13. Carla Ugena Agramunt - Jecomias III - 64.400 - 65.867 - 65.625 --- 195.892
14. Javier Martinez Garcia -  Picu - 67.067 - 64.067 - 64.344 --- 195.478
15. Teresa González Cerqueira - Donna Marq - 62.400 - 67.867 - 65.000 --- 195.267
16. Rosa Rubio Bretón - Dacontee - 64.500 - 65.600 - 64.625 --- 194.725
17. Lorena Maza Pardo -  Armas Cartucho - 65.733 - 66.167 - 62.094 --- 193.994
18. Claudia Lledo Ros - Rechecho - 64.733 - 64.100 - 64.594 --- 193.427
Junior Riders
1. Alba Abollo Fontela - Elvillar CS - 73.865 - 71.947 - 77.975 --- 223.787
2. Carla de la Fuente de Pablos - Fay - 71.324 - 71.526 - 73.685 --- 216.535
3. Adrian Roldan Narvaez - Forzento - 70.000 - 69.000 - 73.610 --- 212.610
4. Gemma Guerrero Garriga - Airplane - 67.811 - 70.474 - 71.535 --- 209.820
5. Moisés Seguí Pons - Fandango D'Alo - 68.459 - 69.553 - 71.710 --- 209.722
6. Rodrigo Mora Vicente - Sir Henry - 68.6496 - 8.789 - 68.090 --- 205.528
7. Patricia Martínez Martínez - Fiederglanz - 66.973 - 68.816 - 69.400 --- 205.189
8. Andrea Herrera García - Rock Star - 67.7306 - 8.000 - 68.860 --- 204.590
9. Casilda Rubio Bretón - Copernicus - 68.919 - 67.211 - 68.020 --- 204.150
10. Mª Esperanza Navarro Torrens - Der Hollander - 67.541 - 67.605 - 68.635 --- 203.781
11. Carolina García García  - Volvo - 66.892 - 67.526 - 69.300 --- 203.718
12. Juan José González de las Cuevas Pimienta - Denksport - 66.008 - 67.369 - 68.865 --- 202.242
13. Abril Serdà Ungil - Royal Crash - 65.730 - 67.158 - 69.170 --- 202.058
14. Lucy Walker Hames - Fame DDH - 66.91964.44768.350 --- 199.716
15. Noelia Camañes Tomás - Van Gogh - 66.784 - 65.684 - 65.805 --- 198.273
16. Lucía López de Ingunza - Lex - 65.270 - 65.579 - 67.150 --- 197.999
17. Giovanni Torrens Bentz - Euro Boy - 66.02765.86865.995 --- 197.890
1.8 Nekane Pomposo Palenzuela - Deja Vu - 64.033 - 67.237 - 64.740 --- 196.010
Young Riders
1. Mónica Blázquez Lopez-Muñiz - Flash - 69.842 - 69.000 - 72.025 --- 210.867
2. Ona Sola Gonzalez-Hidalgo - Sirocco - 69.263 - 66.553 - 70.655 --- 206.471
3. Alejandro Oliva Lázaro - Elevado 67.895 - 66.895 - 70.290 --- 205.080
4. Diego Martínez del Moral - For Olimpic Games - 67.658 - 66.211 - 68.735 --- 202.604
5. Olatz Mariño Sarasua - Roncal II - 66.447 - 66.500 - 68.145 --- 201.092
6. Elena Moncayola Pruja - Onix - 64.947 - 68.263 - 67.375 --- 200.585
7. Lucía Galbis Cervero - Firnis de Aristo -  65.474 - 66.842 - 68.015 --- 200.331
8. Esteban Jesús Cornejo Casillas - RMR Mio - 64.500 - 66.895 - 67.985 --- 199.380
9. Karin Húsková Húsková - Floriane - 66.921 - 66.790 - 65.660 --- 199.371
10. María Igualador Petit - Red Diamond  - 67.552 - 64.842 - 66.255 --- 198.649
11. Itsasne Gómez Sánchez - Antivo - 65.210 - 66.842 - 65.780 --- 197.832
12. Ana Martínez López - Easy Top - 66.895 - 66.342 - 64.020 --- 197.257
13. Lorena Ramos Soler - Andes - 65.500 - 64.184 - 66.865 --- 196.549
14. Elisa Saiz Giraldo - Coco Chanel - 62.816 - 65.921 - 67.710 --- 196.447
15. Sofía Argelich Gimeno - Salieri - 64.789 - 65.210 - 66.075 --- 196.074
16. Carolina Díaz García - Don - 64.553 - 64.895 - 65.805 --- 195.253
17. Álvaro Zorita Paz - Elewoud - 64.711 - 65.237 - 64.920 --- 194.868
18. Anna Comas Margarit - Samaro - 66.369 - 64.316 - 63.305 --- 193.990
Related Links
Serrano Pons, Segui Pons, Navarro Torrens Win 2016 Spanish Youth Riders Championships
De La Fuente, Ramirez, Laiz Wins 2015 Spanish Youth Riders Championships
Sofia Argelich Wins 2014 Spanish Pony Championships