2014 Spanish Pony Championships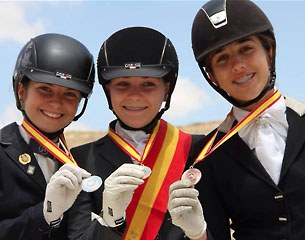 Sofia Argelich Gimeno and her black German Riding Pony Desparo were the winners of the Spanish Pony Championships held in Segovia, Spain, on 23 - 25 June 2014. All four combinations of the Spanish pony team, selected to compete at the 2014 European Pony Championships, were in Segovia alongside a further four pony-and-rider combinations.
The Barcelona based Argelich, who is trained by Victor Alvarez, and her 13-year old Desparo (by Diamond Dream x Durello) led the first two rounds, scoring a winning 68.674% in the team test and 68.076% in the individual test, and she placed second in the Kur with 67.845. Her overall score of 238.517 put her in the gold medal position and gave her the national title.
"I wanted to get more good sensations with my pony before going to the Europeans," Argelich told Eurodressage after winning the gold. "Desparo behaved very well. I'm very happy with my results and Desparo too! Now we are taking a short relax time but we keep on practising to be in perfect shape for Millstreet."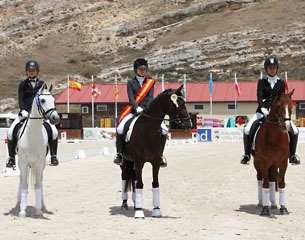 The silver medal went to 15-year old Patricia Bou Rovira on her 12-year old German Riding Pony gelding Piccolo (by Pamir ox). Trained by Sebastian Garcia, Bou twice placed second in the first two rounds with 67.179% and 67.392% and won the Kur to music with 68.983% to total 238.045 points, just  fraction behind Argelich.
"Piccolo went really well in Segovia," Bou explained. "He was very calm and helped me a lot. I'm so proud of him, he is improving every day. I was happy because I achieved the silver medal with a score which wasn't very far from Sofia's."
Maria Esperanze Navarro Torrens and her 17-year old German Riding pony Carlo Colucci (by Constantin) were the bronze medalists with 230.332 points in total. They scored 65.512 % in the team test, 64.700% in the individual test and 66.747% in the Kur to Music.
Results - 2014 Spanish Pony Championships
1. Sofia Argelich Gimeno - Desparo - 68.674 - 68.076 - 67.845 --- 238.517
2. Patricia Bou Rovira - Piccolo - 67.179 - 67.392 - 68.983 --- 238.045
3. Maria Esperanze Navarro Torrens - Carlo Colucci - 65.512 - 64.700 - 66.747 --- 230.332
4. Carla de la Fuente de Pablos - Kronprinz - 62.179 - 66.837 - 67.357 --- 230.051
5. Lara de Gathemo - Verdu Vidal Otti - 64.828 - 65.127 - 65.893 --- 228.794
6. Ane Lide Galindez Urquijo - Altanero - 61.324 - 65.298 - 65.284 --- 224.548
7. Tania Rodriguez Quintela - Carinoso - 61.666 - 60.683 - 61.707
8. Paula Hervas Garcia - Kojak - 63.632 - 60.256 - 60.121 --- 214.069 
Related Links
Spanish Team Selected for 2014 European Pony Championships
Spanish Youth Riders Short Listed for 2014 European Championships
Spanish Pony, Junior and Young Rider Team Selection Criteria for 2014 Announced
Claudia Quintilla Wins 2010 Spanish FEI Pony Championships