2016 Spanish Youth Riders Championships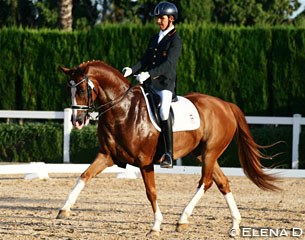 Children's rider Roser Serrano Pons, junior rider Moises Segui Pons and young rider Concha Navarro Torrens became the grand champion and titleists of the 2016 Spanish Youth Riders Championships held this year in Valencia, Spain, on 1 - 4 September 2016. The Nationals in Valencia did not include a pony division but had a special children's category for 9 to 12 year olds either on ponies or horses (?).
The official FEI children's division for 12 to 14 year olds on ponies or horses was won by Roser Serrano Pons on his 17-year old Sander. The pair won the first round, the team test with 69.500%. In the second round, also the team test, they were second with 68.400. In the Kur they were third with 69.875% but they finished first with an overall average of 69.258%.  The silver medal went to Clara Campasol Trafach on Denver while Ainhoa Vera Arias and Mosquetero VIII got the bronze.
At junior riders level Spanish team member Moises Segui Pons and his 9-year old Westfalian Fandango (by Flamur out of Pretty Girl) topped the board after placing second in the team test (69,270%), first in the individual (70.500%) and in the freestyle (71.700%). His score average was 70,490% and good for gold. Team mate Carla de la Fuente de Pablos  and her 9-year old Hanoverian Fay (by Fidertanz out of Goethe's Hilde) got the silver while Elena Moncayola Pruja earned bronze on the 9-year old Spanish registered Onix. 
At young riders level Concha Navarro Torrens and her 14-year old Hanoverian Dimero (by Dacaprio out of Espriva) claimed the national title with a score average of 69.843%. She finished second in the team test (67.421%) but then clearly won the individual (70.132%) and freestyle (71.975%) for gold. Sofia Pachon Macias and her 13-year old Rhinelander bred Dacapo (by De Niro out of Windspiel) finished with silver on an average of 68.614%, while María Igualador Petit and her 12-year old Oldenburg Red Diamond (by Rhodes Scholar out of Fairnis) got bronze with 68.501%.
Photo © Elena Domingo Reguero
Results - 2016 Spanish Youth Riders Championships - Valencia
Children (top 10 only)
1. Roser Serrano Pons  - Sander - 69,500 - 68,400 - 69,875 --- 69,258
2. Clara Campasol Trafach -  Denver - 69,267 - 67,367 - 70,344 --- 68,993
3. Ainhoa Vera Arias  - Mosquetero VIII - 66,400 - 69,800 - 70,031 --- 68,744
4. Bruno Cid Romero  - Brentana - 68,067 - 67,133 - 69,094 --- 68,098
5. Casilda Rubio Bretón  - Daconte - 68,300 - 67,567 - 67,219 --- 67,695
6. Laura Ber Martínez  - Bently - 68,367 - 66,300 - 67,625 --- 67,431
7. Ane Martín Ladron  - Kronprinz - 67,633 -66,367 - 68,281 --- 67,427
8. Anna Ferreiro Bach  - Danonino - 68,700 - 65,833 - 67,469 --- 67,334
9. Clara Muñoz Roldán  - Capricho LIII - 68,933 - 63,000 - 68,688 --- 66,874
10. Andrea Montoya Martínez - Real Meyer - 66,300 -  66,767 -  67,281 --- 66,783
Junior Riders (top 10 only)

1. Moisés Seguí Pons  - Fandango d'Alo - 69,270 - 70,500 - 71,700 --- 70,490
2. Carla de la Fuente de Pablos  - Fay - 70,081 - 70,474 - 67,550 --- 69,368
3. Elena Moncayola Pruja - Onix - 66,297 - 70,236 - 69,775 --- 68,769
4. Gemma Guerrero Garriga  -Airplane - 68,649 - 66,921 - 70,550 --- 68,707
5. Adrian Roldan Narvaez  - Forzento - 69,189 - 65,632 - 70,725 --- 68,515
6. Mónica Blázquez Lopez-Muñiz  -Flash - 67,595 - 67,737 - 69,750 --- 68,361
7. Alejandro Oliva Lázaro  -Elevado - 68,378 - 67,395 - 68,650 --- 68,141
8. Lucy Walker  - Fame DDH - 67,162 - 65,921 - 68,400 --- 67,161
9. Patricia Bou Rovira  - Andes - 64,865 - 66,861 - 69,125 --- 66,950
10. Noelia Camañes Tomás - Van Gogh - 66,108 -  65,974 - 68,550 --- 66,877
Young Riders (top 10 only)
1. Concha Navarro Torrens - Dimero - 67,421- 70,132 - 71,975 --- 69,843
2. Sofía Pachón Macías  - Dacapo - 69.211 - 68,632 - 68,000 --- 68,614
3. María Igualador Petit  - Red Diamond - 66.316 - 68,711 - 70,475 --- 68,501
4. Antonio Laiz Zandio - Gejholms Menotti - 69.553 - 68,026 - 64,900 --- 67,493
5. Ana Ceña Ortego - Furco A - 65.368 - 65,868 - 66,725 --- 65,987
6. Karin Húsková Húsková  - Florian - 65.737 - 67,421 - 64,075 --- 65,744
7. Marta de Pfaff Ganduxer  - Handsome - 64.789 - 65,474 - 66,750 --- 65,671
8. Idoia de las Heras Madariaga  -  Waldeck - 65.789 - 62,421 - 68,125 --- 65,445
9. Covadonga Martinez-Hombre Ga-Bernardo  - Dumbledore - 65,921 - 65,763 - 62,750 --- 64,811
10. Mikel Arbizu Martiricorena - Sam - 63,789 - 63,789 - 65,300 --- 64,293
Related Links
Ferrer-Salat Grabs Grand Prix Title at 2016 Spanish Dressage Championships
De La Fuente, Ramirez, Laiz Wins 2015 Spanish Youth Riders Championships
Sofia Argelich Wins 2014 Spanish Pony Championships