2015 Spanish Youth Riders Championships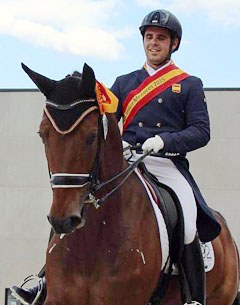 Pony rider Carla de la Fuente, junior rider Alfonso Jesus Ramirez and young rider Antonio Laiz Zandio were the winners of the 2015 Spanish Youth Riders Championships held at the Castilla y León equestrian centre in Segovia, Spain, on 3 - 6 September 2015. In attendence of the technical staff of the Spanish equestrian federation, which includes  technical director Luis Lucio and Spanish youth team trainer Nicky Barrett, the established Spanish combinations as well as a few new pairs were on form for the final national season highlight.
Pony rider champion Carla de la Fuenta and her 18-year old evergreen Kronprinz (by Kaiserjaeger x Golfy) were on fire during the championships, which dealt with a little rain, but overall welcoming weather.
"My pony was fantastic," Carla told Eurodressage. "He was active, bright and very concentrated!"

Carla described her pony as not only beautiful, but also with a good character despite him being a stallion. Given his age he is particularly sharp in competition. "My father bought my pony in Germany a few years ago and I ride in Segovia where my family has a Lusitano stud farm," she stated.
Trained by her father, Carla achieved her second Spanish title after winning one last year with her 8-year old mare Fay (by Fidertanz).
"I wasn't sure I would win as you never know. Anything can happen in the championship and there were people who rode very well in my category.  I am very happy because I worked hard for this championship and to be champion of Spain with my pony is a joy because it's my last year with him and it was the best farewell!"
Carla's plans for next year are to continue working hard and improving, competing in juniors with her mare Fay, and to participate in the European Championships for her country. "I also will compete with some Lusitano horses from the stud farm," she added.
Alfonso Jesus Ramirez took out the Juniors while Antonio Laiz Zandio came up trumps in the Young Rider on his 8-year old Danish Warmblood Gejholms Menotti  (by Don Romantic).
"The first day my horse was tense, but on the second and third day he was super and we won the kur with a 71.275%," said young rider Antonio, who trains with Lauro Aguilo in Giron. "I bought him in January 2015 in Germany, near Dusseldorf. This was my first title and we didn't expect to win because he is a young horse without much experience at all. In the lead up to the Spanish Championship I had done just two shows with him. The plan now is we will go to Jerez to the Spanish young horse dressage championship and then we will rest a little bit for next year."
In 2016 Antonio hopes to do international shows with this horse in France, and he is also looking for suitable shows in The Netherlands and  Germany.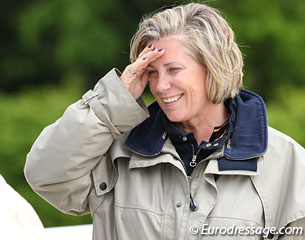 Spanish youth team trainer Nicky Barrett added that CECyL was a great venue with top facilities and surfaces, all well run.
"It was very encouraging to see almost 200 youngsters competing, ranging in age from 10 - 21," said Barrett. "For the first time we saw some former International team riders bringing on younger, more quality horses in the Young Riders. We are also seeing much more depth in Juniors than in previous years, with several new, potentially exciting, combinations emerging."
Within the youngest group Nicky said there was also some good riding with many new ones of ponies.
"However these were not yet of a high enough quality for international pony competitions; so we need to encourage them onto horses with the aim of introducing the riders to international competitions in the new Children's Europeans. This is a definite possibility as we have some passionate breeders in Spain and the horses are the right size and temperament for children to develop. We have to make it happen," she stated.
Results - 2015 Spanish Youth Riders Championships
Pony Riders (top 10)
1. Carla de la Fuente - Kronprinz - 69.800 - 69.057 - 69.800 --- 69.552
2. Gemma Guerrero Garriga - Airplane - 67.200 - 68.600 - 69.900 --- 68.567
3. Adrian Roldan Narvaez - Forzento - 66.086 - 67.257 - 69.000 --- 67.448
4. Diego Martinez - Picachu - 66.457 - 67.629 - 67.867 --- 67.318
5. Alba Abollo Fontela - Shubert - 65.943 - 65.600 - 67.433 --- 66.325
6. Nuria Estelles Jovani - Florencio - 63.686 - 67.229 - 67.400 --- 66.105
7. Julia Alvarez Adab - Wiridee - 66.143 - 65.686 - 65.533 --- 65.787
8. Ane Lide Galindez - Altanero CXXXXIV - 65.371 - 65.229 - 66.400
9. Reyes Garcia Garrido - Don Chico - 64.857 - 65.686 - 65.100 --- 65.214
10. Paula Martinez Carmona - Almaro N - 64.714 - 64.543 - 65.167 --- 64.808
Junior Riders (top 10)
1. Alfonso Jesus Ramirez - Delhi - 70.216 - 70.026 - 72.450 --- 70.897
2. Jesus Sanchez Martin - Sir Chocolat - 68.568 - 69.737 - 71.350 --- 69.885
3. Elena Moncayola Pruja - Arroba Onix - 68.757 - 67.237 - 71.700 --- 69.231
4. Moises Segui Pons - Amstrong d'Alo - 68.216 - 65.711 - 70.625 --- 68.184
5. Claudia Costas Nijhof - Rich Man - 67.108 - 67.895 - 68.575 --- 67.859
6. Yago Blanco Garcia - Sangotard - 66.838 - 65.763 - 68.700 --- 67.100
7. Karin Huskova - Faramir - 66.351 - 65.763 - 69.050 --- 67.055
8. Itsasna Gomez Sanchez - Antivo - 66.757 - 64.816 - 68.375 --- 66.649
9. Noelia Camanes Tomas - Van Gogh - 67.432 - 65.553 - 66.775 --- 66.587
10. Lluis Femenias Taltavull - LLuna d'Alo - 66.649 - 64.500 - 68.250 --- 66.466
Young Riders (top 10)
1. Antonio Laiz Zandio - Gejholms Menotti - 65.895 - 68.974 - 71.725 --- 68.865
2. Maria Dolores Moncayola - Hierro - 67.632 - 68.763 - 69.600 --- 68.665
3. Maria Igualador Petit - Red Diamond - 65.079 - 67.184 - 70.175 --- 67.479
4. Sofia Pachon Macias - Dacapo - 64.316 - 68.579 - 67.350 --- 66.748
5. Carolina Diaz Garcia - Don - 62.658 - 66.395 - 68.250 --- 65.768
6. Cristina Torrent - Alan Dalo - 67.000 - 67.974 - 62.325 --- 65.766
7. Concha Navarro Torrenz - Dimero - 64.605 - 64.237 - 67.500 --- 65.447
8. Eva Maria Calvache - Sanchez - Hyperia - 62.921 - 66.342 - 66.750 --- 65.338
9. Maria Molina Megias - Ileso JCL - 64.526 - 63.579 - 65.950 --- 64.685
10. Alfonso Gormaz Torcal - Fantastico IPA - 63.368 - 63.842 - 65.800 --- 64.337
Related Links
Spanish Teams Selected for 2015 European Junior/Young Riders Championships
Sofia Argelich Wins 2014 Spanish Pony Championships