KWPN Breeding News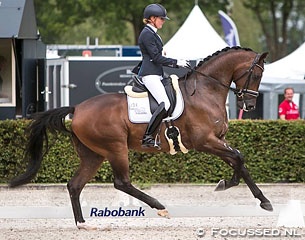 The 4-year old Guadeloupe Beau and the 5-year old Fenix persevered after winning the semi finals and claimed the title in the 2015 Pavo Finals which were held at the KWPN Horse Days in Ermelo, The Netherlands, on Thursday 13 August 2015.
Under Kim van der Velden, the chestnut mare Guadeloupe Beau (by Bordeaux x Vivaldi) scored 90 points in the semi-finals and 87 points in the finals. Although she was only fourth in the final round, her overall total of 177 points put her first. The mare is bred by P Ruilkens. The 4-year old reserve champion is Great Lady TC (by Bretton Woods x Osmium) presented by young rider Jeanine Nieuwenhuis. She climbed up from an 84 point scoring semi finals round to the high score of 90 points in the final to finish second overall with 174 points.  The gelding Glamour (by Charmeur x OO Seven) landed third place under junior rider Demy Kurstjens. He scored 88 poinrs in the first round and 85 points in the finals for a total of 173 points.
In the 5-year old division Emmelie Scholtens and the bay gelding Fenix (by Vivaldi x Houston) reigned supreme with two winning scores. They topped the semi finals with 91 points and dominated the finals with 92 points for a total of 183 points. The duo edged out Kirsten Brouwer on the stallion Ferdeaux (by Bordeaux x Ferro) who was second twice: 89 points in the first round and 91 points in the finals for a total of 180 points. Marieke van der Putten and the stallion Four Legends KS (by Wynton x Ferro) slotted in third with 86 points and 88 points for a total of 174 points.
Photo © Focussed.nl
Results - 2015 Pavo Cup Finals
4-year olds
1. Kim van der Velden - Guadeloupe Beau - 90 - 87 - 177
2. Jeanine Nieuwenuis - Great Lady TC - 84 - 90 - 174
3. Demy Kurstjens - Glamour - 88 - 85 - 173
4. Kirsten Brouwer - Ferguson - 82 - 88 - 170
5. Ingrid Malan - Giovanni - 80 - 89 - 169
6. Carlos Caetano - Glamourdale - 85 - 84 - 169
7. Jennifer Sekreve - Gotcha Utopia - 84 - 84 - 168
8. Severo Jurado Lopez - Galaxy Win T - 83 - 84 - 167
9. Femke de Laat - Gigolo K - 84 - 82 - 166
10. Marieke van der Putten - Geniaal - 83 - 81 - 166
11. Adelinde Cornelissen - Governor - 81 - 82 - 163
12. Femke de Laat - Girona - 81 - 82 - 163
13. Chantal Nijpjes - Gigi Valentina - 81 - 82 - 163
14. Simone Both - Gipsy TC - 81 - 82 - 163
15. Marije de Lange - Grenaat - 80 - 82 - 162
16. Yessin Rahmouni - Gaga STH - 81 - 81 - 162
17. Ainhoa Prada Ortiz - Genie - 81 - 81 - 162
18. Robin Geelen - Gossiemijne B - 83 - 79 - 162
19. Adelinde Cornelissen - Goodman RWP - 80 - 80 - 160
20. Charlotte Fry - Graaf Leatherdale T - 80 - 80 - 160
21. Kim Koolen - Guardian S - 83 - 76 - 159
22. Fieke Houwen - Gardenia Sollenburg - 81 - 76 - 157
5-year olds
1. Emmelie Scholtens - Fenix - 91 - 92 - 183
2. Kirsten Brouwer - Ferdeaux - 89 - 91 - 180
3. Marieke van der Putten - Four Legends KS - 86 - 88 - 174
4. Kirsten Brouwer - Five Star - 87 - 87 - 174 piints
5. Severo Jurado Lopez - Franklin - 86 - 85 - 171
6. Gerdine Maree - Filegra - 85 - 85 - 170
7. Jennifer Sekreve - Forty - 84 - 86 - 170
7. Jennifer Sekreve - Ferrero - 84 - 86 - 170
9. Emmelie Scholtens - Fanita - 84 - 85 - 169
10. Veronique Roerink - Flannell - 82 - 85 - 167
11. Kirsten Brouwer - Foundation - 81 - 83 - 164
12. Malin Nilsson - Foreign Affair - 80 - 81 - 161
13. Jessica Buying - First Apple - 81 - 80 - 161
14. Katja Gevers- Flambeau - 80 - 80 - 160
14. Anne Meulendijks - Ferrari Begijnhoeve - 80 - 80 - 160
16. Femke de Laat - Future - 80 - 79 - 159
17. Krista Lensing - Fabergee - 80 - 79 - 159
18. Adelinde Cornelissen - Fleau de Baian - 80 - 75 - 155
19. Joyce Heuitink - Fribourg W - 81 - 73 - 154
20. Tristan Tucker - Fellow - 83 - 71 - 154
Related Links
Guadeloupe Beau and Fenix Win Semi Finals at the 2015 Pavo Cup Finals
Fanita and Eye Catcher Win 2014 Pavo Cup Finals
Everdale and Dancer Win 2013 Pavo Cup Finals
Desperado and Charmeur Win 2012 Pavo Cup Finals
Charmeur and Borencio Win 2011 Pavo Cup Finals
Borencio and Amazing Star Go All the Way and Take 2010 Pavo Cup Finals
TC Athene and Zhivago Win 2009 Pavo Cup Finals
Zuidenwind and Wynton Win 2008 Pavo Cup Finals
Westpoint and Vivaldi Win 2007 Pavo Cup Finals
Santano and Ucelli T Win 2006 Pavo Cup Finals
Uptown and Dreamcatcher Win 2005 Pavo Cup Finals
Florencio and Sandreo Win the 2004 Pavo Cup Finals
Special D and Robin Hood, 2003 Pavo Cup Winners
Rubels and Paster, 2001 Pavo Cup Champions
Natcho and Osmium Wins 2000 Pavo Cup Finals
Broere Stallions Dominate 1999 Pavo Cup Finals
Lucky Times and Mariena Win 1998 Pavo Cup Finals