2022 PSI Auction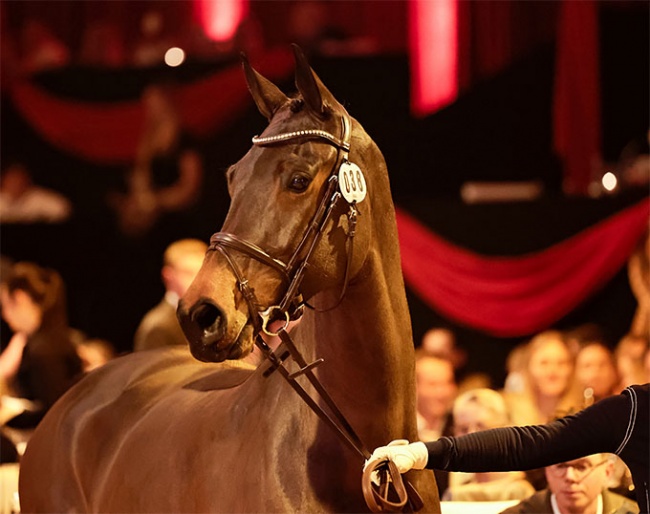 The show jumper Chyazint became a new warmblood auction record holder when she sold for 4 million euro at the 2022 PSI Auction on Saturday night 10 December 2022. 
"When tradition meets modern sport horse breeding, when people fall in love with horses and dreams come true, then it can only be the one and only P.S.I. Auction in Ankum," the Performance Sales International team stated and they put words into action.  PSI is an auction taking place annually and hosted by Germany's biggest horse dealers of exclusive performance horses, Paul Schockemöhle and Ullrich Kasselmann
4 Million Euro Record Price
The 6-year old jumper mare Chyazint (by Casallco x Heartbreaker) wrote history by becoming the most expensive warmblood horse ever sold at auction. 
As the fourth horse to go in the auction, Chyazint set hearts racing and sold to the Auer family for an unprecedented, sensational top price of 4.0 million euro. It was the highest price ever attained by a horse in P.S.I. history. The mare has been competed in courses up to 1.35m by Swedish  Ebba Johansson.
The German entrepreneur Frank Auer already shopped last week for four horses including the price highlight at another auction in Germany (1,350,000 euro) but it did not compare to the amount he spent for Chyazint at PSI. Auer and his wife Maja Auer (née Möltgen) are both show jumpers. Based in Mülheim an der Ruhr, Auer made his fortune in the energy business. 
"This is an unbelievable result," Paul Schockemöhle said after the new record sale of one of his show jumpers. "Chyazint is an absolute super talent, one of the best horses we have seen in all these years. Under the expert guidance of Swedish rider Ebba Johansson, she has developed into a truly absolutely exceptional jumper. The best riders in the world have tried to win this mare for themselves and I am sure that she will soon play a role in top international sport and at championship level."
The 7-year old jumper LVS Vigo (by Vancouver) also cracked the million euro marker and found a new owner at this auction.
Fürstin Aura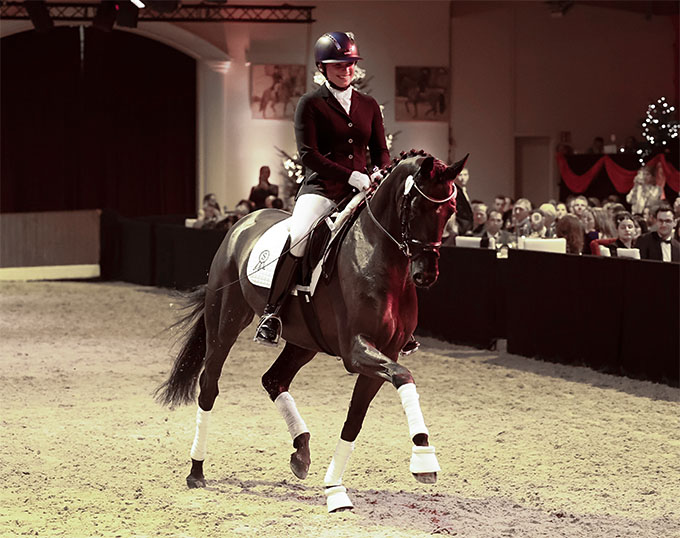 The 43rd P.S.I. Auction was one of the best auctions, the P.S.I. founders Paul Schockemöhle and Ulli Kasselmann agreed soon after. Total proceeds of 22,992,000 Euros for a total of 50 horses justified the two businessmen and breeders in their feeling.
The most expensive dressage horse was Fürstin Aura (by Fürst Jazz x Don Schufro) became the top seller of the dressage collection when she was knocked down for 1,050,000 euro and changed hands into Swiss ownership with a stable in Belgium.
The same buyer also acquired Front Girl (by Foundation x Fursten-Look) for 850,000 euro and Top Boy (by Top Gear x Foundation) for 700,000 euro
The dressage horses brought a total of 9,337,000 euro with an average price of 373,480 euro and the show jumpers 13,655,000 Euros with an average price of 546,200 euro. 
Dressage Horses Wanted
Renowned dressage riders shopped at PSI this weekend. 
Yara Reichert acquired Violet, a 4-year old Vitalis x Hotline mare.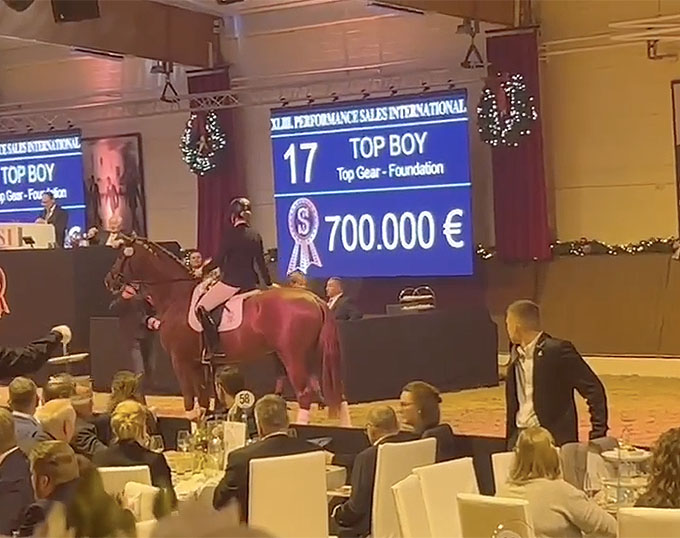 American para team rider Kate Shoemaker purchased the 5-year old Vin Diesel (by Vilancio x Breitling W). 
Vimanciero (by Vitalis x Furst Romancier) sold for 102,000 euro, Grindelwald (by Grey Flanell x Charmeur) went for 120,000 euro.
The 3-year old chestnut stallion For Gold (by Foundation x Goldfever II) sold to Australia. 
Unrivalled in the sport horse market
This year's collection excelled with a lot of young sport horses of outstanding potential and best bloodlines. 25 dressage and 25 jumping youngsters were offered for sale and auctioned with flair and expertise by auctioneer Hendrik Schulze Rückamp. 600 guests enjoyed the festive atmosphere at the P.S.I. Sport and Auction Centre in Ankum. The buyers were international, including many loyal regulars who appreciate the high quality, the generous customer service and the personal relationship with Hof Kasselmann and Stall Schockemöhle. 
The philosophy of Performance Sales International meets the buyer's demand and is unique in the sport horse market.
"Especially loyal customers rely on the relationship of trust à la P.S.I. — a factor that is more important than ever, especially in these times", Ulli Kasselmann concluded. "Our customers know that in most cases we have known the candidates in the P.S.I. collection from birth and appreciate their good upbringing as well as their initial training."
The Lewitz and Osthoff studs consistently produce exceptional sport horses such as this year's top performers. Looking to the future, Schockemöhle and Kasselmann are also confident that they will be able to come up with another top-class collection next year.
- PSI press release, edited by Eurodressage
Related Links
Fürst Bayram and Londina PS, Price Highlights of the 2021 PSI Auction
Calourina PS, Price Highlight of 2020 PSI Auction, Diaton Dressage Top Seller
V-Plus Gold, Price Highlight of 2019 PSI Auction, Record Edition at 40th Anniversary
Stakkariealla, Price Highlight of the 2018 PSI Auction
Zum Gluck, Price Highlight of the 2017 PSI Auction
Ferrari, Price Highlight of the 2016 PSI Auction
Stalognia and Fasine, Price Highlights of the 2015 PSI Auction
SPH Dante Sells for Record Price of 2.8 Million at 2014 PSI Auction
Lannaro and Bluetooth, Million Euro Horses at the 2013 PSI Auction
Sa Coeur, Price Highlight of 2.3 Million Euro at 2012 PSI Auction
Der Designer Breaks One Million Euro Barrier at 2011 PSI Auction
Balsandra, Price Highlight of the 2010 PSI Auction
Diamonit, Price Highlight of the 2009 PSI Auction
St. Emilion, Doletto and Lawito, Price Highlights of the 2008 PSI Auction
Fine Time, Price Highlight of the 2007 PSI Auction
2006 PSI Auction Horses Sold for More Than 10 Million Euro
620,000 € for Price Highlight at the 2005 P.S.I. Auction
Santa Cruz, Dressage Price Highlight at the 2004 PSI Auction
Poetin Sold for World Record Price of 2,5 Million at 2003 P.S.I. Auction
Love Parade, Price Highlight of the 2001 PSI Auction 
Highest Price for Weltclassiker and H.S. Europa at 2000 PSI Auction