2022 German Youth Riders Championships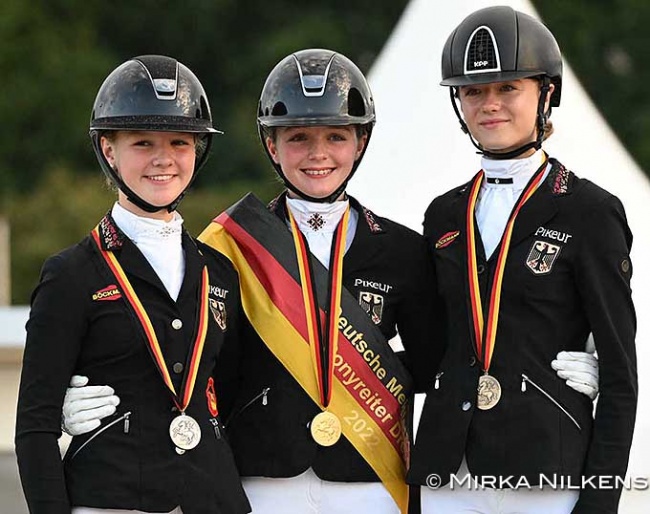 Pony rider Rose Oatley, junior rider Allegra Schmitz-Morkramer, and young rider Luca Collin became the winners of their respective divisions at the 2022 German Youth Riders Championships, which were held this year in Verden on 1 - 4 September 2022. 
The German youth championships follow the traditional format of three rounds - the team and individual test as well as the kur to music - and points of all three rounds are totalled to decide the final ranking and medallists. 
Pony Riders: Rose Oatley Books Another Pony Victory
This 2022 show season Rose Oatley, who won the 2021 European Pony Championships, has focused on horses and represented Germany on Veneno at the European Junior Riders Championships. However for the national championships, she saddled her stunning 12-year old German riding pony Daddy Moon (by Daddy Cool x Capri Moon) again and was untouchable. She won all three rounds with sovereign scores of 80.383%, 79.390% and 83.500%. Her freestyle was based on music of Star Wars 
"The Star Wars music fits super to Moony, you immediately think of the dramatics of the film," said Rose. Daddy Moon had a break over the summer but returned to full form. "It was very nice for me to compete him again after this long break. It's great that we could finish the weekend like this." 
The silver medal went to 2022 European Pony Champion Julie Schmitz-Heinen, who brought her second pony to Verden: the 10-year old Chilly Morning (by Calido G x Sandro Ace). The pair was consistently second in all three rounds with 76.358%, 76.463% and 80.150%. 
Lilly Collin and the 7-year old stallion Cosmo Callidus (by Cosmopolitan x Cyriac) landed the bronze as she steadily climbed the board from 74.923% to 75.112% and finally 77.000% in the freestyle.
Junior Riders:  Allegra Schmitz-Morkramer Concludes Season in Winning Way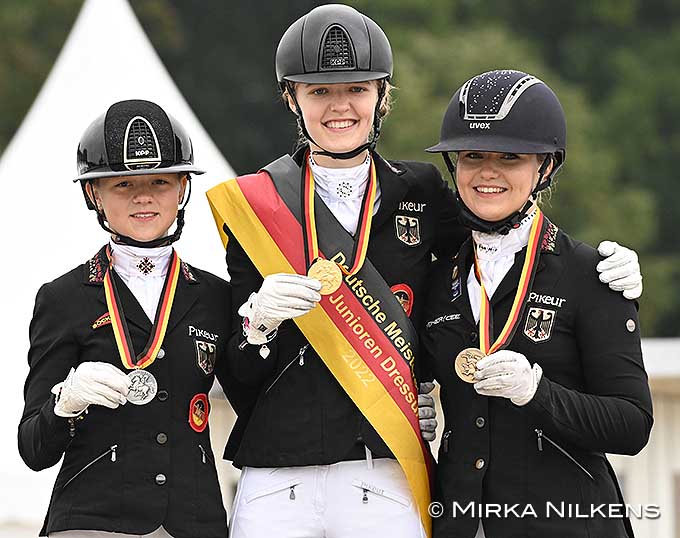 Junior rider Allegra Schmitz-Morkramer capped off a spectacular season which saw her win team and individual gold at the European JR Championships, followed by the German Junior Champion's title in Verden. Aboard the 10-year old Hanoverian stallion Libertad (by Londontime x San Remo) she was a triple winner with 75.864%, 77.053%, and 79.950% for the gold.
"I felt a bit of pressure because we were able to achieve some success this season and I wanted to do particularly well here," said the 16-year old Allegro who already won the German junior title in 2020 on her other horse, Lavissaro. "I'm very proud of the way Libertad mastered the three tests. He was always with me and we are growing closer together. There is still room for improvement, as we don't know each other that long, but we'll become a better team." Libertad sold to the Schmitz-Morkramer family in the autumn of 2019.
The silver medal went to team rider Carolina Miesner on the 11-year old chestnut Exclusiv (by Edward x Wolkenstein), who followed in Allegra's wake with 73.486%, 76.658%, and 79.125%. 
Team rider Lana-Pinou Baumgürtel got bronze on her second horse, Escalla OLD  (by Escolar x Dimaggi), who posted 73.000%, 74.947%, and 77.200% for an overall third place. 
Young Riders: Collin Makes Come Back for Hattrick
The German "DJM" was the edition for come back kids. Not only did Oatley return with her pony Daddy Moon, but the young riders' division saw two of former German youth team riders make a significant re-appearance on the show scene.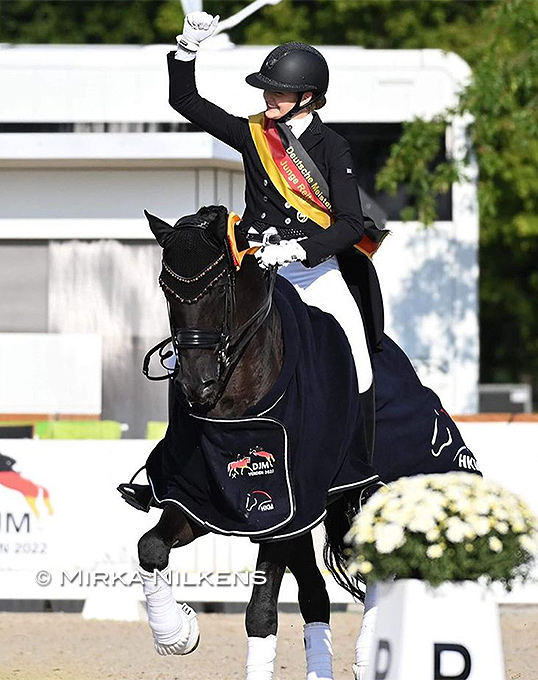 Luca Collin and her 12-year old Descolari (by Desperados x Weltmeyer) completely lost their groove this 2022 show season after being a medal winner at last year's European Championship in Oliva Nova. They did not make it on the team this year, but at the nationals they took their vengeance and reclaimed the title, for the third year in a row.  Collin and Descolari were second in the team test with 73.052%, but then won the individual with 75.789% and the freestyle with 80.450% 
"Descolari is out of this world," Collin took to Instagram. "Three years in a row German Champion. The biggest thank you goes to this amazing horse who makes all my dreams and wishes come true. Thank you for teaching me everything, for leading me into this amazing world of dressage and for always giving your best! You know me better than anyone else in the world and I'm beyond thankful for you! My dance partner and partner in crime."
Team rider Lucie-Anouk Baumgurtel saddled her second horse for Verden, the 11-year old mare Farlana (by Furstenball x Lancier) and rode to silver with 73.736%, 74.605% and 78.300%. 
The bronze went to another former team rider, who wasn't picked for the team this year, Anna Middelberg on the 11-year old Blickfang HC (by Belissimo M x Brentano II). She snatched the bronze medal with 72.631%, 73.368% and 75.350%. 
In fifth place was Valentina Pistner on QC Flamboyant (by Fidertanz x ). The pair last competed intenrationally two years ago in Hagen at junior level after winning Kur gold at the 2020 European Junior Riders Championships in Hungary. The pair, which had double individual silver in 2018 and double individual bronze in 2019, was greatly missed in 2021 and 2022, but had finally resurfaced at Young Riders level, posting 71.657%, 71.289%, and 75.275% in Verden.
Photos © Mirka Nilkens
Results - 2022 German Youth Riders Championships
Pony Riders (top 12 that competed in all three rounds - full scores here)
1. Rose Oatley - Daddy Moon -  80.384% - 79.390% - 83.500% --- 243.274
2. Julie Sofie Schmitz-Heinen - Chilly Morning - 76.358% - 76.463% - 80.150% ---  232.971
3. Lilly Marie Collin -  Cosmo Callidus -  74.923% - 75.512% - 77.000% --- 227.435
4. Carolina Miesner - Novellini - 75.128% - 73.951% - 76.850% --- 225.929
5. Mia Allegra Lohe - Tovdal's Golden Future Imperial -  72.589% - 74.585% - 77.825% --- 224.999
6. Georgina Kraft - TI Daily Challenge -  73.564% - 73.293% - 76.000% --- 222.857
7. Clara Paschertz - Da Capo's Dancing Boy -  73.666% - 72.903% - 75.575% ---  222.144
8. Viktoria Braunmühl - Cyrill - 73.512% - 73.268% - 74.650% --- 221.430
9. Lotta Beckmanns - Grenzhoehes Dragon Kiss - 71.307% - 71.536% - 73.500% ---  216.343
10. Franziska Roth - Daily Pleasure - 72.435% - 73.463% - 69.725% --- 215.623
11. Maria Teresa Pohl - Der kleine Sunnyboy -  71.717% - 70.659% - 72.525% --- 214.901
12. Hubertus Stallmeister - Adriano B -  71.410% - 72.854% - 67.675% --- 211.939
Junior Riders (top 12 that competed in all three rounds - full scores here)
1. Allegra Schmitz-Morkramer - Libertad - 75.864% - 77.053% - 79.950% ---  232.867
2. Carolina Miesner - Exclusiv -  73.486% - 76.658% - 79.125% ---   229.269
3. Lana-Pinou Baumgürtel - Escalla OLD  -   73.000% - 74.947% - 77.200% ---  225.147
4. Rose Oatley - Rock Revolution -  72.378% - 74.053% - 76.775% --- 223.206
5. Clara Paschertz - Lady Danza -  71.891% - 72.132% - 76.100% ---  220.123
6. Emma Nielen - Fazz vh Bloemenhof  - 71.216% - 72.789% - 74.100% --- 218.105
7. Pia-Carlotta - Gagel Sa Coeur - 71.324% - 71.789% - 74.750% ---  217.863
8. Pia Casper - Fair Game  -   71.891% - 68.631% - 73.775% --- 214.297
9. Nina Sue Neumann - Bella Rouge -  70.972% - 70.052% - 72.650% --- 213.674
10. Kenya Schwierking - Imani  -  70.594% - 73.526% - 69.250% --- 213.370
11. Mette Schön - Maditah - 70.108% - 69.868% - 71.050% --- 211.026
12. Janne Marie David - DeeJay  - 70.081% - 69.131% - 71.550% --- 210.762
Young Riders (top 12 that competed in all three rounds - full scores here)
1. Luca Sophia Collin - Descolari -  73.052% - 75.789% - 80.450% --- 229.291
2. Lucie-Anouk Baumgürtel - Farlana  - 73.736% - 74.605% - 78.300% --- 226.641
3. Anna Middelberg - Blickfang HC -  72.631% - 73.368% - 75.350% --- 221.349
4. Greta Busacker  - Firlefranz -  71.657% - 73.579% - 75.525% --- 220.761
5. Valentina Pistner - Flamboyant OLD -  71.657% - 71.289% - 75.275% ---  218.221
6. Theresa Friesdorf-  Quotenkönig -  71.842% - 71.289% - 73.225% ---  216.356
7. Emely van Loon - Despereaux - 71.052% - 69.789% - 74.575% ---  215.416
8. Romy Allard - Summer Rose OLD - 69.868% - 71.421% - 73.575% --- 214.864
9. Maja Schnakenberg - Donna Bella -   70.500% - 70.210% - 73.600% --- 214.310
10. Paul Löcher - Amaro -  70.000% - 69.710% - 71.300% --- 211.010
11. Clara Marie Lampen - Filou -  69.947% - 69.684% - 70.475% --- 210.106
12. Caroline Lass - Forza - 69.289% - 69.763% - 65.925% --- 204.977
Related Links
Oatley, Lattermann, Lang, Collin Win 2021 German Youth Championships
Oatley, Rother, Schmitz-Morkramer, Collin Win 2020 German Youth Championships
Oatley, Schmitz-Morkramer, Schrödter, Rothenberger Win 2019 German Youth Riders Championships
Treffinger, Pistner, and Welschof Win 2018 German Youth Riders Championships
Alegra Schmitz-Morkramer Wins 2018 German Developing Pony Rider Championship
Middelberg, Allard, Rothenberger Win the 2017 German Youth Riders Championships
Erbe, Horstmann, Becks Win 2016 German Youth Riders Championships 
Rothenberger and Nowag Win 2015 German Youth Riders Championships
Mende, Abbelen, Rothenberger Win 2014 German Youth Riders Championships
Rothenberger, Abbelen, Niemann Win 2013 German Youth Riders Championships
Rothenberger, von Platen, Kienbaum Win 2012 German Youth Riders Championships
Walterscheidt, Voigtlander, Rothenberger Win 2011 German Youth Riders Championships
Photo Report: All the Action from the 2010 German Youth Riders Championships
Scores: 2009 German Youth Riders Championships
Photo Report: 2008 German Youth Riders Championships in Hannover
Photo Report: 2007 German Youth Riders Championships in Steinfeld
Photo Report: 2006 German Youth Riders Championships