2016 German Youth Riders Championships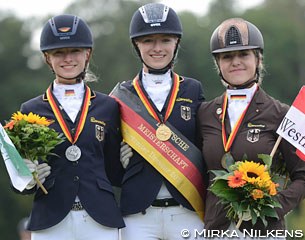 Pony rider Linda Erbe, junior rider Rebecca Horstmann and young rider Jil-Marielle Becks became the grand champions in their divisions at the 2016 German Youth Riders Championships which were held this year in Riesenbeck, Germany, on 19 - 21 August 2016. The pony division did not have the heavy weight combinations as they were competing at the European Pony Championships in Denmark the same weekend.
Linda Erbe Wins Pony Title in Thinned Out Field
The German pony championships were still not less interesting in the absence of the German pony team with high scores above 70% achieved by numerous pairs. Linda Erbe, who was a 2015 German team rider but who did not get a spot this year, proved her worth in Riesenbeck aboard her 10-year old palomino Dujardin B. The pair won all three rounds and after claiming the reserve title in 2015 she now won the title in her final year on ponies.
The duo scored 72.350% in the team test, 73.415% in the individual and 78.175% in the freestyle to earn a total of 223.940 points for the title and gold medal. Linda a 3-year old kur to music based on disco hits to clinch the gold. She edged out her twin sister Helen Erbe on the palomino mare White Love B for silver. Helen and White Love B, who was previously competed by elder sister Hannah Erbe, were closely on Linda's heels with 71.496%, 73.333% and 76.850% (221,679 pts). The bronze went to Luna Laabs on the liver chestnut Carlos with consistent scores of 72.265%, 72.683% and 76.250% (221.198 pts).
"Dujardin B was not tired (in the kur) and totally motivated to win," Linda Erbe commented. "The walk pirouette and our trot and canter extensions felt really good."
Rebecca Horstmann Bags Junior Title
In the absence of 2016 European Junior Rider Champion Hannah Erbe and European silver medal winning junior Semmieke Rothenberger, who went to the 2016 Olympic Games in Rio de Janeiro to root for her brother Sönke on Cosmo, Rebecca Horstmann had almost free reign to claim the national title. Her biggest competitor was team mate Alexa Westendarp who snatched the victory in the individual test.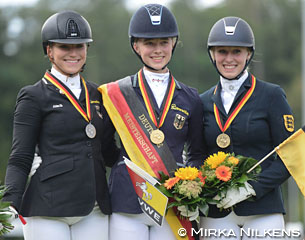 Horstmann and her 8-year old Westfalian home bred Friend of Mine (by For Compliment) scored a winning 72.297% in the team test, placed second in the individual with 71.711% and won the Kur with 75.325% to total 219.333 points for gold. Westendarp and her sensitive dark bay Der Prinz (by Diamond Hit) were second in the team test (70.856%), they won the individual (73.246%) and were third in the freestyle (74.350%) to finish on 218.452 points for silver. New comer Anna Casper, daughter of Gestut Birkhof owners Thomas and Nicole, borrowed Lisa Günther's 12-year old Rock 'n Rose (by Rockwell) for the Nationals and landed the bronze. Casper is trained by Oliver Luze and Rock 'n Rose was previously competed by Dorothee Schneider. The pair scored  70.541%, 71.491% and 74.775%.
"We both had a lot of fun," said Horstmann after the freestyle. "Friend of Mine doesn't have any weaknesses. He's super eager to learn and always want to do things right. I'm super proud of my horse. For me the victory at the German Youth Riders Championships is the biggest achievement so far. I was fourth in the Preis der Besten."
German youth team trainer Oliver Oelrich added that, "For Alexa is the reserve champion's title a nice conclusion of the season. Der Prinz was relaxed and focued in Riesenbeck, except for a mistake in the flying change. Both Rebecca and Horstmann came into the junior high performance sport through the developing rider championships and travelled our typical road up the levels. This makes me happy."
Becks Gets Young Riders' Title in Thriller Championship

In the Young Riders division the race for the medals was a thriller to the bitter end as the gold medal winner Jil-Marielle Becks and her 8-year old Damon's Satelite (by Damon Hill x Rubin Royal) were not on point in the Kur to Music finals. However, with supreme, winning rides in the team test (76.228%) and individual test 77.675%, Becks had built up a big enough advance to secure the gold.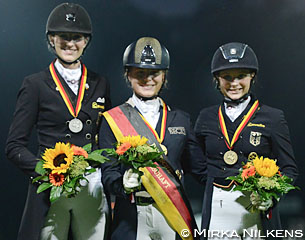 In the kur to music finals on Saturday Becks lost some focus and mistakes ensued including the not showing of the right pirouette. The pair only finished ninth, with still a 69.900%, which brought their total to 223.803 points for gold. It was only a fraction ahead of the silver medal winning Leonie Richter, who had not brought her 2016 European Championship medal winning Babylon, but Florine Kienbaum's former young rider horse Don Windsor OLD (by Don Cardinale). Richter and the 14-year old dark bay gelding, who was injured for a long period but then slowly brought back to fitness, came very close to securing the national title after scoring 73.333% (2nd) in the team test, 73.509% (3rd) in the individual and 76.750% (1st) in the Kur. Her total was 223.592 points. It was 0.212 percentage points shy of gold. Anna-Lisa Theile and her big liver chestnut Ducati K (by Damon Hill) earned the bronze. This was was also part of the photo finish for the medals as her total was 223.430 points after scoring 73.246%, 73.684% and 76.500%.
"I lost a line and then there were complications," Becks explained about her freestyle gone wrong. German youth team trainer Hans-Heinrich Meyer zu Stohen added that, "everyone is believes Leonie's silver medal is well earned. She is such an active, modest and helpful rider, a real team player.
Photos © Mirka Nilkens
Results - 2016 German Youth Riders Championships
Pony Riders (top 12 only)
1. Dujardin B - Linda Erbe - 72,350 - 73,415 - 78,175 --- 223,940
2. White Love B - Helen Erbe - 71,496 - 73,333 - 76,850 --- 221,679
3. Carlos WE - Luna Laabs - 72,265 - 72,683 - 76,250 --- 221,198
4. De Long - Philipp Merkt - 71,325 - 70,285 - 74,350 --- 215,960
5. Lawn Hill - Ann-Cathrin Rieg - 70,983 - 69,675 - 73,200 --- 213,858
6. Die Feine Chanel - Lea Marie Golkowski - 69,658 - 69,350 - 74,000 --- 213,008
7. Drink Pink - Anna Middelberg - 68,419 - 69,634 - 71,700 --- 209,753
8. Doubtless - Marlene Sieverding - 69,402 - 68,293 - 70,950 --- 208,645
9. Den Ostriks Dailan - Sophia Ritzinger - 69,530 - 68,252 - 70,550 --- 208,332
10. Fruhlingstraum - Cosima Lehr - 67,991 - 68,211 - 70,800 --- 207,002
11. Grenzehohes My Ken - Jacob Schenk - 69,316 - 68,943 - 68,600 --- 206,859
12. Proud Gilian - Victoria Raphaela Krüger - 69,103 - 68,496 - 62,550 --- 200,149
Junior Riders (top 12 only)
1. Friend of Mine - Rebecca Horstmann - 72,297 - 71,711 - 75,325 --- 219,333
2. Der Prinz - Alexa Westendarp - 70,856 - 73,246 - 74,350 --- 218,452
3. Rock 'n Rose - Anna Casper - 70,541 - 71,491 - 74,775 --- 216,807
4. Linus K - Lia Welschof - 68,198 - 71,535 - 73,425 --- 213,158
5. Fascinate - Bettina Nuscheler - 68,874 - 69,781 - 71,875 --- 210,530
6. Di Baggio - Marlina Garrn - 67,883 - 70,175 - 71,650 --- 209,708
7. Bentley - Dina Bardach - 68,604 - 68,947 - 71,300 --- 208,851
8. Diabolo - Cosima von Fircks - 67,523 - 68,904 - 71,775 --- 208,202
9. His Heini - Christian Alsdorf - 68,378 - 70,526 - 69,100 --- 208,004
10. Fidelia - Annika Rühl - 67,027 - 69,123 - 70,475 --- 206,625
11. Zeyden Gin - Sophie Kaltenbacher - 66,982 - 68,816 - 70,800 --- 206,598
12. Don Henrico - Elisa Timmermann - 67,342 - 69,430 - DNS --- 136,772
Young Riders (top 12 only)
1. Damon's Satelite - Jil-Marielle Becks - 76,228 - 77,675 - 69,900 --- 223,803
2. Leonie Richter - 73,333 - 73,509 - 76,750 --- 223,592
3. Ducati K - Anna-Lisa Theile - 73,246 - 73,684 - 76,500 --- 223,430
4. Hogholm's Facel-Vega - Franziska Schwiebert - 70,833 - 70,702 - 73,525 --- 215,060
5. Aida Luna - Lisa Breimann - 70,921 - 69,254 - 73,450 --- 213,625
6. Condio B - Claire-Louise Averkorn - 71,886 - 71,886 - 68,050 --- 211,822
7. Rio de Janeiro - Ann-Kristin Arnold - 70,614 - 70,219 - 70,325 --- 211,158
8. Scharon - Sophie Stilgenbauer - 67,412 - 67,895 - 72,000 --- 207,307
9. Gorklintgards Hayden - Jana Christin Sönnichsen - 67,632 - 69,342 - 70,275 --- 207,249
10. Harkon - Marie-Christin Kogel - 65,789 - 69,298 - 72,100 --- 207,187
11. Rien ne va plus - Anna-Louisa Fuchs - 67,588 - 67,982 - 69,400 --- 204,970
12. Four Ever - Hannah Cichos- 67,105 - 67,632 - 68,075 --- 202,812
Related Links
Rothenberger and Nowag Win 2015 German Youth Riders Championships
Mende, Abbelen, Rothenberger Win 2014 German Youth Riders Championships
Rothenberger, Abbelen, Niemann Win 2013 German Youth Riders Championships
Rothenberger, von Platen, Kienbaum Win 2012 German Youth Riders Championships
Walterscheidt, Voigtlander, Rothenberger Win 2011 German Youth Riders Championships
Photo Report: All the Action from the 2010 German Youth Riders Championships
Scores: 2009 German Youth Riders Championships
Photo Report: 2008 German Youth Riders Championships in Hannover
Photo Report: 2007 German Youth Riders Championships in Steinfeld
Photo Report: 2006 German Youth Riders Championships