Portugal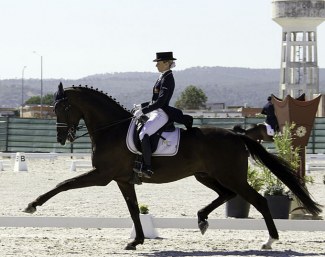 Portuguese' Grand Prix rider Maria Caetano has returned home to Portugal for the summer after having spent 2.5 years in Germany.
The corona pandemic has prompted the decision to be closer to her family as international show opportunities in western Europe are minimal due to Covid-19.
At home she can focus on keeping her top ride Coroado fit and happy, while rising Grand Prix horses Hit Plus and Happy Plus can earn their first miles at big tour level at local, low-pressure shows. 
Two Years in Germany
In the winter of 2017, Caetano decided to move to Germany permanently to have easier access to her trainer Ton de Ridder and to high profile competitions, without having to tire her horses on long journeys on the lorry to reach a CDI.  
Maria was first based at Irina Zakrabekhova's yard in Krefeld, but after the 2018 World Equestrian Games worked from Hof Kasselmann in Hagen for half a year. However, due to her growing business and more horses to train, she required more space and returned to Zakrabekhova's stable, where she has been ever since. 
With her string of horses expanded to 12 and coach Ton de Ridder in the vicinity, Maria thrived in Germany and achieved personal best scores with Coroado, even writing history as she steered the first Lusitano to an 80% score in the Grand Prix Kur to Music. Caetano and Coroada did that at the 2018 CDI-W Mechelen and repeated that feat in Mechelen in December 2019. 
Then corona came and with the Krefeld area going in lockdown, Maria got isolated from her family in Portugal. The three months in lockdown were hard, although her love for her horses and dressage kept her ticking. 
Summer Getaway in Portugal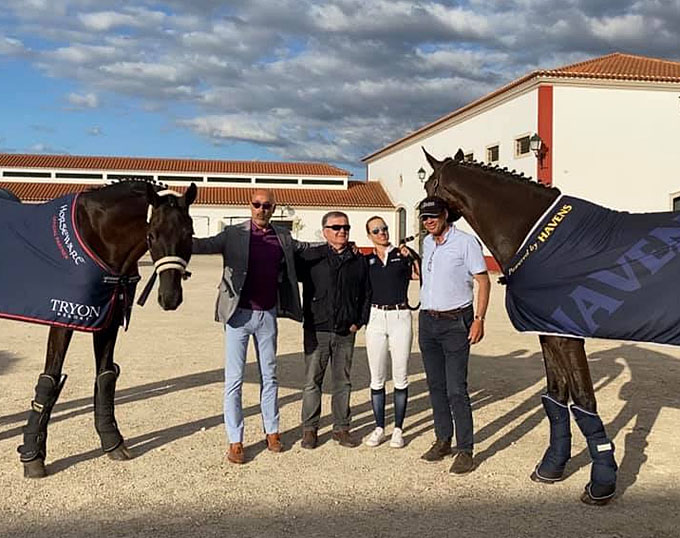 As soon as corona measures were relaxed and with the CDI show calendar stripped from the majority of important competitions planned this summer, a return to Portugal for the summer was only logical. 
"I moved to Portugal at the beginning of June with all 12 horses and I'm planning to stay here until October/November," Caetano told Eurodressage.
"With the COVID situation and the cancelation of the "big" competitions, like the CDI-Ws, Aachen, and Olympics, I decided to take the chance of spending some months with my family. Here I can compete nationally as well as in some CDI3*s in Portugal and Spain with the younger horses until the international competition environment comes back to the normal," she explained. "I try to look at this situation from the bright side and see it as an advantage to join the useful to the pleasant."
Super Start at CDN Golega
Last weekend, Maria took her two rising stars Hit Plus and Happy Plus to the national show in Golega and returned home with four trophies.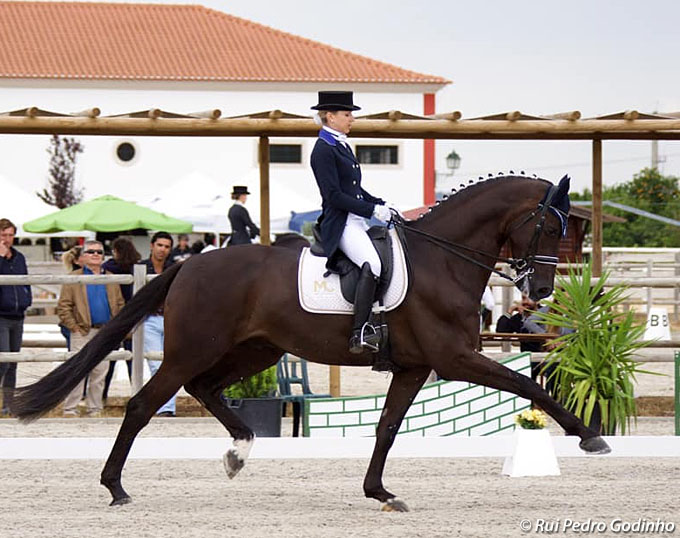 Aboard her own 8-year old Portuguese Sport Horse bred Hit Plus (by Bretton Woods x Peralta x De Niro) she made her Grand Prix debut scoring 71,304%  in the Grand Prix and 73,901% in the Grand Prix Special. The class was judged by two international judges. 
"I am super proud of Hit's big tour debut," said a thrilled Marie. "He is really a super star!! The feeling of trust and cooperation he gives me into the arena is unbelievable. Together with a mix of strength and elegance he gives me such hope for the future in the "big arenas". He already achieved such great scores for an 8 year old! I feel really blessed to have him in my squad."
Maria rode Manuel Luis Goucha's and Rui Oliveira's 8-year old Portuguese Sport Horse bred Happy Plus (by Bretton Woods x Rubin Royal x Peralta) in the small tour and earned 73,676  in the Prix St Georges and Intermediaire I.
"Happy showed his potential and consistency in the small Tour," said Maria. "I can't wait to improve some details and give the next step with him to the GP level."
Working Towards Tokyo
For Maria a summer in Portugal will be good to recharge her batteries. She can see her family on a daily basis and dad Paulo will closely coach her on a daily basis as they develop the horses for the future. 
"During the lockdown, Coroado was only in light work and he enjoyed some deserved holidays," said Maria. "He knows everything, so he only needs to get back in good physical shape a few months before big competitions resume."
Caetano is aiming for the 2020-2021 World Cup circuit and then Tokyo, hoping to ride her first Olympic Games in the summer of 2021. 
"I will go back to Germany in the autumn to start in the World Cup circuit, probably in Stuttgart, if the COVID conditions allow us. I will stay there until the Olympics," she concluded.
Photos © Rui Pedro Godinho
Related Links
Maria Caetano Relying on Lusitano Power, in the Present and Future
Corona Times: Hit & Run with Maria Caetano
Caetano and Coroado Write History for Lusitano Breed by Cracking 80% Barrier
Portuguese Team Selected for 2019 European Dressage Championships