2020 CDN Hjallerup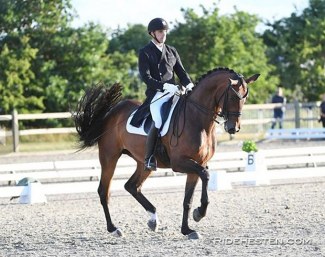 With the restart of competition post corona, the national dressage show in Hjallerup drew out some of the country's biggest Grand Prix stars on 2 June 2020. Andreas Helgstrand underscored his ambition to return on Denmark's Olympic team for Tokyo by taking three horses into the Grand Prix ring.
Hjallerup was also the come back scene for Fiona Bigwood's 2016 British Rio Olympic ride Atterupgaards Orthilia. After a long period of injury, the Oldenburg mare is back in show shape. 
Olympic Ambition
With the departure of Severo Jurado Lopez, it was clear that Andreas Helgstrand would have two extra Grand Prix hopefuls to ride and it took only a few weeks for the acclaimed horse dealer to publicly announce his ambitions to return on the Danish Olympic team for the 2021 Tokyo Games in a vlog.
Helgstrand won historic Olympic bronze in Hong Kong in 2008 on Blue Hors Don Schufro but since his Blue Hors period has only represented Denmark at (inter)continental championships twice more, in 2009 (Carabas) and in 2013 (Akeem Foldager). Although still highly successful with the young horses at the World Championships, Andreas' Grand Prix career was put on the back burner as he developed a horse dealership with branches world wide.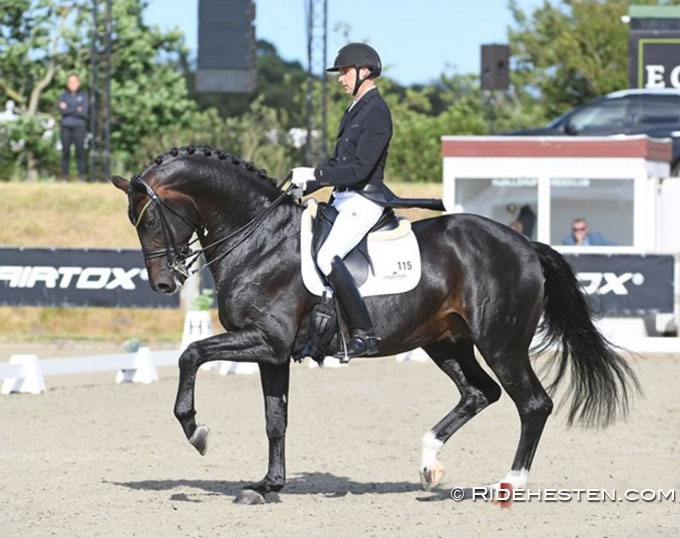 His Olympic fire has been rekindled and already in January 2020 he introduced the then rising 8-year old Oldenburg stallion Ferrari to Grand Prix level competition. With Severo's departure, Andreas added two more Grand Prix horses to his string: the 8-year old D'Avie and the 10-year old Fiontini.
Hjallerup Victory
Triple young horse World Champion Fiontini never lingered at small tour level. Jurado Lopez took her straight from developing PSG level into Grand Prix and was a hot contender for the Spanish team spot for the 2019 European Championhips, but an injury prevented that from happening. The mare regained fitness quickly and competed in Herning in the autumn of 2019 and winter of 2020. 
With all the buttons there, Helgstrand took over after Severo left and their show debut in Hjallerup was good for a first place with 75.200%. The three judges scored the pair between 73.300 (Leif Tornblad) and 76.900% (Edel Hartig). Video here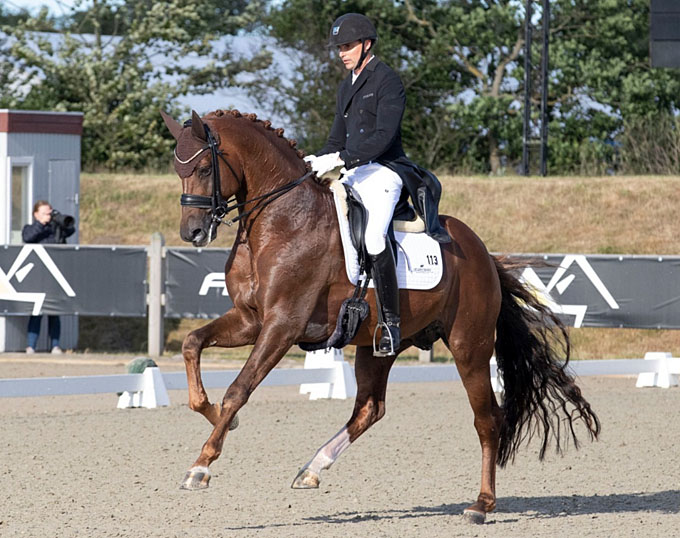 "It is not long ago that I took over the reins of Fiontini, but she is so rideable that it didn't take many days before we found the rhythm," Andreas took to Facebook. "And today's ride just shows we're on the right track! Impressive horse that just gives the right feeling every time. She has so much potential and we are far from reaching the maximum yet. I am so looking forward to seeing what the future brings with this world star."
A similar strategy has been applied to double young horse World Champion D'Avie (by Don Juan de Hus x Londonderry). There was no time wasting at small tour level and the 8-year old went straight from developing PSG to full Grand Prix. At his competition premier at the highest level, the gorgeous chestnut scored 70.100% to place 5th, with marks going from 67.300 (Jan Olson) to 73.300 (Hartig). 
Andreas rode Ferrari (by Foundation x Hotline) to victory in the Intermediaire II with 73.859% and had the judges in unison on that score. 
Orthilia Returns
After having spent the winter season training and competing in Wellington, Florida, Agnete Kirk Thinggaard returned to Denmark this spring. 
Thinggaard thrived in Florida aboard the 11-year old Danish warmblood stallion Blue Hors Zatchmo (by Zack x Donnerhall) and he continues to be her best scoring horse also in Denmark. In Hjallerup the pair placed second in the Grand Prix with 72.567%.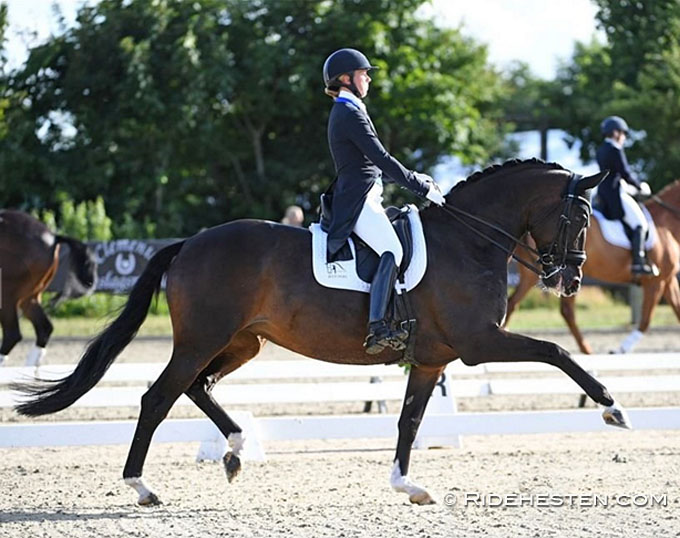 Agnete's 15-year old Danish bred Oldenburg mare Atterupgaards Orthilia (by Gribaldi x Donnerschlag) had been struggling with niggling injuries in 2017, returned to the arena in 2018 and then was injured again. After careful rehabilition, the bay mare came along to Florida but was not shown there to give her plenty of time. In Hjallerup the long awaited come back was made and the mare looked fit and fresh. They scored 72.467% to finish third in the Grand Prix, although the judges had her between 70.500 (Hartig) and 75.300 (Tornblad). 
Photos © Ridehesten - Helgstrand
Scores: Intermediaire II - Grand Prix
Related Links
Severo Jurado Lopez Leaves Helgstrand Dressage
Agnete Kirk Thinggaard Savouring the Florida Sun, Kicks off First CDI in Wellington
Don Olymbrio Returns from Florida to Denmark, On a Break
Blue Hors St. Schufro and Helgstrand's Ferrari Make Grand Prix Debut at 2020 CDN Esbjerg