Spain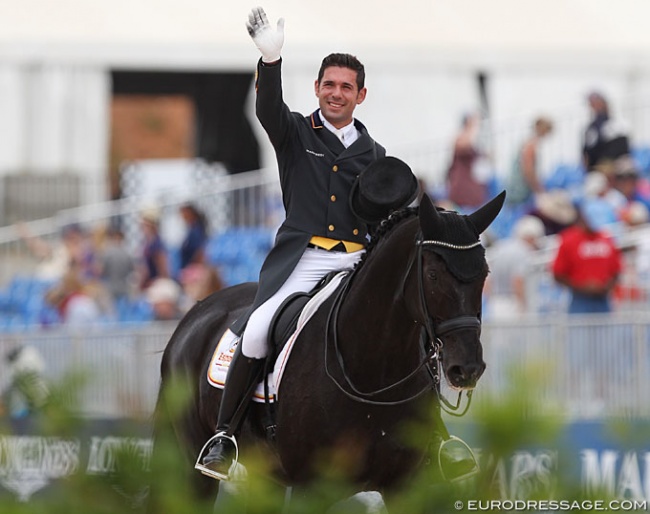 Spanish Olympic shortlisted Grand Prix rider Severo Jurado Lopez has decided to leave his employer of seven years, Helgstrand Dressage, in Denmark on 30 April 2020. 
Lopez and his long-time girlfriend, German Annika Damrau, will set up their own, small independent business in Denmark. 
" I have decided to quit my job at Helgstrand Dressage and to start up my own small training-stable," Severo stated today. "It have been many fantastic years working for Helgstrand and we made so many unforgettable memories together, but now it's time for the next chapter in my life." 
Andreas rung in on the departure of his number one rider in the barn: "We know that everything has an ending and a number of our riders start up on their own when they have got the experience and reputation that it takes. It is with a heavy heart that we have to say goodbye to such a talented and skilled rider."
Dutch Start at Van Olst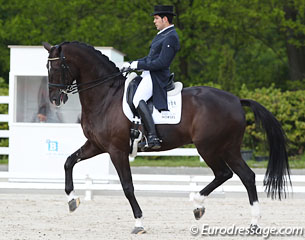 Severo began his international competition career as a young rider, representing Spain at the 2008 and 2009 European Young Riders Championships. 
His professional riding career kicked off working for Jan Nivelle in Germany from 2009 till 2011.
He then moved to Van Olst Horses in The Netherlands, which gave him the opportunity to compete the young stallion Chippendale at the World Young Horse Championships in Verden. He  won the 2013 Pavo Cup Finals on Everdale.
He also made his first international Grand Prix starts aboard Van Olst's Numberto and was in the running for a Spanish team spot for the 2013 European Dressage Championships, but withdrew from selection after the final team qualifier in Aachen.
Head Hunted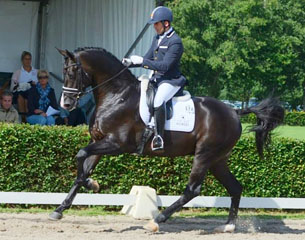 Severo  worked at Van Olst for 2.5 year before he got head hunted by Andreas Helgstrand. The Spaniard moved to Denmark in September 2013. 
One year after having worked in Denmark and not competed internationally at all, Severo announced at the beginning of October 2014 that he would return to Van Olst in Holland, also to be "to be closer to his girlfriend".
Van Olst had apparently made a very lucrative offer to convince Severo to come back to Holland which, rumour has it, Andreas then counter-offered to convince Severo to stay in Denmark. Severo had just won the Danish Young Horse Championships on Fiontina and got much attention in Denmark. He decided to stay with Helgstrand.
Five Time World Young Horse Champion and Rio
The decision to stay paid off.  Andreas put Severo more in the spotlight in his barn, gave him a Grand Prix horse to ride, NOH's Daijoubi, and the rider returned to the CDI ring in the spring of 2015. He also competed at 2015 World Young Horse Championships with Franklin and he won the 5-year old division with Fiontini.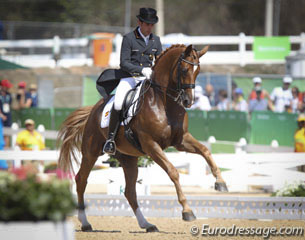 This was the big bang for Severo's career. In 2016 he got Lorenzo and took it to the Olympics, where he was fifth in the Kur to Music.
Working at a sales yard meant that each of his Grand Prix rides got sold after success. Lorenzo sold to American Charlotte Jorst after the Rio Olympics, but the horse became unsound and was returned to Denmark for rehabilitation. To this date, Lorenzo has not yet resurfaced. 
In 2017 Severo got the ride on Deep Impact and took him to the 2017 European Dressage Championships in Gothenburg and 2018 World Equestrian Games in Tryon, after which the horse sold to Charlotte Jorst, who later on returned him for not being the right match. The horse has not competed since his 2018 WEG start.
With the young horses Severo continued to rake in gold medals. Fiontini ended up winning the World Young Horse Champion's title three times in a row and with D'Avie he won gold at the 2018 and 2019 World Championships. 
Olympic Hope Traded in for Own Business
With Fiontini the 32-year old Severo made his Grand Prix debut in 2019, but the mare went lame in the spring and missed out on team selection for the 2019 European Championships in Rotterdam.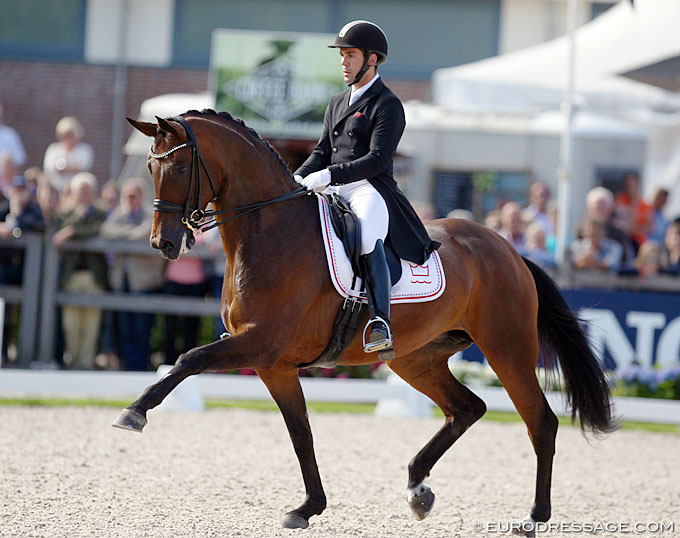 They returned to the arena in October 2019 and March 2020 and are short listed for Spanish Olympic team selection. However the hope for a second Olympic ride did not outweigh his desire to start his own business.
Giving up his Tokyo dream, Severo and Annika will start on their own at small yard in Ørsø in the north of Jutland, Denmark, where they already have been living for almost three years. 
"Annika and I will have our stable for only a few horses/customers, which we want to train and take care of individual(ly)," said Severo. "It has always been my dream to have my own stable and I'm feeling ready for it now. We're super excited and motivated to go this big step."
Severo will not be without horses.  "We have been breeding for the past eight years, so we have quite a few promising youngsters and small tour horses already," Annika Damrau told Eurodressage. "We didn't give up the Olympic Dream, not at all! Only the dream together with Fiontini."
When asked why not wait one more year until after Tokyo, Annika replied, "we think it's the right time. No competitions or shows ahead. So at Helgstrand the new riders can get used to Severo's horses and prepare. And we also can prepare for next year"s season, but at home."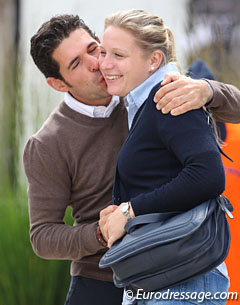 Going independent means that Severo will lose the ride on Fiontini and D'Avie. 
"There is no doubt that especially D'avie and Fiontini has a special place in my heart and I am very pleased to hear that Andreas will take over the reins and continue the education of these two horses," he said.
Severo is not trading in cold Denmark for sunny Spain, but decided to stay in the area and continue to collaborate with Helgstrand. The big horse sales yard has most recently actively been recruiting riders that can train young horses up to Grand Prix level. Severo will stay an important link in the company structure.
"We have started a corporation regarding the training of some of our horses," Andreas stated. "This is an opportunity that only a few people get."
At Helgstrand Betina Jaeger will seemingly move into the number one position as most experienced in-house Grand Prix rider, after Andreas. 
Photos © Astrid Appels
Related Links
Eurodressage Photo Database: Severo Jurado Lopez
Corona Times: Hit & Run with Severo Jurado Lopez
D'Avie Renews Title Winning 7-year old Finals at 2019 World Young Horse Championships
Poster Boy D'Avie Enthuses and Wins 6-YO Final at 2018 World Young Horse Championships
Three-Peat for Fiontini at 2017 World Young Horse Championships
Fiontini Stands Apart and Wins 6-Year Old Finals at 2016 World Young Horse Championships
Fiontini Wins 5-year old Division at 2015 World Young Horse Championships
Charlotte Dujardin and Valegro Do the Samba and Win Second Individual Gold at 2016 Olympic Games
Severo Jurado Lopez Not to Return to The Netherlands, Stays in Denmark
Severo Jurado Lopez to Denmark, Anna Blomgren to The Netherlands