Spanish Dressage News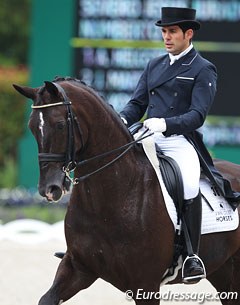 Spanish Grand Prix rider Severo Jurado Lopez, who achieved international fame riding his former employer Gert Jan van Olst's stallions, will not be returning to The Netherlands after all.  The Spanish rider has decided to stay in Denmark.
Little over a month ago, Jurado Lopez and Van Olst announced that the Spanish rider would be returning to The Netherlands "to be closer to his girlfriend" and to pick up his old job training and competing young and upper level stallions for Gert Jan and Anne van Olst.
Jurado Lopez had worked for Van Olst for 2,5 years and was very successful aboard youngsters Chippendale and Everdale and international Grand Prix ride Numberto. One year ago Jurado Lopez quit his job in Holland to begin working at Andreas Helgstrand's yard in Denmark. The rider competed mainly young talented horses on a national level there.
At the beginning of October Jurado Lopez announced his return to Holland but that never materialised. "After having worked a year in Denmark, Severo accepted a very lucrative job at Van Olst after careful deliberation," Gert Jan van Olst explained. "Andreas published world wide via a press release that Severo would leave his barn to return to Van Olst."
On Tuesday evening 14 October Severo called from Odense with the message that he would stop working at Helgstrand on 1 November and start at Van Olst on 10 November 2014.  A  few days later Severo won the 2014 Danish Young Horse Championships in Odense with the 4-year old Fiontina.
"On Monday 20 October Severo called Van Olst with the message that entire Denmark was at his feet and that he received incredible offers," said Gert Jan van Olst. "He made promises he could impossibly break. Conclusion, this is is the end of the story Severo/Van Olst Horses."
Eurodressage contacted Jurado Lopez but he declined to comment.
Photo © Astrid Appels
Related Links
Danish Job Carousel in Full Swing. Six Riders Change Employers
Severo Jurado Lopez to Denmark, Anna Blomgren to The Netherlands