Spanish Dressage News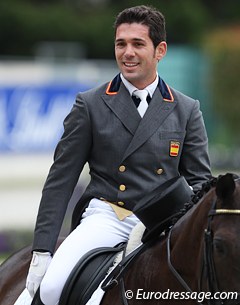 Two renowned assistent trainers at major dressage stables are moving base. Spanish Grand Prix rider Severo Jurado Lopez is moving to Denmark while the Danish based Swedish FEI rider Anna Blomgren is relocating to The Netherlands.
The 25-year old Severo Jurado Lopez has been an assistent trainer at Anne and Gert Jan van Olst's stallion station in The Netherlands. After having worked at Jan Nivelle's place from 2009 till 2011, he moved to Van Olst, where he got the ride on many talented youngsters as well as upper level trained horses.
The past year he made a quick rise to fame aboard the young stallion Chippendale in the Dutch KWPN Stallion Competition circuit. He also won the 2013 Pavo Cup Finals on Everdale and internationally he made a break through on Van Olst's Dutch warmblood Numeberto (by Negro). The combination was in the running for a Spanish team spot for the 2013 European Dressage Championships but withdrew from selection after Aachen. Jurado Lopez is now saying farewell to Van Olst to work at Andreas Helgstrand's barn in Denmark.
"Leaving Van Olst is something hard and sad for me," Severo told Eurodressage. "I had such a good experience and lot of success. I grown up lot as a rider. I am (now) looking for a new experience and continue my rider education. I admire Andreas for a long time ago and I have the feeling I will have the chance to keep growing as a rider there."
Helgstrand's long-time assistant Anna Blomgren is moving to The Netherlands. The Swedish rider will be basing herself with Australian Tristan Tucker, who is based in Holland. Blomgren initially worked at the Danish Blue Hors Stud under Andreas Helgstrand and then five years ago followed Helgstrand when he became independent. Blomgren trained and competed numerous interesting sales and clients' horses, including Laetare, De Noir, NOH's Daijoubo, Bogegårdens Boney M, U Caro and Star Agent.
"I'm so happy for everything I´ve learnt at Andreas's and for working there," Blomgren told Eurodressage. "I've been with Andreas for almost nine years now, so it´s time for some change. My passion is to educate and compete dressage horses and riders and I want to learn a lot more, and also have a chance to start a bit on my own."
Photo © Astrid Appels
Related Links
Blomgren and Scholtens Invited as Guest Judge Riders in Flyinge
What's Happening: January 2009 - Part 2
Everdale and Dancer Win 2013 Pavo Cup Finals
Spanish Team Announced for 2013 CDIO Aachen
Spanish Team Selected for 2013 European Dressage Championships