Denmark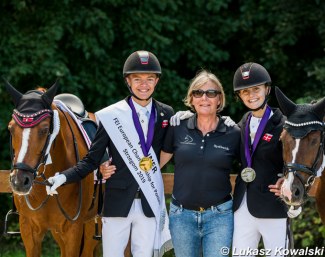 Only hours after it became public that Budapest will be hosting the 2020 European Youth Championships for Ponies, Children, Junior, Young Riders and Under 25 riders, the Danish Equestrian Federation announced that it will not be sending any riders.... at the moment. 
The (Danish) Ministry of Foreign Affairs does not advise unnecessary trips to Hungary due to COVID-19, and therefore the Danish Equestrian Federation cannot send riders. 
The Danish NF press release, on the one hand, states there will be no Danish delegation in Budapest at all, but on the other leaves a loop hole that team selection might be possible if the government changes its travel advice. 
"We have many combinations up for the task that really would be ready for international championships like just the European Championships, and of course it's a pity to have to tell them that we can't send them off," said Danish FN director Morten Schram Rodtwitt. "It would not be justifiable if we, as a federation, send our riders to countries that the Ministry of Foreign Affairs (UM) discourages all unnecessary journeys to."
The press release further said that Schram Rodtwitt "emphasized that the decision will, of course, be reconsidered if the travel guidelines are changed."
Denmark has opened its borders for professional athletes for competitions, then considering it an "essential business trip for them." This rule does not uphold for youth riders though. 
The 2020 European Youth Championships will take place over three weeks, from 9 - 30 August 2020, at Stable Unikornis in Pilisjászfalu.
Photo © Lukasz Kowalski
Related Links
Budapest Gets 2020 European Championships for Ponies, Juniors and Young Riders
Budapest Throws a Life Line: Offers to Host 2020 European Junior/Young Riders Championships
2020 European Pony Championships Cancelled, Strzegom Plans Alternative: "European Pony Masters"
2020 European Junior and Young Riders Championships in Hartpury Cancelled