The Thoroughbred in Dressage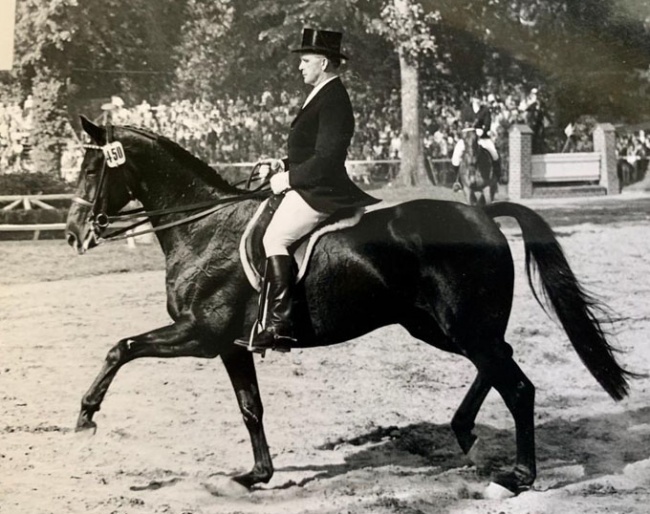 This article is a continuation in the series From Flying Past to Flying Change: Thoroughbreds in Dressage Competition. Read Part I and Part II
The general situation after World War II was neither easy for the breeders, nor the trainer or riders. Influential cavalry schools did not exist anymore or closed shortly after the war. Working horses or such for cavalry purposes were not needed any longer and, therefore, breeding had the be reorganized everywhere after the chaos of war. Germany no longer had its very meaningful stud of Trakehnen and just a limited number of Trakehner horses survived and reached the west to re-establish the breed. Dressage was rebuilt everywhere on horses that were available at the time. The first Olympic Games showed a variety of horse types and breeds.
European Stamp
The first post-war Olympic Games in London 1948 took place just three years after the war and the program excluded piaffe and passage as it was feared that not enough horses would be able to take part at the more demanding Grand Prix level. Last placed in the 1936 team competition, the USA surprisingly captured the silver in 1948. And while several thoroughbreds participated in that first post war Olympic Games, the circumstances related to the war left the US dressage team with only one US horse: The army remount bred Reno Overdo under Frank Henry.
The other two members of the American silver medal winning team sat on German bred and German trained horses: Klingsor and Pankgraf, both trained by Willi Schultheis under Otto Lörke's tutelage at the cavalry school of Krampnitz and occupied by the Allies later on. Klingsor's rider, Captain Robert Borg, was the sole protegé of USA's pre-war dressage pioneer Hiram Tuttle. In preparation of the Olympic Games, Borg trained with the German master maker Otto Lörke at Vornholz Stud. This success, achieved on mainly German bred warmblood horses, was the beginning of trend in the U.S.A, which would become common practice. American riders began training with European trainers and compete on warmblood horses instead of Thoroughbreds. This seemed the winning formula, even more so as the cavalry shut down.
German trainers like Fritz Stecken and Richard Wätjen emigrated to the North America after the war with some horses, and became influential. The first European warmbloods trained on the old continent were imported  later on and this became the usual practice for those who could afford it. The riders who did not have those assets, had an affordable alternative in the American thoroughbred, which could also lead to success at the highest level with proper training. Up until the 1980s imported warmbloods competed side by side against American thoroughbreds for team places, something which has completely disappeared since the 1990s, when also the warmblood breeding gained an increasingly high standard in the USA.
Otto Lörke
Germany was not allowed to take part in that 1948 Olympic Games. Their leading private stables and their cavalry school did not exist anymore and famous horses had been lost or captured. One person managed to rescue his best horses over war times: Otto Lörke (1879-1957) had undoubtedly been the dressage trainer during the first 30 years of FEI dressage competition.
Responsible for training the German Emperor's horses before the first World War, Lörke had his own dressage stable in Berlin between wars and his expertise and success were already then second to none. Lörke loved horses with much blood and sensitivity and he was able to invest quite some money in acquiring horses talented for dressage. As a civilian and professional he was not allowed to compete in Olympic Games himself, but the cavalry school of Hanover took him under contract to prepare riders on his own horses for the Olympic Games in Berlin 1936. Kronos and Absinth, these black Trakehner geldings from the same breeder and closely related (both by sire Carol and Kronos out of Eule, Absinth out of Eule's daughter Estrella), won gold and silver. They were both trained by Lörke, who had developed the thoroughbreds Pommerländer xx and Moselländer xx for the 1940 Tokyo Olympics. However, those Games did not take place because of the outbreak of World War II.
Willi Schultheis
In the year of Lörke's horses' biggest Olympic triumph, Willi Schultheis,  the 14-year-old son of a jockey from Hoppegarten race-track in Berlin, was scouted and began his apprenticeship with Lörke. Weighing too much t to follow in his father's footsteps as jockey, Schultheis became Lörke's master student in every aspect.
Schultheis learnt dressage on nobody less than Kronos and celebrated his first big wins at just 17 years of age on Moselländer xx and Pommerländer xx.
It would be Schultheis who stamped the 1950s and 1960s as a professional rider and also as a rider of highly successful German bred thoroughbreds, like the Vornholz owned Chronist xx (1952 Olympic team bronze medalist with Fritz Thiedemann), Pernod xx (by Marcellus xx), as well as Memor xx and Brillant xx (Rosemarie Springer).
Chronist xx, Pernod xx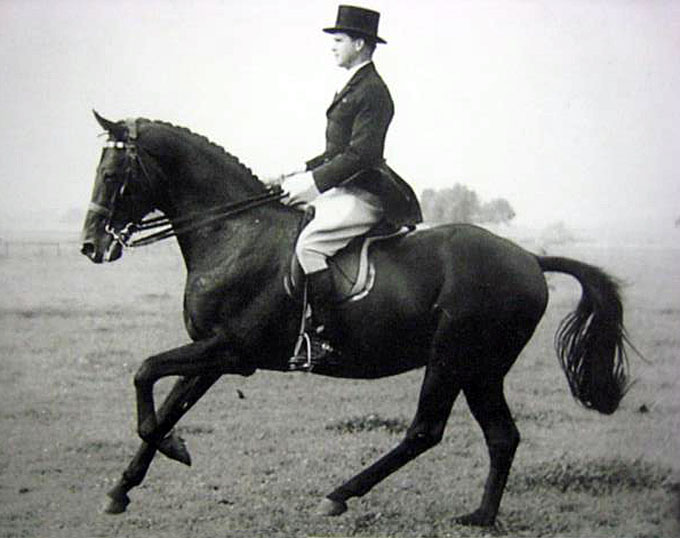 Chronist xx (by Marcellus xx - Ferro xx), trained by Otto Lörke and competed by Ida von Nagel and Willi Schultheis, was a rather light bodied German bred thoroughbred stallion. He was in a way a typical representative of his time because: despite some significant conformation problems and a weak walk, he still achieved some remarkable success in post war Germany.
Chronist xx joined the German dressage team for the 1952 Olympic Games in Helsinki. He was competed there by German jumping legend Fritz Thiedemann and contributed to Germany's team bronze medal. Destined to compete at his second Olympic Games in Stockholm 1956 and travelling there, Chronist got severely injured in training, sustaining two hairline fractures of the fetlock, which ended his dressage career, but he continued standing up forstud.
Like Chronist xx, Pernod xx was sired by Marcellus xx and owned by Count von Nagel-Doornick in Vornholz, the stud in Westfalia where Lörke and Schultheis trained in the first post war years. Born 1938, Pernod was a steeplechaser until a leg injury in 1947 turned him to dressage. After a successful career into the 1950s, Pernod stood at stud in Vorholz and sired Macbeth, a Westfalian gelding who became Bubi Günther's best Grand Prix horse in the 1970s.
Brillant xx
Maybe the most impressive and successful thoroughbred Willi Schultheis trained and competed was Brillant xx. He certainly lived up to his name. Born in 1949, the black stallion by Organdy xx - Athanasius xx was one of the best race horses on the flat in Germany directly after the war. Among other success, Brillant placed third in the German Derby in Hamburg-Horn before the Springer dressage stable bought him in 1954. Just four years after Brillant moved to Hamburg as a dressage horse, he won the Dressage Derby in Hamburg-Klein Flottbeck. To be successful in the German Derby as a race horse on the flat and as a dressage horse is a feat unequalled to this very day. This accomplishment might very likely never be achieved again.
Brillant's dressage career continued with two German championships titles in 1960 and 1961. At the 1960 Olympic Games in Rome he was the reserve horse of his owner Rosemarie Springer, who switched turns with her trainer Willi Schultheis competing the horse. Schultheis' wife Jutta is quoted in an article, stating that her late husband preferred the thoroughbred to any other breed.
Dressage on Thoroughbreds in the U.K.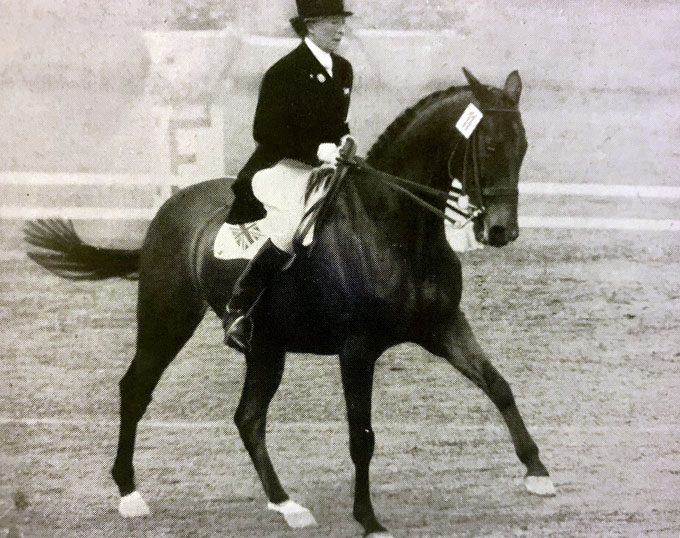 The 1948 Olympic Games in London helped to spark some interest for dressage in Great Britain, a country then still totally driven by hunting, racing and everything else exciting on horse back.
Alois Podhajsky, who was a good acquaintance of Colonel V.S.D. Williams, the legendary chairman of the British Horse Society, had given some demos on his two horses, his own Hungarian half blood Teja and the Lipizzan Neopolitano Africa from the SRS, after the Olympics in 1948 and at White City in London 1949. It appealed to the onlookers and inspired some to some movements with their own horses at home.
One of them was Colonel Williams' wife Brenda who began working with her big framed English thoroughbred Pilgrim xx. He was her hunting horse and already 11 years of age. With the help of Podhajsky, who came to give clinics at the Williams' property East Burnham Park, and through regular letter exchanges Williams managed to bring Pilgrim xx to Grand Prix level. The pair represented Great Britain at the 1956 Olympic Games when Pilgrim xx was already 19.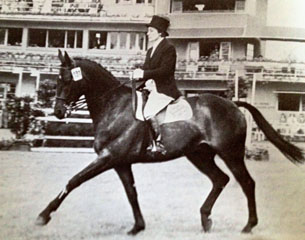 They were joined by Lorna Johnstone with another English thoroughbred, the tiny Rosie Dream xx, who represented a completely different type of thoroughbred, looking much like a polo pony. Unlike some others of her contemporaries, who looked for a suitable warmblood, Johnstone remained faithful to the English thoroughbred throughout her career, which spanned more than two decades and three Olympic Games.
While the first British attempts at international dressage revealed their lack of experience, one British lady astonished the scene in 1958. Joan Gold, later a well known international dressage judge, stunned in the equestrian 'Mekka' at Aachen by winning the Grand Prix and four more classes on her elegant petite English thoroughbred Gay Gordon xx (born 1949 by Jiudo xx - Lucca xx). It was the first time a British rider won an international Grand Prix and it was described by the German speaking press as a surprise, even a sensation. They admired Joan Gold's sensitive aids. In comparison to her compatriots at the time, Gold had the advantage to live in Berlin, where her husband was stationed, and she got regular training there.
Juli xx
The Olympic Games of 1956 kicked off with 1952 double Olympic champion Henri St. Cyr speaking the Olympic oath in the saddle of a typical thoroughbred, Juli xx. A few days later he carried St. Cyr to another double gold medal. His rider became the first dressage athlete to repeat his Olympic triumph.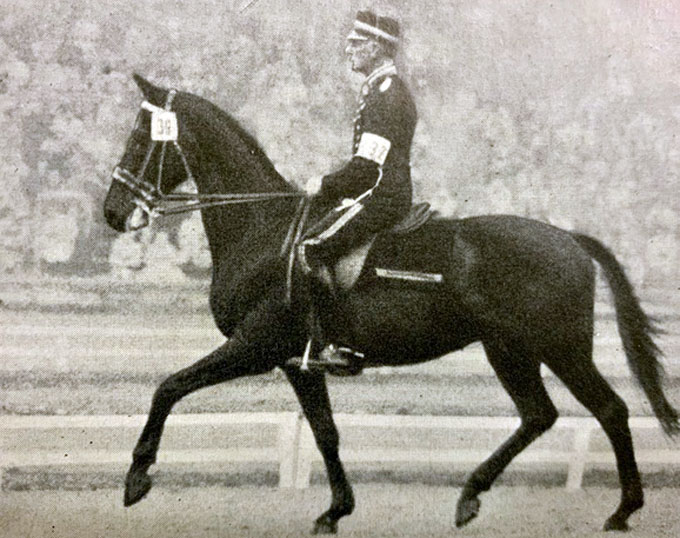 Juli xx, a rather petite 14-year-old Swedish thoroughbred by Doctor Doolittle xx, was first presented internationally at the 1953 CDI Wiesbaden and ever since received divided criticism from the public. Parts of the German press occasionally called him a "mechanized leg mover," but in all fairness one has to admit that the Swedish were Germany's most serious rivals in that decade. St. Cyr won his second, consecutive set of two gold medals on home turf, but the judges' verdict and final ranking were close to a scandal at the time, many having seen a winner in Lis Hartel. Because of the controversial judging at those Stockholm Games, the IOC removed the team medals for dressage at the 1960 Rome Olympic Games and one judge became barred for life from judging. 
Swedish Eric Lette, a former Olympic judge and former chairman of the FEI Dressage Committee, believes that St. Cyr's success on Juli xx breathed life into a new trend, which he called the "thoroughbred wave". Henri St. Cyr started his Olympic career 1936 as an eventing rider and he became known as a thoroughbred rider:  L'Etoile, Perfekt, Magnifique and Marquis being the others horses he competed with success at the end of the 1950s and early 1960s, some of them were thoroughbreds, L'Etoile was a highly refined Swedish warmblood with modern looks. However, it seems questionable if his success actually caused a thoroughbred trend.
The number of thoroughbreds who could take a stand against warmbloods did not seem to have significantly risen in the early 1960s and outstanding representatives of this breed had always existed since the beginning of  FEI Dressage competition.
Rath Patrick xx
Maybe the most recognized and admired thoroughbred competing dressage rider of the first half of the 1960s was Patricia "Trish" de la Tour d'Auvergne (née Galvin) who had been the first woman to finish a three-day-event in the USA. She turned to dressage when, at the end of the 1950s, women were still not allowed to compete at the Olympics in eventing.
Trish's father John Galvin became a strong supporter of the USET at that time by buying high quality horses in jumping and eventing and make them available for team riders. When his daughter changed disciplines, he sought help from Henri St Cyr and bought the Olympic champion Juli xx from the Swede.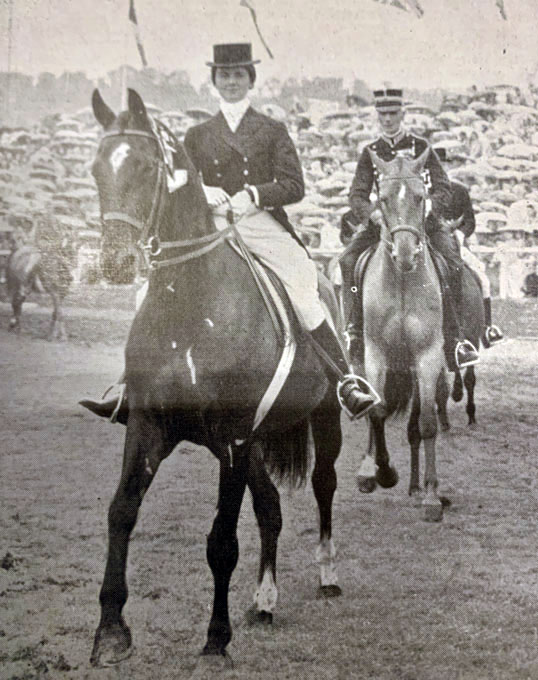 While one should assume that a petite woman like Trish Galvin would have been a perfect match for a likewise petite thoroughbred like Juli xx, Galvin preferred to ride Rath Patrick xx (by Dunston Castle xx-Empire Ranger xx), a horse which had also taken part in the 1956 Olympic Games. 
Born in Ireland in 1947 Rath Patrick xx was imported to Canada to become a hunter, but the bay horse did not like to jump. The expatriate French Léonard Lafond bought him and trained him to Grand Prix level, following the methods he learnt by reading the books of General Decarpentry. Both represented Canada at the 1955 Pan American Games in Mexico City and the 1956 Olympics, before Lafond was forced to give up riding. Lafond moved to California where John Galvin discovered Rath Patrick xx, who was to become his daughter's favourite. The thoroughbred had made an impression at the 1956 Olympic Games with his quality gaits. The horse was developed following the French approach and this matched seamlessly with young Trish, who got trained by the Saumur influenced Henri St. Cyr and by Saumur's 1948 Olympic team champion Jean Saint Fort-Paillard. 
At just 20 years of age Galvin won the 1959 Pan American Games in Chicago with Rath Patrick xx. Leaving nothing to chance, she travelled to Europe with her three thoroughbreds in the lead-up to the 1960 Olympic Games in Rome. She won the Grand Prix at Berlin, placed highly at Dortmund, and then went to the holy turf of Aachen.
The elegance and light-footedness of Rath Patrick xx were the perfect match for the equally elegant young Galvin. They made a highly attractive pair in a dressage world so far dominated, for the greater part, by members of the military and elder gentlemen. Both took Aachen by storm, winning the Grand Prix ahead of her own trainer Henri St. Cyr on L'Etoile. This was an American dream debut in dressage at Aachen and it would take another 57 years for this to be repeated. The second American rider to win a dressage class in Aachen was Laura Graves in 2017. Galvin's Aachen tour de force did not continue though a few weeks later at the Olympics in Rome. Rath Patrick xx did not quite make a medal, but his sixth place proved the pair's position in dressage, which they had achieved in just about one year. It was the first meteoric rise in this sport, like we were to see later with Nicole Uphoff on Rembrandt or Charlotte Dujardin on Valegro.
Even though Trish's father bought St. Cyr's wonderful chestnut L'Etoile (with whom he had placed 4th in Rome) as Rath Patrick's successor, the Irish bred remained his daughter's favourite. At the 1963 Pan American Games he was already 16 and defended his title from four years earlier. In 1964, at the grand age of 17 Rath Patrick xx took the long flight to Tokyo, where he finished his third Olympic Games on a high note and in eighth place. Rath Patrick was then retired to the lush fields of Ireland, from where he originated before he traveled the world.
Dressage Horse Market
The example of Rath Patrick shows that at that the beginning of the 1960s a well moving and well trained thoroughbred not only could be a winner, but also a horse that was sought after on the market.
The criteria on the dressage horse market that mattered were good gaits and good training, if we can speak of a "dressage horse market" at all in that time. The number of professional dressage stables ,which were training advanced horses for sales purposes, was still very small and young horse classes like we know nowadays were simply non existent.
Marios xx
In the second half of the 1960s the number of internationally remarkable thoroughbreds diminished. One that regularly appeared on the team of the German Democratic Republic was the very elegant, but delicate Marios xx (by Asterios xx). Ridden first by Wolfgang Müller at the 1968 Olympic Games in Mexico where the team finished 4th, he appeared again at the 1972 Munich Olympic Games under Gerhard Brockmüller and narrowly missed the ride-off after placing 13th. He was also on the medal winning teams of the German Democratic Republic at the 1969 European Championships in Wolfsburg and the 1970 World Championships in Aachen.
Soviet Rise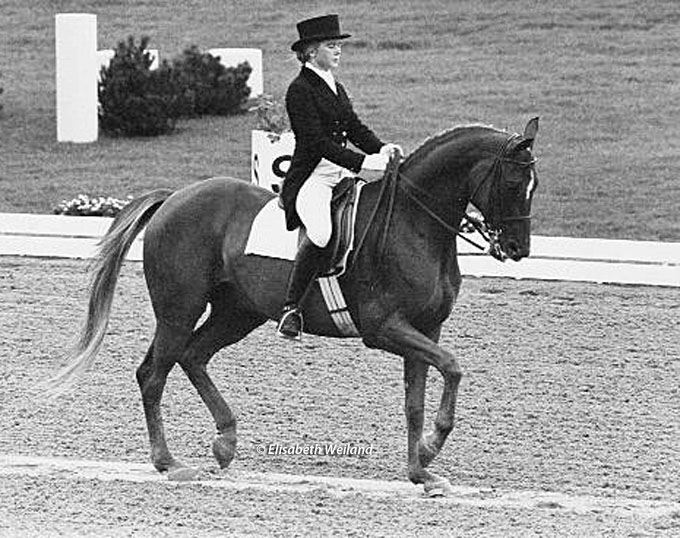 As warmblood horse breeding was progressing from the 1960s onwards, horses mainly from Germany and Sweden were the ones to dominate the sport and, therefore, sought after. A look at the starting lists of the Olympic Games from the late 1960s into the 1970s confirms this trend.
The highly refined horses on the teams of the Soviet Union, which won their first Olympic title and team medals as of 1960, played a special role because in a way many of them represented the elegance and the dance flair typical to thoroughbreds. However, they had the more advantageous conformation of the warmbloods.
More refined and lighter bodied than the average European warmblood at that time, the Soviet horses presented a whole range of breeds: From the Akal Teke (Absent and his son Abakan), to the pure bred Trakehner (Pepel) as well as horses clearly influenced by Arab blood, like the enchanting Arabo-Trakehner Said in the late 1970s. Yet we shouldn't forget their pure thoroughbreds like Tarif xx and Torpedist xx. In retrospect they would have been an export sales hit had the Soviet Union been a capitalistic country back then.
By Silke Rottermann - Photo © Elisabeth Weiland - ST.GEORG - private archive Katharina Schultheis
Related Links
From Flying Past to Flying Change: Thoroughbreds in Dressage Competition
From Flying Past to Flying Change - Part II: Thoroughbred Champions Between the Wars