The Thoroughbred in Dressage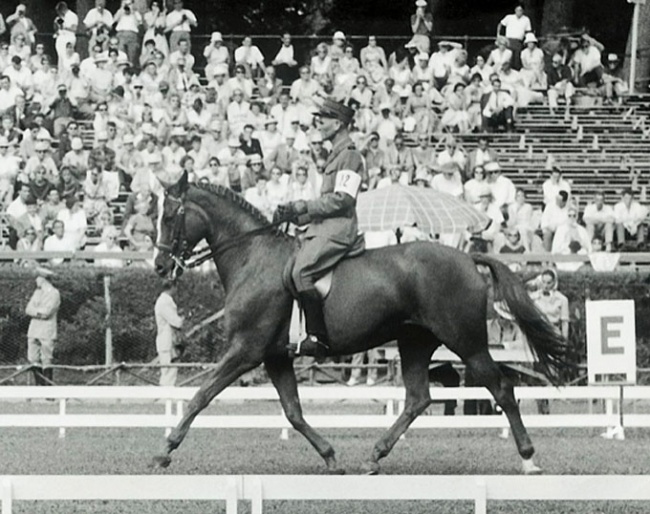 Nobody will seriously doubt the importance of the thoroughbred horse for dressage competition because their blood can be found in almost every single warmblood pedigree nowadays. Post-war dressage champions like the Hanoverian Liostro (by Der Löwe xx), the Westfalian Ahlerich (by Angelo xx) or the Swedish warmblood Wolfdietrich (by Daladier xx) descended directly from these horsesn who are bred to do a completely different job, running as fast as possible.
Since the end of World War II modern warmblood breeding cannot be imagined anymore without the thoroughbred as a significant refiner. However a purebred thoroughbred as a dressage-horse? For many this might be a crazy idea.
And indeed, even in his native country Great Britain thoroughbreds in advanced dressage classes are rare exceptions nowadays. It has not always been like that. Thoroughbreds have significantly stamped FEI level dressage during the first 50 years of official dressage competition. Either in victorious teams of Germany, France, Sweden and the Soviet Union or as individual competitors, thoroughbreds won numerous Olympic gold medals between 1912 and 1972.
From the beginning of FEI dressage competitions at the early 1930s until the 1980s, these noble creatures belonged to the international dressage competition as a matter of course.
Which thoroughbreds became legends of the sport, which of today's leading dressage nations founded their sport on this breed and why have thoroughbreds widely disappeared from the FEI aren in our time? This topic has sparked my interest to write this little series on the thoroughbred in dressage competition.
The Thoroughbred Between The Wars - When They Could Stand a Chance
Even today not every warmblood has the same conformation, but horses look much more uniform compared to a few decades ago, let alone in pre-war times. Thanks to the thoughtful infusion of thoroughbred, Arab and Anglo Arab blood, modern day warmblood breeding has reached a standard which breeding experts dreamt of in the past.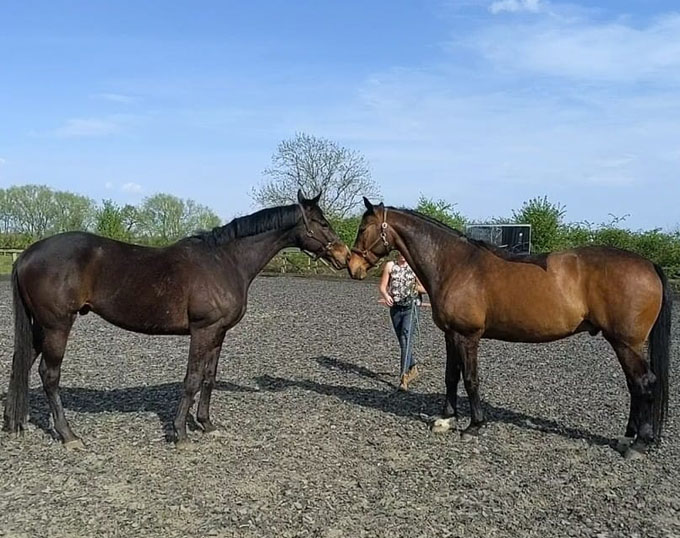 One of the them had been German Landstallmeister Dr. Gustav Rau (1880-1954), probably the most well-known and universally approved equestrian expert in the first half of the 20th century. Rau realized early on that thanks to careful thoroughbred blood infusion, warmblood breeding can be perfected in regards of conformation, natural balance, elasticity and quality of gaits. On occasion of the 1936 Olympic Games in Berlin, Dr. Rau remarked that "the perfect riding horse allows the rider to have a horse (…) which has the first beginnings of training behind him from birth."
While these perfect horses were very rare exceptions during Rau's lifetime, a continued industrial revolution and advanced mechanization after World War II forced breeders all over Europe to refine their warmbloods to become attractive and easier as riding horses. Their days as working horses and in the cavalry were over. It was not a matter of fashion, like we see the taste of today to have fancier movers with more shoulder freedom,  but one of survival for horse breeders.  The warmblood had to find a new task in order to exist in the future. In the first decades after the war the number of half blood horses increased. Stallions like Anblick xx, Marcio xx, Der Löwe xx or the Anglo Arab Ramzes were the sires of top dressage horses during the 1960s and 1970s.
The imperfections of  pre- and early post-war warmblood breeding in Europe, which focused on producing sturdy horses for farm work and to supply the cavalries, are one decisive explanation why the thoroughbred was able to contest and equal those breeds which are leading on today's international dressage scene.
There never had been a completely uniform thoroughbred type; it all depended on the intended use and country of origin, but one trait was there in all, for sure: A thoroughbred is aimed to achieve extraordinary speed, might it be on the flat or over hurdles. They should cover as much ground as fast as possible and for that purpose, their conformation has been adapted perfectly: often deeply set necks with a flat topline and built on the forehand in order to accelerate extremely in a flat manner. 
A typical thoroughbred conformation is, in principle, the opposite of what is desired of a dressage horse. It goes without saying that there are always exceptions to this usual phenotype and dressage has seen some wonderful thoroughbreds with rather advantageous conformations. This is one of the crucial points: As long as warmblood breeding was a far cry from today's exceptional high standards, riders back then also had to deal with various conformation problems in the training of their warmbloods. The thoroughbred offered not only beauty and nobility, which the sturdier warmbloods were often lacking, but they had at least a good canter and walk.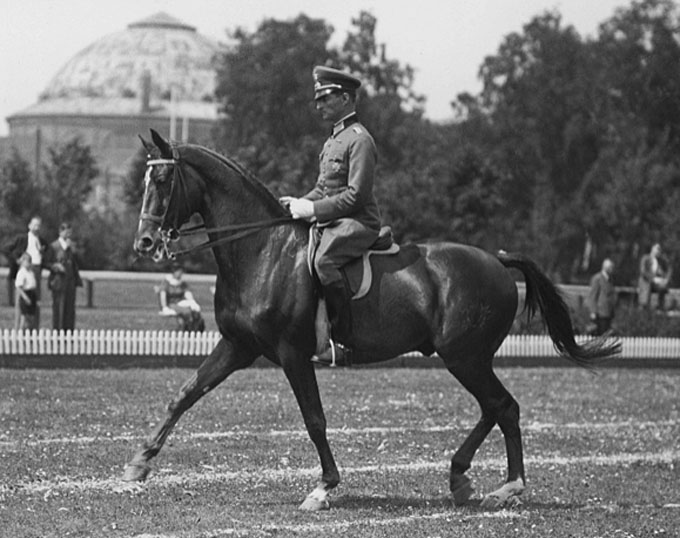 Training those horses usually required a systematic and careful training and allowed no short-cuts to be able to reach the highest levels in dressage at all. Dressage training and dressage competition in the first part of the 20th century was, exaggeratedly phrased, less a contest of horse quality, but one of quality in training as it had to compensate a horse's lack of quality gaits or conformation mishaps.
Most European warmblood breeds did not specifically bered sport horses before the war. An exception was the East-Prussian warmblood, now known as the Trakehner, which systematically infused thoroughbred from the beginning of the 20th century onwards. It is very obvious from studying photos from the pre- and post war times. A horse like 1928 and 1936 Olympic team champion Gimpel, a highly refined Trakehner chestnut gelding by Wandersmann xx, would not really look out of place almost a century later, while the same cannot be said of his contemporaries.
Another reason why the thoroughbred could stand a chance in those times was that the majority of riders before the war came from the army. The sport was not professionalized like today. At the beginning it was mainly a friendly contest between cavalry officers and gentleman riders. The armies did not reject a failed race-horse as they were cheap acquisitions. That way talented riders were matched with these horses and they successfully worked with them.
For instance the army in countries like the USA, where dressage was in its infancy and with no European trainers or specific dressage trainers at all, strongly relied on the thoroughbred horse.
Continue reading: From Flying Past to Flying Change - Part II: Thoroughbred Champions Between the Wars
By Silke Rottermann - Photos © FEI History Database
References of this Series
Max E. Ammann, The FEI Championships, Lausanne 2007, p. 326, 335 and 341.
Christian Freiherr von Stengelin, Deutsche Pferdezucht, Geschichte und Zuchtziele, FN- Verlag, Warendorf 1983, p. 22-24, p.202.
Claartje van Andel, Eric Lette, in: Jacques van Leeuwen (publisher), Das Pferd im zwanzigsten Jahrhundert, 100 Jahre in 100 Interviews und 500 Fotos, Premium Press 2000, p. 336.
Carl Hildebrandt, Die Eidgenössische Pferdeanstalt Thun 1850-1950, Vallamand 2006, p. 209-210.
Jahr Verlag (publisher), Seoul `88-Reiterolympiade, Hamburg 1988, p. 49.
Bill Steinkraus and Sam Savitt, Great Horses of the USET, Dodd, Meat & Company, New York 1977, p. 65/66.
E-Mail correspondence with Jennie Loriston-Clarke, Domini Lawrence / Morgan and the late Diana Mason in 2010 on El Farruco xx.
Hiram Tuttle: Ahead of His Time, in: Jennifer O'Bryant, Olympic Equestrian, The Blood-Horse, Lexington 2000, p. 100-102.
https://www.rideforbund.dk/~/media/rideforbund/Ridesport/Mesterskaber%20Championater%20og%20turneringer/Mesterskabshist…
Dressage-A Perfect Sport for Woman, in: Jackie C. Burke, Equal to the Challenge. Pioneering Women of Horse Sports, Howell Book House, New York 1997, p. 79-73.
https://www.pm-forum-digital.de/project/die-bescheidene-grande-dame-01-2016/ (Laura Becker, Rosemarie Springer - Die bescheidene Grande Dame)
Gustav Rau, Die Reitkunst der Welt an den Olympischen Spielen 1936, Verlag Sankt Georg, Berlin 1937, p. 348 / 349.
Willi Schultheis, Krönende Schlüsselfigur der Reitkunst, in: Reiter Revue, Nr. 4/1987, p. 62-65.
http://isoh.org/wp-content/uploads/2019/02/343.pdf (James Goddard, Bronze medalist Tuttle was more than "Merely an American Horseman")
Alois Podhajsky, Meine Lehrmeister die Pferde-Erinnerungen an ein großes Reiterleben, Franckh-Kosmos-Verlag, Stuttgart 2001.
Schweizer Kavallerist, issue 8/1958.
https://horsesdaily.com/article/memoriam-alexsandra-howard-uset-dressage-team-veteran-and-contributor-american-dressage
Gunnar Andersen, in: Ann Martin, The Trainers, Stanley / Paul, London 1972, p. 131-142.
Colonel Hiram E. Tuttle, in: Barbara Wallace Shambach, Equestrian Excellence-The Stories of Our Olympic Equestrian Medal Winners-From Stockholm 1912 thru Atlanta 1996, Half Halt Press, Boonsboro 1996, p. 26 / 27.
Colonel Isaac Leonard Kitts, in: Barbara Wallace Shambach, Equestrian Excellence-The Stories of Our Olympic Equestrian Medal Winners-From Stockholm 1912 thru Atlanta 1996, Half Halt Press, Boonsboro 1996, p. 31 / 32.
Stiftung Deutsche Sporthilfe (publisher), Los Angeles '84, Frankfurt am Main 1984.
Harry Boldt, Das Dressurpferd, Edition Haberbeck, 6th edition, Lage-Lippe 1978, p. 81, 83, 99.
Joel Bartels (publisher), L'Année Hippique 1991/1992, p. 498.
E-Mail correspondence with Jytte Lemkow