Greatest Oldies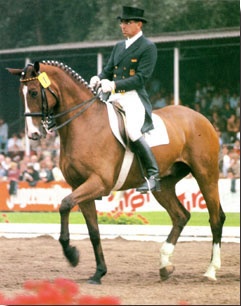 By 1975 German team rider Dr. Reiner Klimke had already won nearly everything in dressage. With his Hanoverian geldings Dux (born in 1951, by Duellant) and Mehmed (born 1960, by Ferdinand) he had won all team and individual titles possible, except the elusive individual Olympic gold medal which he just missed in 1968 and 1976.
Time to change that thought Dr. Dohmen, the director of the Westfalian studbook, and he decided that Klimke, a famous native of the North Rhine-Westfalia area, should have a Westfalian horse in his stable.
So he selected several horses in 1975 Westfalian auction for Dr. Klimke to try out. One of these was Herbert de Baey's leggy bay 4-year old gelding Ahlerich by the thoroughbred Angelo xx out of Dodona (by Donar).
Klimke tried him first and was sure: This one or none! During the auction the price was climbing high to a level Dr. Klimke wasn't prepared to pay. Finally the Westfalian studbook, Clemens Freiherr von Heeremann- Zydtwyck and Klimke bought the hopeful together for the top knock down price of 42,000 DM (21,000 euro).
Klimke's innumerous duties as a lawyer led to a slow and patient build-up of his new acquisition. Ahlerich's full brother Amon was born in 1968 and later became a tough competitor from 1980 – 1988 under the Dutch Annemarie Sanders- Keijzer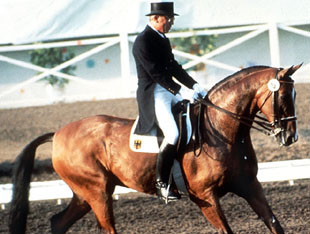 Two years after Ahlerich, who was affectionately called "Ali" by the Klimke family and groom Claudia Rosner, had arrived at his permanent stable in Münster he won his first S- dressage in July 1977. Only a year later he not only started in his first Grand Prix, but also won it and secured his first of several German Championship titles later that season.
These early successes may give a distorted image of Ahlerich as he was not always the easiest horse to train and ride for Grand Prix, as Klimke described clearly in his book about Ahlerich's training. Like many other talented horses Ahlerich had a lot of temperament and was so sensitive that he wasn't very forgiving.
Klimke and his wife Ruth, a Grand Prix rider herself, invested much time, patience and affection in this highly talented horse. Being a former Olympic 3-day event rider Reiner Klimke offered his gelding a varied training to help the sensitive horse settle more and more. He admitted later that Ahlerich had given him more than only one sleepless night, but it was worth it all!
In 1980 Ahlerich's career started being a a member of the German national team, which was the beginning of an impressive series of international medals and titles. Though still a bit green Ali won team gold and individual bronze at the Alternate Olympic Games in Goodwood after the Germans, like many other top dressage nations, had boycotted the Moscow Olympic Games because of the Russian invasion in Afghanistan.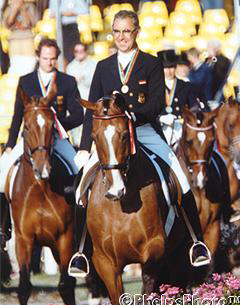 After being similarly successful at the 1981 European Championships in Austria, Ahlerich matured so much that he helped his rider to become double World Champion for the second time in his career, beating the famous Granat in his last competition in Lausanne 1982.
Though a clear favourite for the European Championships on home turf in Aachen, the pair was beaten by Anne Grethe Jensen from Denmark on Marzog , who showed a new level in lightness and harmony in this sport. So at the beginning of the 1984 Olympic season everyone was expecting a duel between these two great partnerships. Klimke knew that he had the probably unique chance to fulfil his dream of individual Olympic glory with Ahlerich after he had competed in five Olympic Games before. So he fully concentrated on this goal.
Team training in Los Angeles showed a strong Marzog and a shining Ahlerich in the Californian heat at Santa Anita stadium. It was expected for Germany to win the team gold and Klimke may have hoped he could save some energy in his horse for the important individual competition.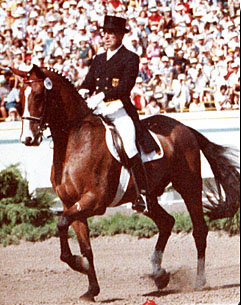 But the course of the team competition forced Klimke to deliver the ride of his life to rescue the coveted team gold medal after rather disappointing rides by Uwe Sauer on the Holsteiner stallion Montevideo and by Herbert Krug on the Danish bred Muscadeur. Ahlerich rose to the occasion and his brilliant performance will forever be remembered among dressage lovers as one of the greatest Olympic rides of all times: The complete dressage horse without a weak moment, full of expression and still relaxed, technically nearing perfection. The Germans were relieved of course, but Dr. Klimke knew that Ahlerich hadn't saved energy for the Grand Prix Spécial.
True to the fear Ahlerich couldn't repeat the brilliance of his Grand Prix appearance, but he was still good enough to crown his rider with the so much treasured Olympic title.
At the age of 48 and after nearly 30 years of international competition Dr. Reiner Klimke had reached the pinnacle of his career with Ahlerich.
It was also a very special moment for Klimke's wife Ruth, who trained Ahlerich at home while Klimke was short of time working full-time as a lawyer, and for Claudia Rosner, who had groomed Ali throughout his entire career.
Moreover people will remember Ahlerich for his double 1985 European title, but also for his glorious appearances in the famous Madison Square Garden show in 1987. In New York the sparkling Westfalian gelding danced to popular music in front of a full house of enthusiastic Americans for several consecutive days. He and his famous rider were the best ambassadors for classical dressage in the "new world".
In 1988 Ahlerich came back to competition and won the German Championships ten years later after he had done it for the first time. At the age of 17 and after three years out of the German team, he was nominated for his third Olympic Games in Seoul.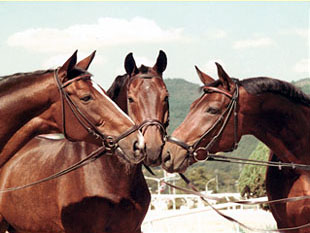 In Seoul Klimke lead a team of three young ladies, Monica Theodorescu, Ann-Kathrin Linsenhoff and Nicole Uphoff, who all made their Olympic debut. Ahlerich himself experienced a kind of family meeting in Seoul: In the Dutch team was his full brother and long-time rival Amon, which also competed in his third Olympics at the remarkable age of 20, and in the German team his nephew Rembrandt (out Adone, of a full sister to Ahlerich) won the individual gold with Uphoff.
Ahlerich showed his youth and well-being by cantering down the diagonal where he shouldn't, but his test was still good enough to finish 7th in the Grand Prix to win his fourth Olympic team gold medal-- a record only to be equaled by the late Gigolo FRH.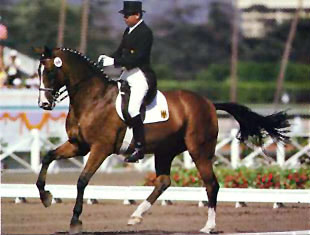 After Seoul Klimke decided to retire Ahlerich during the Stuttgart indoor show in October 1988. One of the most successful and charismatic dressage horses in history said farewell to the audience in a moving ceremony after he had shown his brilliance one last time. Together with his Olympic companions Gauguin de Lully CH and Corlandus he danced a wonderful Pas de Trois.
Like all of Klimke's retired horses Ahlerich lead a luxurious life in his home stable, where he was cared for in the same way as all 13 years before. In 1992 he suffered a serious colic attack and sadly had to be put down at the age of 21. He and his master will never be forgotten, because they displayed true classical dressage for over a decade and brought joy to dressage lovers all over the world.
By Silke Rottermann
Photos courtesy: Werner Ernst - Phelpsphotos.com
For more detailed informations about horse and rider and single competitions they attended:
R. Klimke, Von der Remonte zum Dressur- Weltmeister – Ein exemplarischer Ausbildungsweg mit Ahlerich, Olms- Verlag, Hildesheim 1995 (in German, also available in English with the title "The making of ...")
Deutsche Reiterliche Vereinigung (publisher), Reiter '80, Verlag für Sport und Kultur, München 1980 (in German, Italian, Dutch and French, out of print, available second hand)
Deutsche Reiterliche Vereinigung (publisher), Olympia der Reiter 1984, Verlag für Sport und Kultur, München 1984 (in German, out of print, available second hand)
R. Klimke / Deutsche Reiterliche Vereinigung (publisher), Olympia der Reiter Seoul 1988, FN- Verlag, Warendorf 1988 (in German, out of print, available second hand)
St. Georg magazine (publisher), Reiter- Olympiade Seoul 1988, Jahr- Verlag, Hamburg 1988 (in German, out of print, available second hand)
Related Links
The Great European Dressage Riders
Rider in the Spotlight: Dr. Reiner Klimke
With Dr. Reiner Klimke's Death Germany loses a Great One 
Youtube: Klimke and Ahlerich in New York
Youtube: Klimke and Ahlerich at the Los Angeles Olympics