The Thoroughbred in Dressage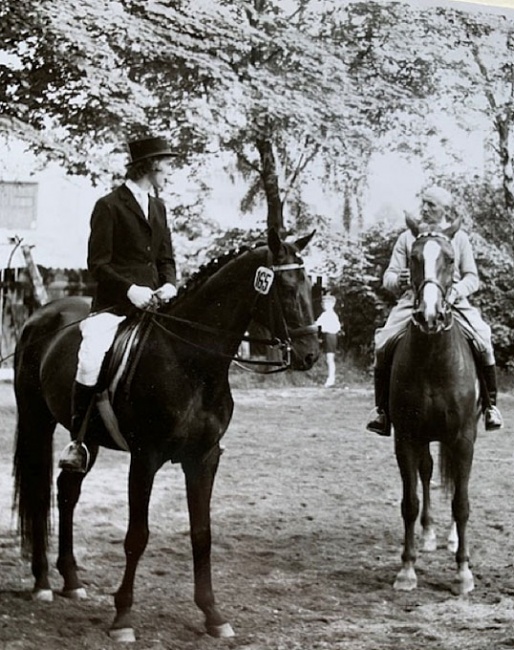 This article is a continuation in the series From Flying Past to Flying Change: Thoroughbreds in Dressage Competition. Read Part I, Part II, and Part III.
On Thoroughbreds Losing Relevance in Dressage
Angelika Frömming had been an international dressage judge for more than two decades and was responsible for the judges' education in Germany for twenty years. Frömming has closely followed the remarkable development of dressage sport and breeding since the 1950s. She competed herself at Grand Prix-level when thoroughbreds were still able to earn accolades internationally.
What are the reasons that Thoroughbreds, which were once so influential in the sport as well as breeding,  have lost their relevance in dressage competition?
This question is very difficult to reply to for me, almost impossible. On the one hand I am neither at home in racing nor breeding. On the other hand I have not systematically followed which Thoroughbreds have stamped warmblood breeding through its TB-refinement in the past 40-50 years. However, I can confirm that until approximately the mid 1970s Thoroughbreds had been very successful in dressage sport. I think of the competition stables Ahlsen and Springer in Hamburg or the Linsenhoff stable, for example. In these stables it was a matter of course to train Thoroughbreds for advanced classes. Trainers like Willi Schultheis or Bubi Günther or riders like Rosemarie Springer and Liselott Linsenhoff presented Thoroughbreds in international dressage competitions with great success.
I had the pleasure to compete the Thoroughbred stallion Fuchstanz (by Ticino xx), the former lead-horse of derby winner Niederländer xx. We got Fuchstanz when he was 4 years old. Heinrich Boldt, the father of Harry, and later Udo Nesch trained him up to S-level. I tremendously enjoyed riding and competing that horse which was full of elegance, lightness and nobility and had an excellent walk and canter. His trot movement was always elastic and balanced, but from today's point of view a bit flat out of the shoulders.
At the end of the 1970s and the beginning of the 1980s a certain rethinking in the judging of horses took place. Until then regular paces, a permanent contact and confirmed execution of the movements were the decisive characteristics to judge a presentation. Now another aspect has become more and more relevant;  international judges valued the ground quality of the basic gaits more. It was no longer sufficient to ride correctly, but also to have a horse of a certain quality in walk, trot and canter.
Then the classes for young dressage horses were launched, which overall take the "potential of movement" into account. As a consequence the term "spectacular" appeared, which had not been used in judging until then. As a result the ideal image of the trot movement changed. Initially it was only the wish for a knee lifted higher, but around the year 2000 the wish for a "nice lift of the shoulders" was added.
Are there other reasons why there are hardly any Thoroughbreds anymore on the international scene since the end of the 1980s?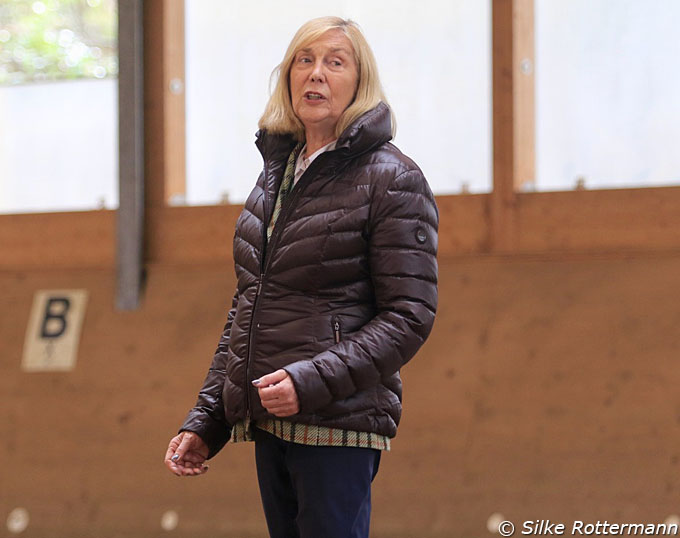 In my opinion this is the result of both: the changed "fashion trend" and the wish to compete and market the horses as fast as possible. Today the pressure to present and sell the horses is significantly higher than it was the case in the 1960s or 1970s. I descend from a time in which one still assumed that, for example, a Trakehner simply needs a year longer than other warmblood breeds. It is the same with the Thoroughbred; even more so if he came off the race-track. He needs to get used to the weight of the rider and the riding aids in general. It is exactly this "time factor", which is not given to these blood influenced horses anymore, especially if one thinks of the age targets for horses at shows.
In his native country England we still occasionally see Thoroughbreds in advanced dressage competitions. Why does it seem a real challenge for some judges to judge this breed?
The problem is that the judges have specifics about the quality of movements through the international rule book. The This way of moving is typical only for a specific type of horse.
At the moment we do not have a rule book, which says which and how many breed-specific concessions need to be made for the way of moving of a Thoroughbred, an Iberian horse or a Friesian. At the moment every horse, which is presented in a FEI dressage class, is judged based on a uniform assessment standard. A typical example for me was the unforgettable Invasor (under Rafael Soto): piaffe, passage, transitions and canter-pirouettes with a tendency a 9 or even better, extended walk and extended trot rather neared about a 6.5.
Today the situation is really simplified: breeding progress has led to the fact that particularly Andalusians and Lusitano horses have more ground covering and bigger movements. Also modern Friesians can be pretty successful nowadays in international dressage. Overall the Thoroughbred still needs to be able to gallop and win races. If he then is able to refine warmblood breeding, some crossbreds are suitable as a dressage horse due to their way of moving. This is a big win and a true pleasure and I speak from my own experience.
Continue reading: From Flying Past to Flying Change - Part V: The Thoroughbred in the 1970s
Interview by Silke Rottermann
First published in Kavallo magazine 10/2016, p. 30/31 - With friendly permission of Thomas Frei / Kavallo.
Related Links
From Flying Past to Flying Change: Thoroughbreds in Dressage Competition
From Flying Past to Flying Change - Part II: Thoroughbred Champions Between the Wars
From Flying Past to Flying Change - Part III: The Thoroughbred from the Post-War Times into the 1960s