Hit & Run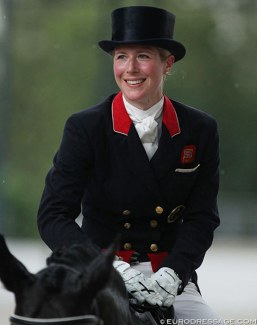 In corona times we are all ordered to stay at home, self quarantine, and do social distancing. With more time on your hands to spend online, Eurodressage launches a "Hit & Run" interview series so that you get to know the world's most famous dressage riders and personalities more closely. 
British Grand Prix rider Laura Tomlinson (née Bechtolsheimer) is a double British Olympian, having competed at the 2008 and 2012 Olympic Games. At the 2012 Summer Games in London she won team gold and individual bronze. At the 2010 World Equestrian Games she won triple silver. She competed at the 2009 and 2011 European Dressage Championships, winning team silver and individual bronze in 2009 and team gold and individual bronze in 2011. Married to polo player Mark Tomlinson, Laura is a mom to three children and currently competing at international Grand Prix level with Capri Sonne JR and Rose of Bavaria. 
Hit & Run - Laura Tomlinson
What is your earliest memory? 
On my 3rd birthday when the door bell rang and there was my first pony, a little Welsh mountain pony called Peacock. 
Which person alive do you admire the most and why?
Roger Federer, he is such a champion but never lost his class, he supersedes his sport and is a roll model to people from all walks of life.
When were you the happiest?
I am nearly always happy!  
What is your biggest fear?
Anything bad happening to one of cry children.
What was your first thought today?
I'm tired! 
What is your most annoying character trait?
I would have to ask my husband!
Which trait do you dislike the most in other people?
Dishonesty
What is your dearest possession?
Tough one, do dogs and horses count as possession?!   
If you look into the future, what do you see?
I try to take a day at a time but in my plans are to be back at the top of my sport. 
What makes you unhappy?
Seeing someone or something suffer. 
What is the love of your life?
My horses
What was the best choice you ever took in life?
Saying yes to my husband's proposal. 
What's your guilty pleasure?
Milk chocolate hobnobs (a type of biscuit).
What do you owe your parents?
Everything, oh and life! 
Who can sit next to you at your dream dinner table?
Oh man, tough one.  I think Phil Knight (the founder of Nike, I am just reading his book,) and Andre Agassi. 
What was the worst job you ever did?
Clean the showers at university, there were mushrooms growing out of them! 
What was your biggest disappointment in life?
The 2008 Olympics: I was so young and Alf (Mistral Hojris) was so wild and we went all that way and it was just a disaster...but we learnt a lot! 
What would you change if you can go back into the past?
I don't believe in regrets! 
Name one thing that would improve your quality of life?
I am very content but I suppose a cook would be nice, its easier to eat healthy if someone has prepared you a great healthy meal! 
What is your biggest achievement?
Olympic Gold and Bronze.
What is the most important life lesson you have learnt?
Don't apologise for who you are and the opportunities you have had, just make the most of them. 
Where would you like to be right now? 
Kenya
What's your favourite scent?
Gio by Giorgio Armani 
Which character would you dress up in for Halloween?
Cruella De Ville
To whom would you like to say sorry?
My daughter for shouting during home schooling!!
What does love feel like for you?
Exciting yet safe. 
When are you most relaxed?
I am a pretty relaxed person but I guess when the kids are in bed and its just my husband and me after a long day, making food together with a glass of nice red wine. 
What super power would you like to have?
I would like to fly. 
When did you last cry, and why?
My father died recently so I cry quite a bit at the moment, the last thing was probably hearing a song he loved. 
When were you closest to death?
Not sure, I like speed and adrenalin so whether in a car or on a horse (not a dressage horse!) or on skis or on a sledge, I have probably had a few near misses! 
How do you want to be remembered?
As fun, kind and loyal.
Related Links
Dr. Wilfried Bechtolsheimer Passed Away
Carl Cuypers Returns to the U.K. to Bechtolsheimer's Yard
Prince William, Kate Middleton, Prince Harry to Attend Laura Bechtolsheimer Wedding
Tomlinson To Wrap Up Mistral Hojris' Show Career at 2013 CDI-W London
Laura Bechtolsheimer's Mistral Hojris to Be Officially Retired at 2013 CDI-W London
Rath, Bechtolsheimer, Sprehe on Their Magical 80% Scoring Day at 2012 CDI Hagen
Bechtolsheimer Leads British Whitewash at 2011 CDI-W London
Bechtolsheimer Rocks the House Beating Cornelissen in London Grand Prix
Laura Bechtolsheimer Wins 2010 British Grand Prix Championships
Laura Bechtolsheimer Receives 2009 Raymond Brooks-Ward Trophy
Mistral Højris Sold to Wilfried Bechtolsheimer