2012 CDI Hagen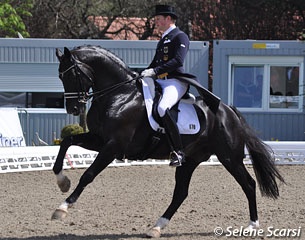 The top three finalists Matthias Rath, Laura Bechtolsheimer and Kristina Sprehe spoke out about their performance, warm up routine and plans for the future at the press conference held right after the Grand Prix for Kur prize giving ceremony at the 2012 CDI Hagen on Saturday afternoon. 
Read the reactions of the riders here:
Matthias Rath on his preparation
We've been concentrating on training over the winter, taking a break from competitions. The test was great, it's fantastic to begin the season with such a good score. But it's not surprising actually, as the horse has been working really well at home, so I expected it to be like this. But, naturally, it's still nice to have such good results.
Matthias Rath on his partnership with Totilas
Ours is still a work in progress: we're still getting to know each other. Therefore there is always room for improvement, but I think we can feel quite optimistic for the Olympics. It's a question of tweaking a few things here and there and getting to know each other even better, but he is definitely more in front of my leg and more submissive now. This was our first competition in several months, so it will take a few shows to get my ring confidence back. So I am definitely very happy for the first test of the season, he gave me a great feeling in the arena.
Matthias Rath on his new freestyle
We also have a new Kur with new choreography and Michael Jackson music, beautiful music I think, which is great fun to ride to.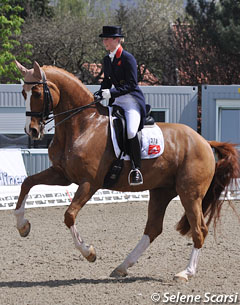 Laura Bechtolsheimer on her preparation for Hagen
London has been my aim and goal for a long time, it's been several years now that all of our competitions and preparation have been geared up for that. Alf is still incredibly fresh and willing even at 17, and I think it's because at home he does a lot of gymnastic work and a lot of hacking out, as opposed to drilling movements every day – this has helped maintain his freshness and willingness.
Laura Bechtolsheimer on her show debut of 2012

For me this wasn't the first Grand Prix of the season – we also scored over 80% in both tests in Dortmund – now we got 82%, so I feel that, come London, we'll be exactly where I want us to be.
Laura Bechtolsheimer on her ride today

He felt fantastic to ride today, I can't be happier really.
It was an awesome performance, yes I made a mistake in the twos which is annoying and I am sure that when I watch the video of the test I will see all sort of things that could be improved a little, but as far as his way of going goes, everything was 100%. I will do a couple more shows before London, but purely for ring confidence. Once he is in the ring he always gives me 100%, he is really going fantastically well and, come the Olympics, the London butterflies in my stomach will make sure I will eradicate all the tiny mistakes!
There aren't that many horses scoring over 80% so consistently, so that gives me plenty of confidence.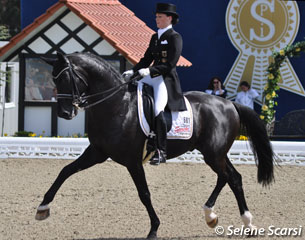 Laura Bechtolsheimer on Charlotte Dujardin

I am very happy about Valegro's win yesterday too. There's fantastic team spirit in the GB camp and we're also very excited that our main competition this year is going to be on home soil, as opposed to always having to be guests at other countries' competitions.
Kristina Sprehe on her third place at Hagen
This score was a personal best for me, so I am very happy for that. Now Aachen and Balve will be the main focus. It would be great to go to the Olympics of course, but I'll take it as it comes. We've been improving steadily from show to show, but of course there are minor things that can be improved or changed, as always.
Photos © Selene Scarsi
Eurodressage Coverage of the 2012 CDI Hagen