2010 British Dressage Championships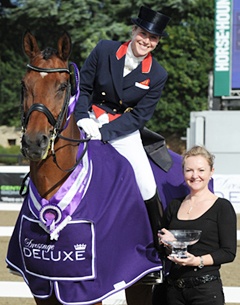 Twenty-five year old Gloucestershire star Laura Bechtolsheimer is crowned 2010 British Dressage Champion at the 2010 National Championships held at Stoneleigh Park 10 - 12 August 2010. Bechtolsheimer challenged seven other riders in the Kur to Music Finals on Sunday.
Performing an upbeat Grand Prix freestyle to a reggae soundtrack, Laura and her World Equestrian Games (WEG) reserve Andretti H scored a new personal best, breaking the 78.25% they scored at Hickstead World Dressage Masters earlier this year with an incredible 78.55%.
With samples of superbly executed piaffe and passage throughout, the routine captivated an entire grandstand audience at the Warwickshire showground. After their performance Laura showed the exquisite bond she has with Andretti as she punched the air and threw herself down to his shoulder for a celebratory hug.
Aboard Dr and Mrs Bechtolsheimer's 15 year old bay Laura thanked her mother for supporting her throughout this championship. "Dad wasn't able to attend and so my poor mum had to help me prepare, playing all roles. We had to do our job well so that we didn't let her down," she told spectators.
"To win feels absolutely amazing, my mind is already in Kentucky and this horse deserves a completely concentrated rider," an elated Laura confessed, "however, he doesn't really make mistakes regardless of what I do on top!"
When questioned about her preparation for the FEI World Equestrian Games in Kentucky USA September 25 - October 10 2010 Laura replied, "Alf's (Mistral Hojris) training is going really well. I've met up with the whole team here and everyone is on top form. The horses travel on Saturday (18th September) and we follow the day after, we can't wait to get there now!"
Laura, who holds both third and 20th place in the FEI World Dressage Rankings with her WEG ride Mistral Hojris and national champion Andretti H respectively, will appear at the Albion National Convention with trainers Klaus Balkenhol and father Dr Bechtolsheimer at Hartpury College, Gloucestershire 27-28 November 2010. Laura explained, "we can't wait to show everyone over here (UK) how we do our thing, and explain to others our training philosophy. I want people to see how we get the horses to perform using both kind and horse friendly techniques."
Bechtolsheimer Takes British Grand Prix Championship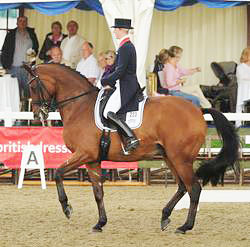 Laura Bechtolsheimer showed excellent form when  she comfortably secured the British Grand Prix Championship. Aboard Andretti H, Laura's performance attracted a huge crowd and the pair received rapturous applause. With a score of 73.66% they were the only grand prix contenders to break the 70% barrier in the 2010 championship.
Laura, who is currently third in the FEI World Dressage Rankings with her WEG ride Mistral Hojris, also holds 20th place with 15 year old Andretti, putting her in the privileged position of owning the top two ranked horses in GB, "I feel lucky to have these two fantastic horses," she said. When asked how her two grand prix rides differ she explained, "I couldn't compare them as they are both so different!"
In what has been an excellent 2010 season, the German-bred gelding by Aarking xx adds the national title to recent grand prix and grand prix freestyle victories at Lingen CDI and Aachen CDIO respectively. "Andy (Andretti H) doesn't like to think of himself as playing second string to Alf (Mistral Hojris), but he's such a fun horse, very consistent and makes everything look pretty easy," Laura said.
Trained by her father the esteemed Dr Bechtolsheimer and Olympic gold medallist Klaus Balkenhol, the talented 25 year old told British Dressage, "it's great to be back at the nationals, it's nice to give something back to dressage fans here in the UK as we're away competing in Europe so often."
Intermediate I Freestyle Championship:
Gareth Hughes and Duvie
Banbury resident Gareth Hughes took poll position in the Bates Saddles Intermediate I Freestyle Championship this weekend.
Riding Duvie, the horse he co-owns with Ann Newton, Hughes scored an exceptional 75% which not only secured this championship but also the Supreme Bates Saddles Intermediate I Championship title. The Oldenburg gelding by Ducello was bought by Gareth and Ann from Germany as a three year old and has been produced by the Oxfordshire rider ever since.
Gareth said of the nine year old, "he's lovely to train; a straightforward and laidback sort which suits me. Horses like this don't come along that often." Gareth told British Dressage of his plans for the Gelding, "it's his first year at this level and we will be heading to Saumur CDI in France to compete in our first international abroad later this month. We will train over winter and take it from there."
Hughes has had a busy nationals weekend, also competing Ann Newton's geldings Timleij and Cruise in the Haygain Medium Open Championship and the Stretch & Flex Elementary Open Championship respectively.
Intermediate I Championship: Charlotte Dujardin and Valegro
Gloucestershire dressage rider Charlotte Dujardin has stormed to a second victory at the nationals.
Riding Carl Hester and Roly Luard's highly talented Valegro, an eight-year-old Dutch-bred gelding by Negro, she won the Bates Saddles Intermediate I Championship with a score of 73.37%.
Dujardin and her closet rival second placed Gareth Hughes both impressed and were rewarded with marks to put them well ahead of the field of 32. The top 15 will compete in the Intermediate I freestyle class on Saturday 11 September.
Text courtesy: British Dressage
Photos: Paul Harding - Kevin Sparrow
Related Link
Dujardin and Crisp Take First Titles at 2010 British Dressage Championships