Hit & Run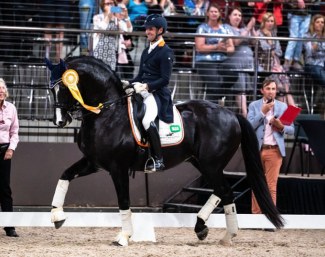 In corona times we are all ordered to stay at home, self quarantine, and do social distancing. With more time on your hands to spend online, Eurodressage launches a "Hit & Run" interview series so that you get to know the world's most famous dressage riders and personalities more closely. 
New Zealand Grand Prix rider John Thompson is one of his country young rising Grand Prix stars. He made his international show debut in 2013 aboard Astute and his CDI Grand Prix debut on Antonello in 2015. Thompson won the Horse of the Year title in Hastings in 2016 and 2018 and became the New Zealand Grand Prix Champion in 2018. He was nominated for the 2018 World Equestrian Games, but had to withdraw due to fitness issues. He returned to the Grand Prix arena in 2020 on a new ride, Chemistry. Thompson grew up in Australia, moved back to New Zealand in 2016, but is now back in Australia.
Hit & Run - John Thompson
What is your earliest memory? 
Falling from heaven
Which person alive do you admire the most and why?
My brother Charles. I always have.
When were you the happiest?
When I achieved goals that I thought were unrealistic when I set them
What is your biggest fear?
Heights
What was your first thought today?
Get me a coffee before I turn into a super villain.
What is your most annoying character trait?
My obnoxious laugh
Which trait do you dislike the most in other people?
Slow walkers… come on people I've got horses to ride
What is your dearest possession?
Tommy… he is my best friend. Yes, this is a horse…
If you look into the future, what do you see?
I could tell you… but then I'd have to kill you.
What makes you unhappy?
Not doing better than yesterday
What is the love of your life?
Coffee.. duh
What was the best choice you ever took in life?
Not shaving my head during isolation
What's your guilty pleasure?
Champagne.
What do you owe your parents?
Everything. They are wonderful
Who can sit next to you at your dream dinner table?
Mick Jagger – he would have some good stories to tell!
What was the worst job you ever did?
One day of trying out being a farrier… happy I stuck with dressage!. 
What was your biggest disappointment in life?
Having to withdraw the night before World Equestrian Games in 2018. Everyone has their sad story that makes you grow and this will be mine.
What would you change if you can go back into the past?
The dress code for dressage… who chooses tight white pants as their sporting gear?!.
Name one thing that would improve your quality of life?
Coffee sponsorship
What is your biggest achievement?
Qualifying for the Olympics and being selected for the World Equestrian Games before my 30th birthday. 
What is the most important life lesson you have learnt?
Compassion goes a long way
Where would you like to be right now? 
The Maldives in a hut over blue water… that's a nice thought! Now back to riding 1000 horses
What's your favourite scent?
Success. Wait… what does that smell like?
Which character would you dress up in for Halloween?
King Kong
To whom would you like to say sorry?
The judges for my acquired taste in house music – more suited to dance festivals than your typical classical dressage tunes!
What does love feel like for you?
Rainbows, unicorns and lollipops
When are you most relaxed?
Reading
What super power would you like to have?
Mind control… no more 7's for my walk!
When did you last cry, and why?
The moment I realised that I had no more coffee left in the house
When were you closest to death?
Cutting my wrist open when I ran through a window pretending to be an aeroplane… I was 10. Don't judge!
How do you want to be remembered?
As a great horseman and a sensational drinking buddy.
Related Links
New Zealand's John Thompson Withdraws from 2018 World Equestrian Games
Brougham and Thompson Nominated as New Zealand Individuals for 2018 World Equestrian Games
Thompson Wins 2018 New Zealand Horse of the Year Show
John Thompson Wins the 2016 New Zealand Grand Prix Championships
John Thompson Wins Horse of the Year Show at 2016 CDI Hastings
Thompson and Leach Engaged, Wedding at Takapoto Estate?
Champions of New Zealand Ride High on Local Turf at 2016 CDI Feilding
Thompson Aces 2016 CDI Sydney Grand Prix Special
John Thompson and Antonello Collect First Rio Scores at 2015 Equidays CDN