2018 New Zealand HOYS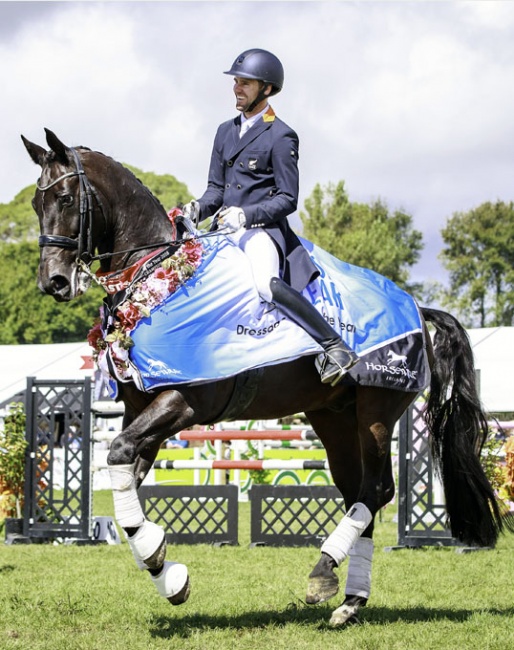 New Zealand Grand Prix riders John Thompson and Julie Brougham have been going head to head the entire spring and summer show season in New Zealand. While Brougham captured the New Zealand Grand Prix title in Feilding last month, Thompson reigned supreme at the annual Horse of the Year show in Hastings on 16 - 18 March 2018. 
Grand Prix
The Grand Prix competition in Hastings kicked off on Friday 16 March with the CDI3* and was won by Olympian and current National Champion Julie Brougham and Vom Feinsten on a score of 69.5. John Thompson and JHT Antonello had to settle for a very close second; whilst three of the judges had the pair leading, the margin was not quite enough, finishing on 68.935 mark. Three new combinations stepped up to Grand Prix this season: Debbie Barke and Lucrative SW (Rotorua), Sheena Ross and Parkridge Disco SW (Auckland), and Paula Stuart with Aztec Lad (Waikato). All gained respectable mid-60s scores, a great foundation to build on as they crack into the top tier of the sport on. Notably, all three have produced their own horses to this level.
Wendi Williamson withdrew her World Cup mount Dejavu MH as she felt he wasn't quite himself after his arrival at the Hawke's Bay showgrounds and, as he already has both internal and FEI qualification for WEG (as do Brougham and Thompson), decided to err on the side of caution and rest him. Williamson rode her second Grand Prix horse Don Amour MH into third place with 66.435. The Don Frederico gelding is still green to this level but is an exciting upcoming talent. Current HOY champions Abbie Deken and KH Ambrose also withdrew from the start list, and consequently won't be defending their title this year.
Grand Prix Special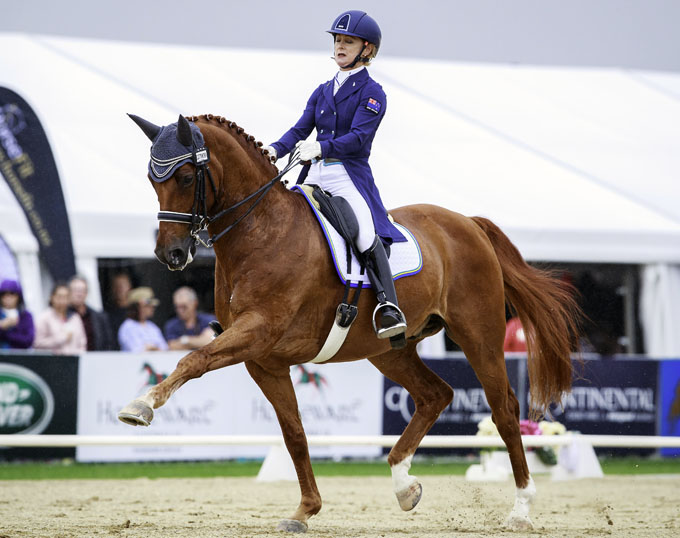 The Grand Prix Special proved to be a record-breaker for John Thompson. Aboard JHT Antonello, he beat not only his own previous personal best in this test (at Nationals last month with 70.8) but set a new international GP Special record for New Zealand with a score of 71.34. Thompson will surely be pleased to have this under his belt before he heads over to Europe in his bid to make the World Equestrian Games. Team mate Julie Brougham and Vom Feinsten scored 69.915, their beautiful test marred by just one expensive error in the two-time changes.
The remaining five starters finished well below Thompson and Brougham, as the majority are riding green horses being introduced to their first taste of Grand Prix this season, but did very well in their own right and showed some exciting glimpses of real potential for the future.
Grand Prix Kur to Music
"That was so much fun!" A jubilant John Thompson was temporarily lost for words when he came out of the arena after his stunning freestyle performance today. The judges thought so too, awarding him 74.525 and the Dressage Horse of the Year title for 2018. Close behind was WEG teammate Julie Brougham, who also cracked the seventies with 73.7. Her test showed a high degree of difficulty but she and 15-year-old Rhinelander gelding Vom Feinsten made it look effortless, particularly their double pirouettes on the centreline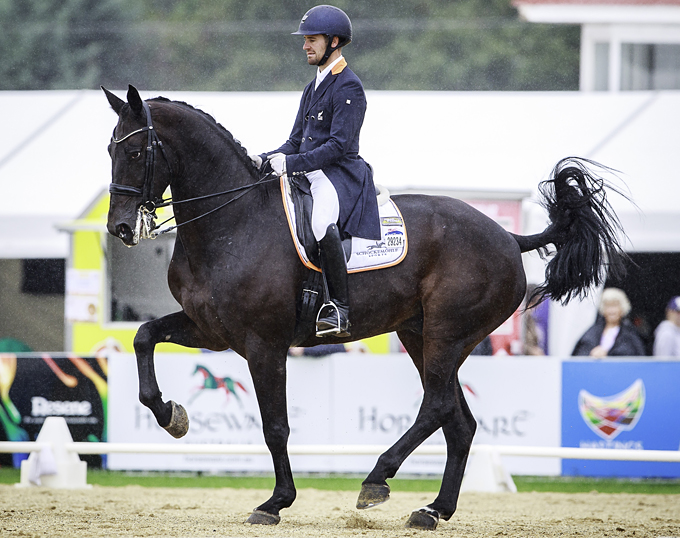 Wendi Williamson was pleased with her green Don Amour MH, who improved over the show to finish third in the class and overall – an amazing result for this emerging talent (69.85). Perfect timing to a great soundtrack that so suited them saw Jody Hartstone and Ali Baba give their best performance of the show for fourth place in the freestyle on 68.925.
Debbie Barke, Sheena Ross and Paula Stuart were thrilled with their horses, all of whom are in their first season of Grand Prix, giving them a positive and confidence-building introduction to dressage at this level.
The WEG team – Thompson, Brougham and Williamson (with her World Cup mount Dejavu, who did not compete at HOY) – are determined to travel to Tryon together. Their next step is to discuss the pros and cons of the two available options: to either leave New Zealand in June via Europe and compete at some of the shows there en route, or to go direct to the States in August.
Text by Jess Roberts - Photos © Libby Law
>Related Links
Scores 2018 CDI Hastings
Abbie Deken Wins 2017 New Zealand Horse of the Year Title after Plot Twist in Freestyle
John Thompson Wins Horse of the Year Show at 2016 CDI Hastings 
Julie Brougham and Vom Feinsten Win 2015 Horse of the Year Crown at CDI Hastings
Historic Grand Prix Score for Penny Castle at 2015 CDI Hastings
A Royal Win for Bill Noble at the 2014 New Zealand Horse of the Year Show
Louisa Hill Wins Grand Prix Title at 2012 New Zealand Horse of the Year Show
Vanessa Way Claims 2011 New Zealand Horse of the Year Title
2009 Horse of the Year Title for Jody Hartstone, At Last!
Hattrick for Noble at 2007 New Zealand Horse of the Year Show