Hof Kasselmann Online Auction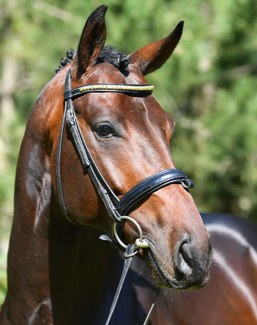 The first Hof Kasselmann Online Auction ended on Saturday afternoon 23 May 2020 with a great result for the Hof Kasselmann team. It once again proved that even in difficult times a first-class collection and excellent customer service attract international buyers.
The auction delivered exciting bidding duels: New bids were placed online over and over again over the past three days. The collection of 12 young dressage horses from Gestüt Osthoff and Gestüt Lewitz attracted bidders from all over the world. 
A Buckingham offspring achieved the top price of the first Hof Kasselmann Online Auction. Long-term customers of Hof Kasselmann from Germany and Taiwan delivered a bidding duel for the dark bay stallion, Catalog No. 5 Bussarto. In the end, the customers from Germany secured the youngster. Bussarto goes to a private dressage stable in the south of Germany for €384,000.
Catalog number 1, For a Hit (by Finest x Donnerhall), sparked interest right from the start: interested parties from Luxembourg, Russia and the United States campaigned for the long-legged black Finest offspring. A customer of  David Wilson's W-Farms from the USA finally secured the promising young talent for €304,000.
The Vivaldi - Don Schufro descendant Vilano was in the focus of two customers - one from Saarland and the other from Seattle. He ended up selling for 186,000 euro and moves to Grand Ducal Dressage in Luxembourg.
Catalog number 3, Blockbuster, a talented gelding from Bordeaux out of a Wolkentanz II mother, will find a new home at Grand Ducal Dressage in Luxembourg for 77,000 euro.
"We are particularly pleased that the internationally known championship rider Ashley Holzer and her long-time sponsor have secured the 3-year-old stallion Fincent (by Fürst Jazz x Sandro Hit) for themselves", Francois Kasselmann speaks about the trust of the international buyers. "It is amazing how well the online customer service offer has been and will be accepted." The Americans paid 61,000 euro.
The 3-year old stallion Faisal sold for 88,000 euro to a German client. 
Hanks sold for 68,000 euro to Luxembourg, Faytona fetched 67,000 euro, Goodwin sold for 58,000 euro, Chivano went for 46,000 euro, Rock It sold for 42,000 euro, Fischer's Fritz sold for 33,000 euro
The overall result of 1.41 million euros speaks for itself: The online auction also opens up new, contemporary options for modern horse buying. 
The Hof Kasselmann team wishes all buyers the best of luck and joy with their new horses.
Related Links
Take Your Chance now - Hof Kasselmann Online Auction Ends today!
Personal Service Provided for Private Sales and the 2020 Hof Kasselmann Online Auction
2020 Hof Kasselmann Online Auction - Exceptional Bloodlines for Future Stars
2020 Hof Kasselmann Online Auction - Check out Chivano and Hanks
Hof Kasselmann Online Auction to Feature 12 Talented Youngsters and Top Customer Care
Hof Kasselmann to Host Online Auction of 12 Dressage Stars on 21 - 23 May 2020