WBFSH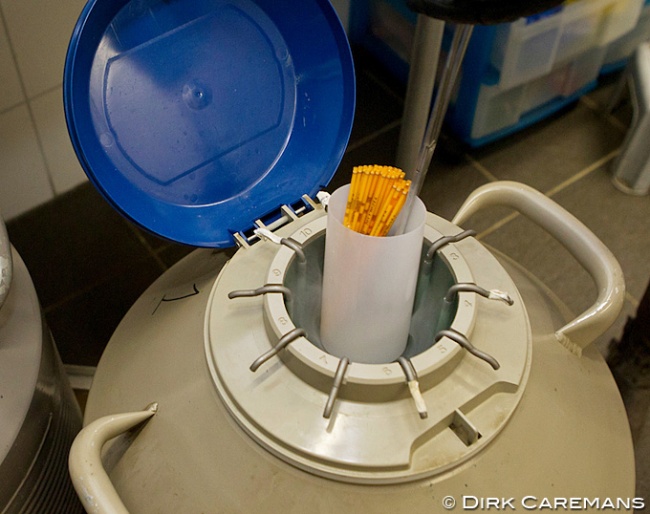 Fifteen stallion owners from across Europe sent a letter to the World Breeding Federation of Sport Horses in October 2019 to demand for measures against sperm fraud. 
They call for an international database which tracks all breeding registrations in WBFSH endorsed studbooks. They claim that sperm fraud is running rife and eating up much of the stallion owners' income.
Sperm Fraud with ET and ICSI
New reproduction technologies such as embryotransfer (ET) and Intracytoplasmic sperm injection (ICSI) are massively gaining popularity amongst breeders, despite the high financial cost. 
Sport horse owners want to spare their top mares from carrying a foal, yet are seeking offspring. They end up using ET and ICSI for these sport mares and breed up to four or five foals per year through recipient mares. 
The fraud comes into play when the breeder pays for the sperm of one stallion for one covering, but thanks to ET/ICSI ends up using that dose to get multiple foals. The foals of this mare then get registered with different studbooks to avoid detection. 
At the 2019 WBFSH General Assembly in Saumur, France, Dutch stallion owners Team Nijhof, VDL Stud and Joop van Uytert spoke about this major problem in the breeding world and demanded solutions from the WBFSH. 
One Straw but How Many Foals?
Dutch Equestrian Magazine De Paardenkrant interviewed Ralph van Venrooij (KWPN head of breeding),  Arnaud Evain (Groupe France Elevage), and Wiebe-Yde van de Lageweg (VDL Stud) about sperm fraud. 
"The request from stallion owners to be able to trace the offspring of their stallions with all WBFSH studbooks is in the interest of all," said Evain. "When a breeder buys a breeding of a stallion who is very fashionable, today you do not know if his foal is one of a hundred, of five hundred or of a thousand births in that year."
"When a stallion owner entrusts a straw to an insemination centre, he has lost all control to check its use as of that moment. It has happened more often that from one shipment of semen, multiple births of foals are registered," Evain continued. "The majority of the breeders, insemination centres and stallion owners work in an honest and transparent way. This vast majority does not take away that a mandatory transparency will be beneficial for all."
"Stealing Is Still Not Normal"
"It's a big problem, but the illegal selling of straws or the splitting up of straws and making of embryos is considered normal by many," said Wiebe-Yde van de Lageweg. "In my opinion stealing is still not normal. We, stallion owners, live from the selling of semen and with this revenue we invest in the future. We are not protected or helped by the studbooks or by the WBFSH, and those are the only parties that can help us with this problem.
"It is very understandable that stallion owners have the need for a reliable registration system to minimalize the financial risk," said Ralph van Venrooij. "Stallion owners and studbooks could exchange horse data through a WBFSH database based on the UELN numbers."
Squeezing Every Last Drop
Some breeders disagree with the big stallion owners' opinion and believe they can do with a straw, they paid for, whatever they want.
"If they sell individual straws, they shouldn't complain. If they sell "one pregnancy" then it would be a different story," said a concerned breeder. "And if they are afraid of frozen semen getting used to much, they should offer frozen only at their stallion station so they can keep full control."
Another breeder stated that it's not the stallion owner, but the insemination centers and stallion stations which take advantage of the situation. Either they freeze more semen of a stallion than they officially declare to the owner of the sire, or they have set up their own dealership of embryos and straws for ICSI.  Websites such as BVA Auctions are auctioning straws in batches. 
Finding Policy in Germany?
Eurodressage contacted Christoph Hinkel, wingman of Paul Schockemöhle, who runs one of the biggest stallion stations in Germany. They supported the proposal with the WBFSH for an international database.
"I agree that the sales of frozen semen must be more clear also for the breeders/buyers. Those stallion holders, which sells single straws, agree that the buyer can do whatever he wants with the semen (ICSI/ET, etc.)," Hinkel explained. "If the stallion holder sells a stud fee for an individual mare, the semen still belongs to the stallion holder and cannot be used without his knowledge for other mares or to produce more embryos without additional stud fee charges. Those different terms are not clear for everyone, sometimes even not for the stallion holder himself. Only a few years ago nobody would ask those questions as the technique was not there yet to do with the semen what you can do now."
Eurodressage pointed out that Germany is the only country that does not publish proper breeding statistics per sire (the amount of coverings and the amount of foals born per stallion), whereas studbooks like KWPN and Swedish Warmblood run a very clear public record about it. 
"We follow the German rules of the breeding associations and they don´t tell us to publish them," Hinkel stated.
Hinkel believes the idea of an international dabatase is almost "chanceless" based on the lack of agreement amongst German studbooks. 
"Look at our many German breeding associations here in Germany, they cannot even agree on a central performance test or simple central breeding issues," Hinkel told Eurodressage. "How should we then get all other smaller breeding associations around  the world to agree on the same conditions?"
Eurodressage contacted several dressage breeders and stallion owners who sell semen as well as breed with Embryotransfer and ICSI but they declined to comment.
Photo © Dirk Caremans
Related Links
Getting a Pregnancy from a Deceased Mare Utilizing ICSI
German Equestrian Federation Discloses Breeding Statistics for 2018