Norway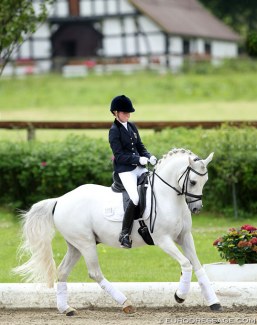 The international FEI Dressage pony Dein Freund passed away following a tragic paddock accident. He was 17 years old.
Dein Freund was a 2002 born Westfalian stallion by Dornik B out of Nadin (by Niklas I x Shalom x Narwal II). He was bred by Heinrich Sondermann and owned by Viktoria Braun. 
The grey stallion was licensed at the 2004 Westfalian Licensing in Munster-Handorf and produced three licensed sons (Dario, Dein Favorit, Don Castello - all born 2006) in his career and two state premium mares.
Dein Freund did his very first show in 2005 under German Olympian Helen Langehanenberg, but Henrike Sommer soon took over and steered him to a fourth place at the 2005 Bundeschampionate. The next year they were fifth in Warendorf. 
The pony sold to the Braun family and Viktoria Braun began competing him in 2007. She scored bronze with him at the Bundeschampionate that same year and repeated that same achievement in 2008. In 2009 they began actively competing at FEI pony level and were second in the Hamburg Pony Derby. They also showed at the CDI in Babenhausen.
In 2010 Luca Michels took on the ride and they competed at the 2011 CDI's of Saumur and Babenhausen as well as at the invitational in Beek, The Netherlands, where they were second. In 2012 starts followed at the CDI's in Addington and Hagen. The pony moved on to a new rider, Francisca Heil, in 2013 and they also did Addington and Hagen.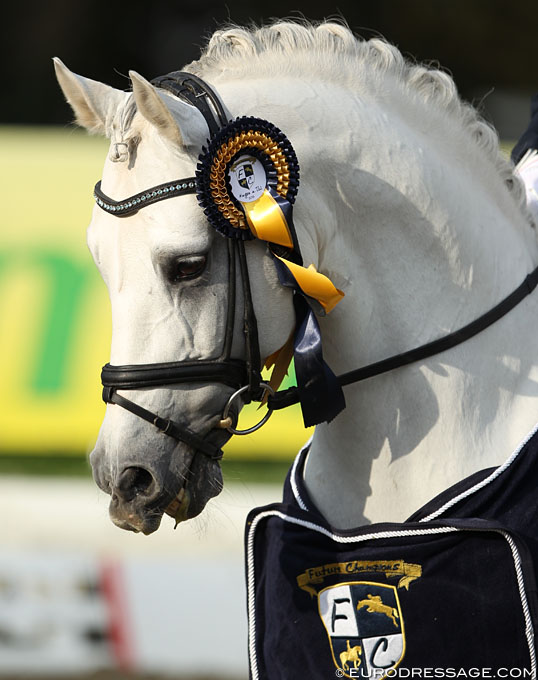 Like any true FEI Dressage Pony they become schoolmasters and continue to teach a string of riders in their career. In 2014 it was Xandra Elena Bachus' turn. In 2015 Emilie Kirsch rode him at one show, and in 2016 Lisa Erlemeyer competed him once before Dutch Zoe Gilbers took over in the spring of 2016. In 2017 Kaya Candas rode him, but in 2018 it was back to Lisa Erlemeyer. 
A more permanent rider was found in the summer of 2018 when the pony moved to Norway to become the schoolmaster of Emma Løkken, daughter of Grand Prix rider Louise Løkken.  Emma and Dein Freund competed at national shows in Norway and won every single class they had entered in. Unfortunately dreams were dashed due to the sudden passing of the stallion.
"We are absolutely devastated," Louise Løkken told Eurodressage. "Emma and Dein Freund won every competition they entered since his arrival in Norway and went straight on the norwegian team. We were hoping to get selected for the European Championships this year. He was just such an amazing pony."
On Tuesday 7 May 2019 Dein Freund fractured his leg in a freak accident in the paddock and had to be euthanized.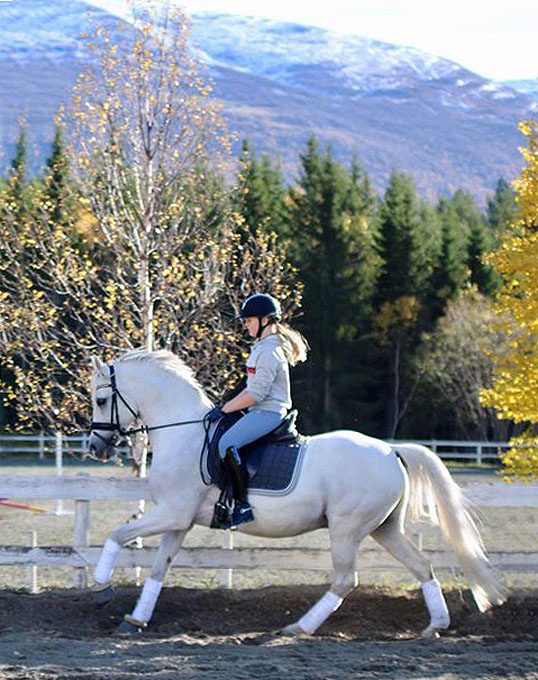 "We were on our way to the CDI Kristiansand where my daughter rode Children and I Grand Prix when we got a call from home that he had broken his leg. It was just so terrible sitting in the lorry six hours from home and not being able to be there," Løkken explained.  "We are so grateful to the Braun family that we had this amazing time with him. He was a star. We are absolutely heartbroken. He was just such a special horse with so much character and presence."
Related Links
Eurodressage Photo Database: Dein Freund
Rothenberger, von Danwitz, Piotrowski Win 2013 Kronberg Preis der Besten Qualifier
Golden West, Price Highlight at 2013 Westfalian Pony Stallion Auction
Scores: 2013 CDIO-PJYR Hagen
Scores: 2012 German Youth Riders Championships
What's Happening: November 2012 - Part 2
Scores: 2008 Bundeschampionate
Femke and Pricolino Win 2008 Neuss-Grefrath Bundeschampionate Qualifier
Rothenberger Dominates 2008 Kronberg Preis der Besten Qualifier
Scores: 2007 Bundeschampionate
Scores: 2006 Bundeschampionate