2013 Preis der Besten Qualifier
Pony rider Semmieke Rothenberger, junior rider Johanne Pauline von Danwitz and young rider Juliette Piotrowski won the Sunday classes at the 2013 south German Preis der Besten qualifier held at Ann Kathrin Linsenhoff's yard Schafhof in Kronberg, Germany, on 6 - 7 April 2013. Whereas the pony and the junior riders category were excelling with high quality rides, this year the young riders' division lagged a bit behind in quality.
In the pony division, routinier Semmieke Rothenberger still wielded the axe of power with both of her ponies Golden Girl and Deinhard B, producing top scores in the mid seventies range. Celine König made her experience on pony Dorn count for riding the more gifted Daddy's Daydream to a third place in the individual test with 72.114%.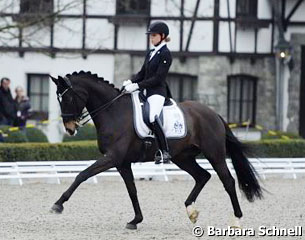 The junior riders' category featured the revelation of the show, former pony rider Johanne Pauline von Danwitz who excelled aboard Louisa Luttgen's long-time German youth riders' team horse Habitus (by Hohenstein).  Von Danwitz and the refined dark bay gelding were fun to watch and produced two elegant rides. In the team test she lost the victory when Habitus made an unscripted leap in the extended canter, but in the individual test both were on the same wavelength and topped the leader board with 72.807%. Jessica Krieg has been relying more and more on her new junior riders' horse Florence which she acquired in the autumn on 2012. The bay mare spent a while in the U.S.A. but returned to Germany and was sold to the Krieg family. The pair finished second in the individual test with 70.721%. They were followed by risising dup Luisa Otto on Aspen (by Aquilino).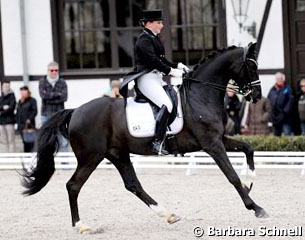 The young riders' division lacked highlights even though Juliette Piotrowski produced the winning ride of 71.667% on her black Sir Diamond (by Sandro Hit). The duo could improve on the subtlety of the aids in order to rise in scores. Ulla Salzgeber's student Lisa-Maria Klössinger finished second in the individual test aboard FBW Daktari (by Donautanz x Carpaccio). They earned 71.053% for a smooth test.  Vivien Niemann, who spent quite some time in Florida this winter, finished third with her Hanoverian stallion Sil Jander (by Sunlight xx x Davignon x Woermann).
Photos © Barbara Schnell
Results - 2013 Preis der Besten Qualifier - Kronberg
Pony Riders - Team Championship Test
Judges: Wust, Holthaus, Ebert
1. Semmieke Rothenberger - Deinhard B  - 75.641%
2. Nadine Krause - Cyrill - 72.650%
3. Semmieke Rothenberger - Golden Girl - 72.222%
4. Celine König - Daddy's Daydream - 70.855%
5. Vanessa Theresa Oppowa - Giglberg Spotlight  - 69.658%
6. Francesca Heil - Dein Freund - 68.889%
7. Anouk Wiemers - Die feine Chanel  - 68.462%
8. Vanessa Theresa Oppowa - Casino Royale K - 68.205%
9. Louisa Simon - Don Miguel - 68.034%
10. Anna Schnurbusch - Tesio - 67.179%
11. Annabelle Manganaro - Keerlke  - 66.923%
12. Annabelle Manganaro -  Di Baggio  - 66.838%
13. Celine König - Dorn - 66.154%
14. Viktoria Pavel - Kaiser Franz- 65.983%
15. Lara Brühl - Lettenhofs Lovely Evergreen  - 65.726%
15. Jana Schlotter - Stukhuster Ricardo go for Gold - 65.726%
17. Eileen Henglein - Wimbledon - 64.615%
18. Lea Brummer - Frühlingstraum - 64.103%
19. Lisa-Marie Winkenbach - Steendiek's Dollarprinz  - 63.590%
20. Leonie Laier - Daily Pleasure -  62.650%
21. Vanessa Schmitt - Toronto - 62.051%
22. Lana Raumanns -  Djaufaila  - 61.795%
23. Selina Söder-  Schapur - 55.214%
Pony Riders - Individual Test
Judges: Wust, Holthaus, Lehrmann
1. Semmieke Rothenberger - Golden Girl - 75.366%
2. Semmieke Rothenberger - Deinhard B  - 73.415%
3. Celine König - Daddy's Daydream  - 72.114%
4. Anouk Wiemers - Die feine Chanel  - 71.870%
5. Nadine Krause - Cyrill - 71.057%
6. Vanessa Theresa Oppowa - Giglberg Spotlight  - 69.431%
7. Vanessa Theresa Oppowa - Casino Royale K - 68.293%
8. Francesca Heil - Dein Freund  - 68.049%
9. Annabelle Manganaro - Keerlke  - 67.642%
10. Louisa Simon - Don Miguel - 67.154%
11. Anna Schnurbusch - Tesio - 66.992%
12. Lea Brummer - Frühlingstraum - 66.667%
13. Jana Schlotter - Stukhuster Ricardo go for Gold - 66.504%
14. Lana Raumanns - Djaufaila  - 65.772%
15. Celine König - Dorn - 65.203%
16. Lisa-Marie Winkenbach - Steendiek's Dollarprinz  - 65.041%
16. Eileen Henglein - Wimbledon - 65.041%
16. Leonie Laier - Daily Pleasure - 65.041%
19. Viktoria Pavel -  Kaiser Franz - 64.959%
20. Vanessa Schmitt - Toronto -  64.553%
21. Annabelle Manganaro - Di Baggio  - 63.740%
22. Lara Brühl - Lettenhofs Lovely Evergreen  - 63.577%
23. Selina Söder - Schapur - 51.951%

Junior Riders - Team Championship Test
Judges: Eisenhardt, Lehrmann, Wust
1. Jessica Krieg - Florence - 70.991%
2. Johanne Pauline von Danwitz - Habitus - 70.721%
3. Luisa Otto - Aspen - 67.928%
4. Lena Charlotte Walterscheidt - Solist - 67.387%
5. Nicola Hörnig - Fortina W   - 66.757%
6. Anna-Christina Abbelen - Henny Hennessy  - 66.126%
7. Constantin Pistner - Dauerbrenner  - 65.676%
8. Marcella Geiger - Fulminant - 64.775%
9. Luca Michels - Dreamy OLD  - 63.694%
10. Sandra Degele - Fairplay - 61.441%
Junior Riders - Individual Test
Judges: Holthaus, Ebert, Lehrmann
1. Johanne Pauline von Danwitz - Habitus -  72.807%
2. Jessica Krieg - Florence - 69.912%
3. Luisa Otto - Aspen - 67.982%
4. Marcella Geiger - Fulminant - 66.754%
5. Nicola Hörnig - Fortina W  - 66.491%
6. Constantin Pistner - Dauerbrenner  - 65.526%
7. Lena Charlotte Walterscheidt - Solist - 65.175%
8. Sandra Degele - Fairplay - 63.421%
9. Anna-Christina Abbelen - Henny Hennessy  - 62.368%
10. Luca Michels - Dreamy OLD  - 60.526%
Young Riders - Team Championship Test
Judges: Lehrmann, Ebert, Eisenhardt
1. Lisa-Maria Klössinger -  FBW Daktari  - 71.140%
2. Juliette Piotrowski - Sir Diamond  - 70.965%
3. Vivien Niemann - Sil Jander  - 70.088%
4. Anna Widmann - Rubina - 66.930%
5. Laura Reinke -  Red Pearl - 66.754%
6. Alina Erdtmann - White foot  - 66.491%
7. Kevin Herold - Ropeter  - 65.614%
8. Laura Ponnath -  Citango - 64.298%
9. Natalie Gauß - Fogey Franclin  - 61.316%
10. Tamara Rehnig - Valentinho - 61.228%
11. Josephine Binder - Dorian Gray -  58.596%
12. Ann-Kristin Vetter -  Wardanda - 57.895%
Young Riders - Individual Test
Judges: Wust, Ebert, Eisenhardt
1. Juliette Piotrowski - Sir Diamond - 71.667%
2. Lisa-Maria Klössinger - FBW Daktari - 71.053%
3. Vivien Niemann - Sil Jander  - 67.982%
4. Anna Widmann -  Rubina - 67.456%
5. Alina Erdtmann - White foot  - 66.316%
6. Natalie Gauß - Fogey Franclin  - 65.614%
7. Laura Reinke - Red Pearl - 64.912%
8. Tamara Rehnig - Valentinho  - 63.509%
9. Josephine Binder - Dorian Gray- 63.333%
10. Laura Ponnath - Citango - 63.158%
11. Kevin Herold - Ropeter  - 61.842%
Related Links
Riders Selected for 2013 Kronberg Preis der Besten Qualifier
Pony Riders Selected for 2013 Preis der Besten Qualifiers